Display Quality
It's unfortunate that one of the hallmarks of Windows notebooks seems to be that the vendor can get almost everything right, and then have one massive, gaping flaw. Unfortunately this remains true of the Razer Blade 14-inch as well. While the Blade has incorporated some of the best elements of Apple notebook design, they neglected to include one of the biggest and most important reasons why people will buy MacBooks: display quality.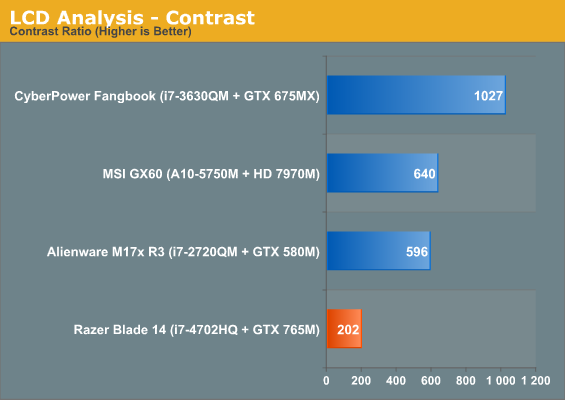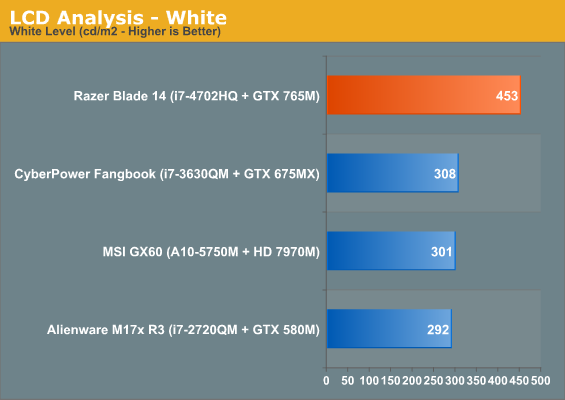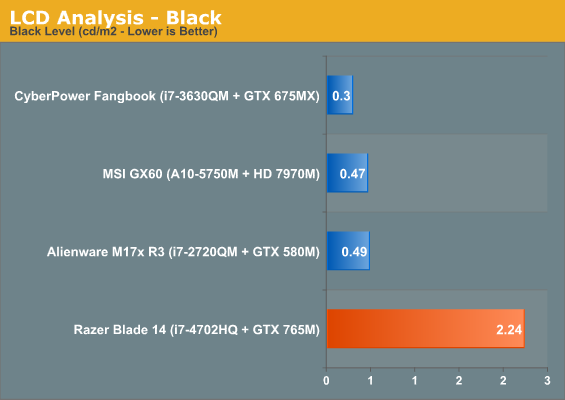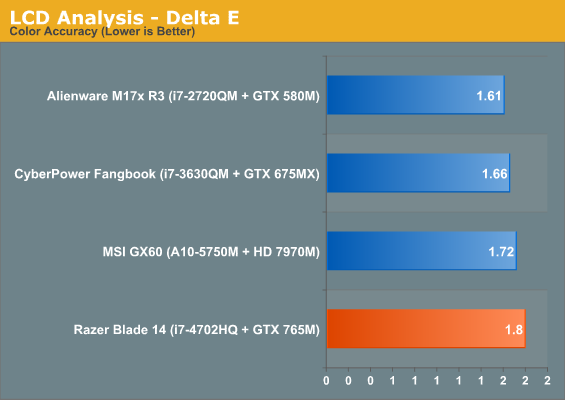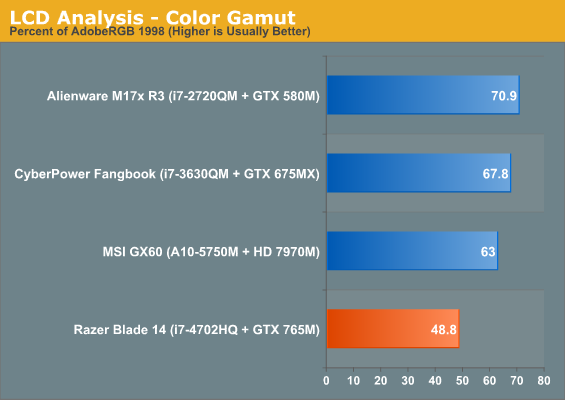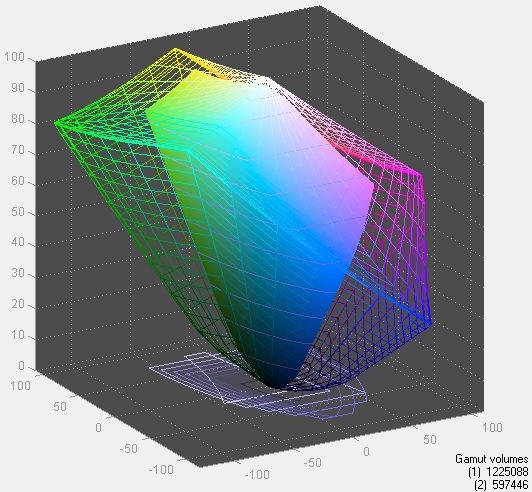 The Razer Blade 14-inch may be enjoying a 1600x900 resolution that's perfect for the gaming hardware included within, but the panel itself is atrocious. Razer was able to jack up the brightness to a respectable 453 nits, but it's a linear boost: the black level is a heinous 2.24 nits. There's just no excuse for this; Lenovo was able to get a 14", 1600x900 panel in their X1 Carbon that walks all over the Blade's. And Alienware is offering a 1080p IPS panel on their Alienware 14, a notebook that may be thicker but offers the same GPU, an optical drive, and a faster CPU. I was stunned by the Blade's beautiful design, and I was equally stunned by its dire screen quality, which suffers from the same nasty "no correct viewing angle" problem that cheap TN panels typically do.
Battery Life
It's hard to generate much enthusiasm for the Razer Blade 14-inch after discovering how poor the display quality on it is, but the flipside is that the battery life on it is pretty impressive. Razer was able to cram a 70Wh battery into the Blade, and leveraging the 37W quad-core and NVIDIA's Optimus allows them to eke out a healthy amount of mobility.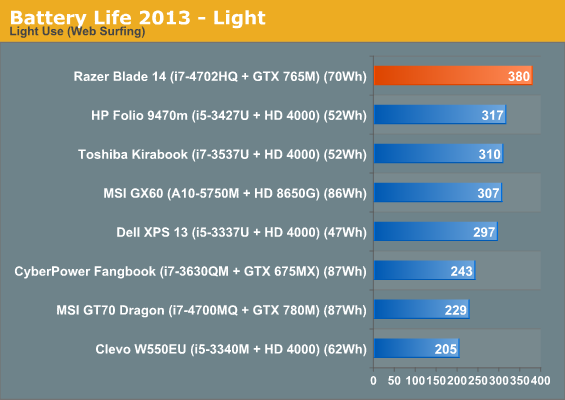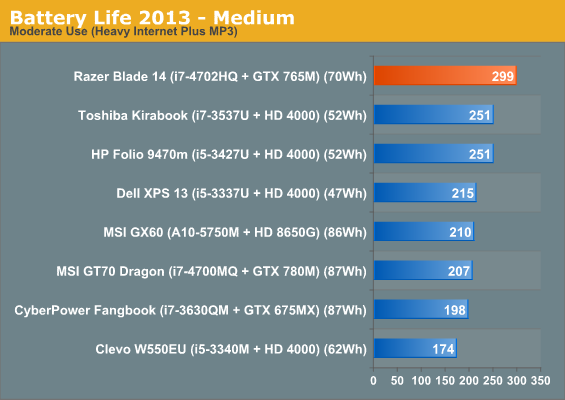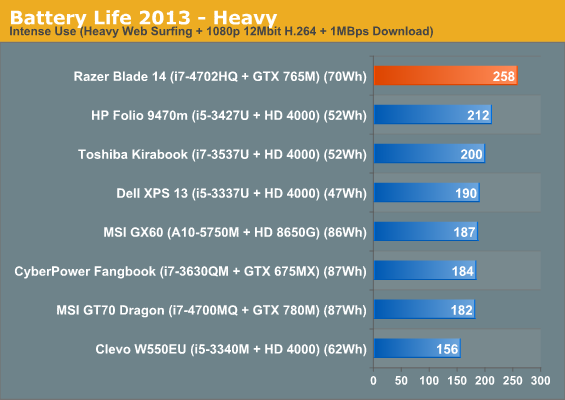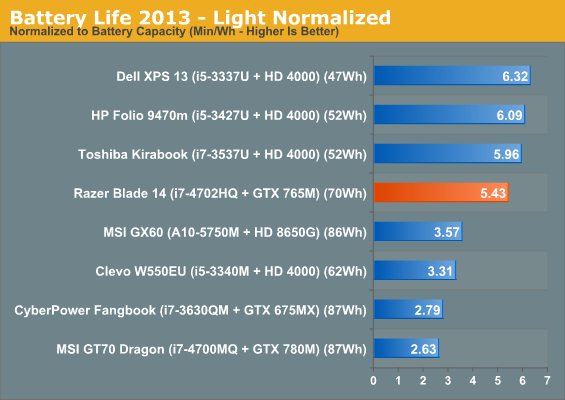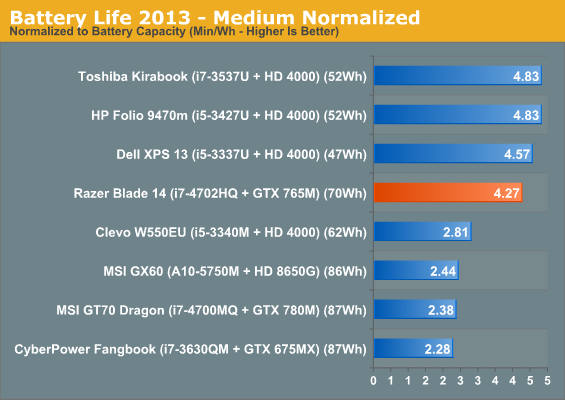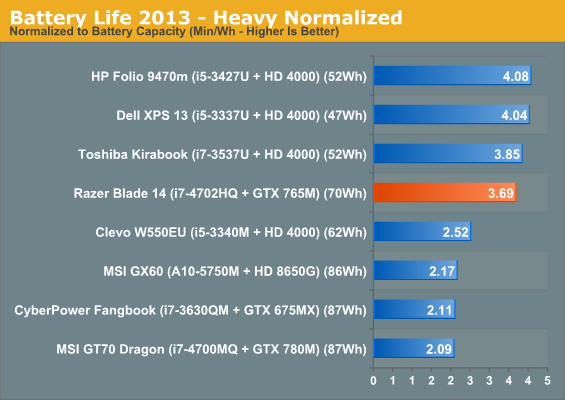 This is, without a doubt, a gaming ultrabook. Normalized power consumption is practically in line with full-on ultrabooks from the last generation sporting ULV processors, but Razer is able to do it with a full quad-core CPU and a beefy GPU (that turns off when not in use, naturally).
Heat and Noise
Razer was able to handle the balancing act of heat, noise, and chassis bulk with remarkable skill. I'm not sure they hit the absolute sweet spot, but they're awfully close to it. Fan noise is sub-40dB under load, which is actually pretty excellent for a gaming notebook. They're definitely playing "Thermal Chicken" with the surface temperatures, but unless you mash your giant hand down on the keyboard or keep poking the hinge with your fingertip (where most of the heat is), you're not going to be too uncomfortable.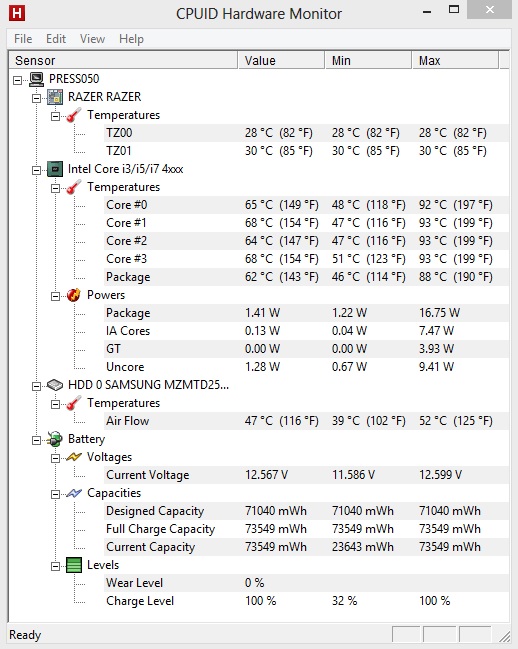 The CPU temperatures definitely get up there and Razer is pretty close to playing with fire here, but in practice I found the system was ultimately able to handle thermals fairly well. If anything I feel like Razer has some room to improve here; I think they could spin up the fan on the CPU without having too negative an impact on system noise. Heat density is going to be much higher in the i7-4702HQ than it is in the GTX 765M; the 765M has 2.54 billion transistors on a 28nm process, and a good chunk of those transistors have been shut off. Meanwhile the i7-4702HQ 1.4 billion transistors on a 22nm process, and that's ignoring the marginal heat that's going to be produced by the on-package chipset.
I think there's still a little room for improvement here, and I'm never happy to see CPU core temperatures in the 90s, but it's not hitting throttling temperatures. Just remember that this notebook must take cool air in from the bottom. Other ultrabooks I'm a bit more critical of when they have bottom-intake cooling systems, but the Blade is handling 100W+ of silicon.