Market Share
In 2012, ARM licensees shipped around 8.7 billion chips. Depending on the market segment, a single device can have anywhere from one to many ARM cores in it. Even looking within a smartphone you have multiple ARM cores not only within the apps processor but also inside the modem.
Although ARM has tremendous market share within the ultra mobile space (90%+), more than half of its shipments come from other segments. Enterprise, digital home, TVs, etc... are all expected to be drivers of growth for ARM in the coming years. By 2017 ARM expects its customers to be shipping roughly 41 billion chips that use ARM IP every year.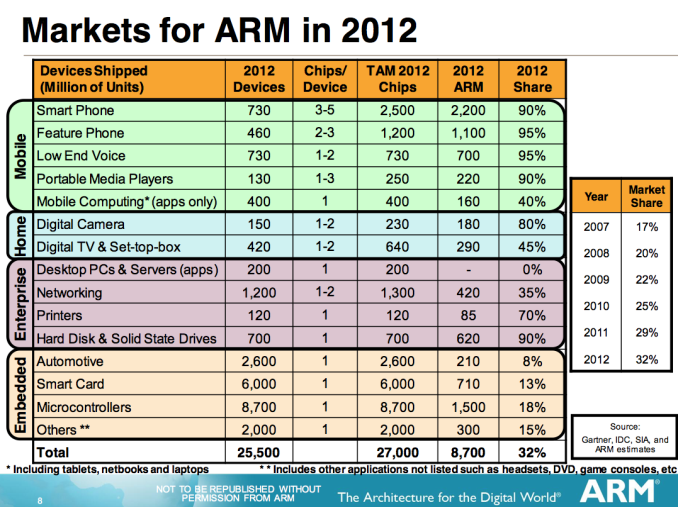 Final Words
Business models that leverage the scale and strength of a distributed production model are often very disruptive. ARM designs IP that can be implemented by fabless and fully integrated semiconductor companies very quickly, and at relatively low cost. No one member of the supply chain has to assume a significant amount of risk relative to others in the chain. It's a far more democratic and partner centric approach to chip supply, which is one reason that it's done so well.
ARM's business allows for the creation and sustainability of several chip companies, which in turn keeps prices very low and prevents consolidation of power in any one firm. Although other factors (e.g. modem business, patent licensing) have lead to dominance in specific markets, ARM's overall impact on the industry is one of promoting competition and keeping (silicon) prices low. ARM quite obviously enables what Qualcomm calls the Internet of things, where nearly everything is connected and computes.
It's important to note that although our focus on ARM tends to be in the smartphone and tablet space, the majority of its licensed shipments come from other areas. It's quite likely that ARM's chances for future growth in terms of margin are in higher-end mobile SoCs, but competition from Intel in one segment surely won't be the end of the world for ARM.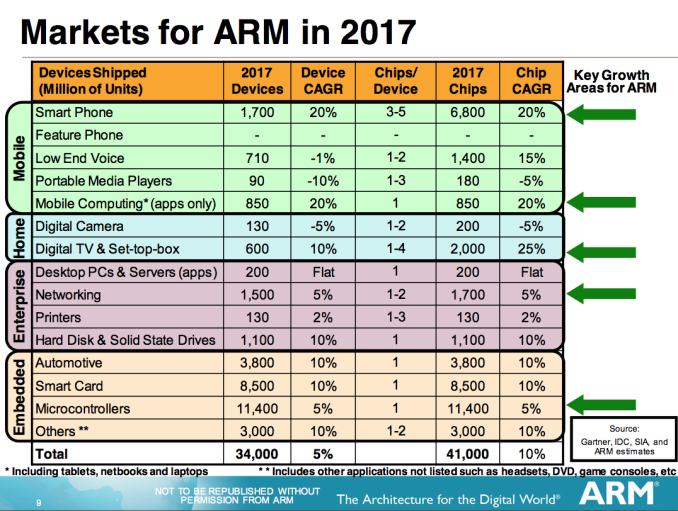 In the coming parts I'll be taking a look at some of ARM's newly announced microprocessor architectures such as the Cortex A12, A53 and A57. I'll also be looking a little deeper into big.LITTLE and Mali graphics.