How ARM Makes Money
AMD, Intel and NVIDIA all make money by ultimately selling someone a chip. ARM's revenue comes entirely from IP licensing. It's up to ARM's licensees/partners/customers to actually build and sell the chip. ARM's revenue structure is understandably very different than what we're used to.
There are two amounts that all ARM licensees have to pay: an upfront license fee, and a royalty. There are a bunch of other adders with things like support, but for the purposes of our discussions we'll focus on these big two.
Everyone pays an upfront license fee and everyone pays a royalty. The amount of these two is what varies depending on the type of license.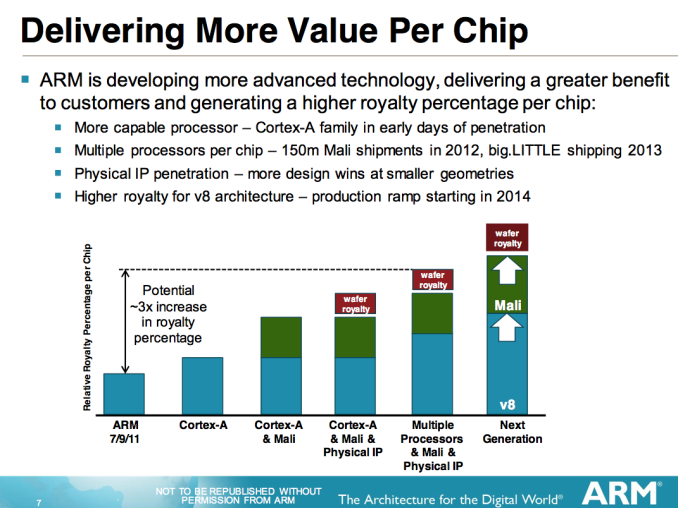 The upfront license fee depends on the complexity of the design you're licensing. An older ARM11 will have a lower up front fee than a Cortex A57. The upfront fee generally ranges from $1M - $10M, although there are options lower or higher than that (I'll get to that shortly).
The royalty is on a per chip basis. Every chip that contains ARM IP has a royalty associated with it. The royalty is typically 1 - 2% of the selling price of the chip. For chips that are sold externally that's an easy figure to calculate, but if a company is building and selling a chip internally the royalty is based on what the market price would be for that chip.
Both the up front license fee and the royalty are negotiable. There are discounts for multiple ARM cores used in a single design. This is where things like support contracts come into play.
Buses/interfaces come for free, you really just pay for CPU/GPU licenses. ARM's Mali GPU is typically going to be viewed as an adder and is currently viewed as demanding less of a royalty than ARM's high-end CPU licenses. A rough breakdown is below:
ARM Example Royalties
IP
Royalty (% of chip cost)
ARM7/9/11
1.0% - 1.5%
ARM Cortex A-series
1.5% - 2.0%
ARMv8 Based Cortex A-series
2.0% and above
Mali GPU
0.75% - 1.25% adder
Physical IP Package (POP)
0.5% adder
In cases of a POP license, the royalty is actually paid by the foundry and not the customer. The royalty is calculated per wafer and it works out to roughly a 0.5% adder per chip sold.
It usually takes around 6 months to negotiate a contract with an ARM licensee. From license acquisition to first revenue shipments can often take around 3 - 4 years. Designs can then ship for up to 20 years depending on the market segment.
Of the 320 companies that license IP from ARM, over half are currently paying a royalty - the rest are currently in period between signing a license and shipping a product. ARM signs roughly 30 - 40 new licensees per year.
About 80% of the companies that sign a license end up building a chip that they can sell in the market. The remaining 20% either get acquired or fail for other reasons. Royalties make up roughly 50% of ARM's total revenues, licensing fees are just over 33% and the remainder is equally distributed between software tools and technical support.
ARM's revenues are decent (and growing), but it's still a relatively small company. In 2012 ARM brought in $913.1M. Given how many ARM designs exist in the market (and the size of some of ARM's biggest customers), it almost seems like ARM should be raising its royalty rates a bit. Because of ARM's unique business model, gross margin can be north of 94%. Operating margin tends to be around 45% though.