Power Consumption
We're introducing a new part of our power consumption testing with this review: measurement of slumber power with host initiated power management (HIPM) and device initiated power management (DIPM) enabled. It turns out that on Intel desktop platforms, even with HIPM and DIPM enabled, SSDs will never go into their lowest power states. In order to get DIPM working, it seems that you need to be on a mobile chipset platform. I modified an ASUS Zenbook UX32VD to allow me to drive power to the drive bay from an external power supply/power measurement rig. I then made sure HIPM+DIPM were enabled, and measured average power with the drive in an idle state. The results are below: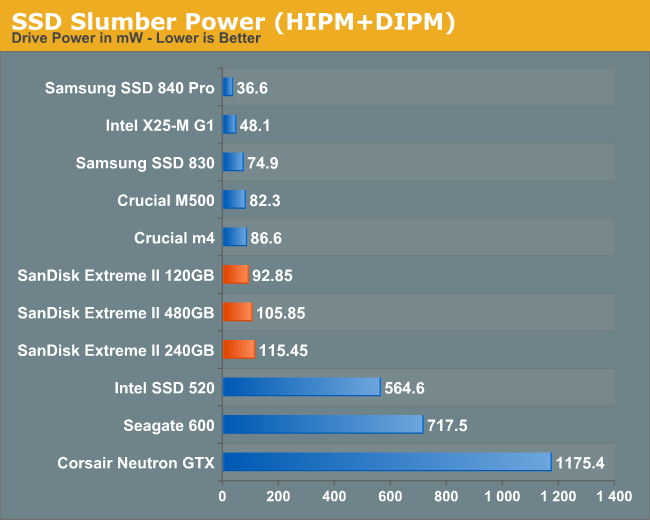 Samsung does amazingly well in this test, with only Intel's first generation X25-M SSD coming anywhere close. The SanDisk drives do alright here, although they're a bit more power hungry than some of the others the differences aren't large enough to meaningfully impact most notebook usage. The important thing to note is just how bad power consumption can get if your drive doesn't properly support HIPM and DIPM. It's when you start getting into the 500mW - 1000mW range that you'll see real impacts to notebook battery life.
Our traditional idle power test is still useful as this is representative of power consumption in an active idle state. The lowest power states do take time to get in/out of, so if you're actively using your machine you may see some time spent in a non-slumber idle state which is effectively the data you see below: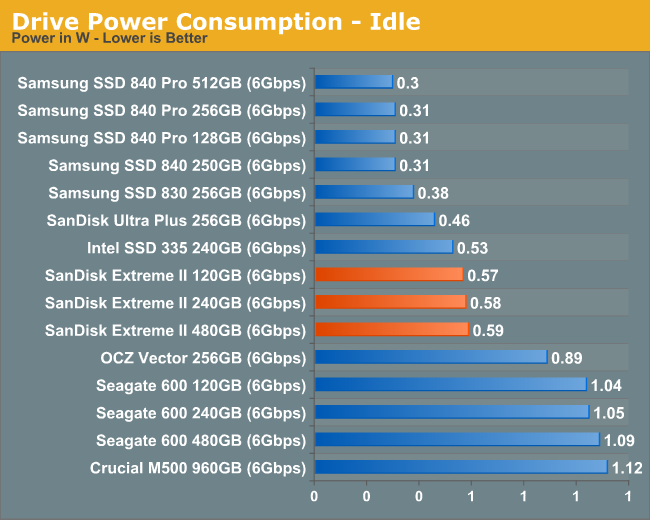 Once again, the Extreme II does alright here. Idle power consumption isn't high enough to be a problem for notebook users, it's just not low enough to be as good as Samsung.
Under load the story is a little different. Peak sequential IO power consumption is very Samsung-like, but power consumption with a random write workload is amazingly low. I suspect this is a side effect of whatever SanDisk is doing to keep IO consistency in check.