CPU Performance & Power
On the CPU front, the difference between the Core i5-3317U and the Pentium 2020M is actually quite small. The former has a nice 2.6GHz max turbo while the latter has a higher TDP and thus a higher base clock as well. The result is that most single threaded performance results are very close between the two. If we look at Kraken, SunSpider, PCMark, Cinebench (1-thread) or 7-Zip (1-thread) - the two perform quite similarly. As a result, Kabini doesn't really gain any ground here. In my own use, I can feel a performance difference between the 2020M and the A4-5000 in tasks like installing/launching applications, as well as bigger CPU bound activities.
CPU Performance
PCMark 7
Cinebench 11.5 (Single Threaded)
Cinebench 11.5 (Multithreaded)
7-Zip Benchmark (Single Threaded)
7-Zip Benchmark (Multithreaded)
AMD A4-5000 (1.5GHz Jaguar x 4)
2425
0.39
1.5
1323
4509
Intel Pentium 2020M (2.4GHz IVB x 2)
4214
1.00
1.96
2856
5434
Intel Core i5-3317U (1.7GHz IVB x 2)
4318
1.07
2.39
2816
6598
A big issue here is Kabini, at least in its launched versions, lacks any turbo core support. The 15W A4-5000 runs even single threaded tasks as if all four cores were active and eating into that TDP budget. The fastest Jaguar implementation seems to be 2GHz, but even if the A4-5000 could turbo up to that level I feel like I'd still want a bit more. There's obviously room on the table for a Kabini refresh, even at 28nm.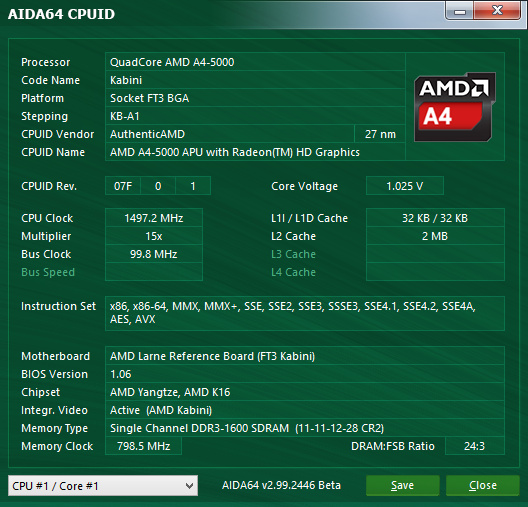 For light web browsing and general use workloads Kabini, like many modern platforms, can really be good enough.
It is impossible to have a performance discussion without looking at power consumption when it comes to mobile devices. This is where Kabini makes up a lot of ground. The Pentium 2020M is a 35W part (Intel does offer slower 17W parts but I unfortunately don't have a system that uses one of those), compared to the A4-5000's 15W TDP. I measured total platform power of both notebooks without a battery and with the display disabled (and using the same SSD in its lowest power state). While isolating SoC power would be ideal, this does give us a general idea of platform power consumption:
Platform Power Consumption
Idle
Cinebench 11.5 (1-thread)
Cinebench 11.5 (multithreaded)
7-Zip (1-thread)
7-Zip (multithreaded)
AMD A4-5000 (1.5GHz Jaguar x 4)
4.75W
7.91W
11.5W
7.9W
11.3W
Intel Pentium 2020M (2.4GHz IVB x 2)
8.14W
17.9W
22.4W
17.6W
21.7W
The difference is pretty big. Kabini will either last longer on the same size battery, or be able to fit into a smaller chassis altogether. I also suspect the 15W TDP is perhaps a bit conservative, total platform power consumption with all CPU cores firing never exceeded 12W (meaning SoC power consumption is far lower, likely sub-10W).
It's also worth pointing out that there's clearly a lot of thermal headroom when only a single CPU core is active. Design limitations would probably keep a single core from ramping up too high, but there's clearly room for improvement here.
The 17W Pentium/Celeron parts are architecturally very similar to the 2020M I'm featuring here, they just run at 75% of the clock speed. If we assume perfect scaling, Intel would appear to still hold substantial single-threaded CPU performance advantage even if the comparison was to a lower clocked Pentium. Interestingly enough, the multithreaded advantage would pretty much disappear though. These 35W Pentiums seem a lot more common in retail (likely because of the spec shopping that's presumed at these lower price points).
Compared to Atom (or Brazos), Kabini does extremely well though. Similar to Brazos, AMD is looking for Kabini to do battle slightly above its weight class. In its press materials AMD specifically calls out Pentium and Core i3 as potential targets for the A4/A6-class Kabini APUs. Part of this is AMD looking at the CPU and GPU as a whole though, so let's move on to the graphics comparison.