Civilization V
A game that has plagued my testing over the past twelve months is Civilization V. Being on the older 12.3 Catalyst drivers were somewhat of a nightmare, giving no scaling, and as a result I dropped it from my test suite after only a couple of reviews. With the later drivers used for this review, the situation has improved but only slightly, as you will see below. Civilization V seems to run into a scaling bottleneck very early on, and any additional GPU allocation only causes worse performance.
Our Civilization V testing uses Ryan's GPU benchmark test all wrapped up in a neat batch file. We test at 1440p, and report the average frame rate of a 5 minute test.
One 7970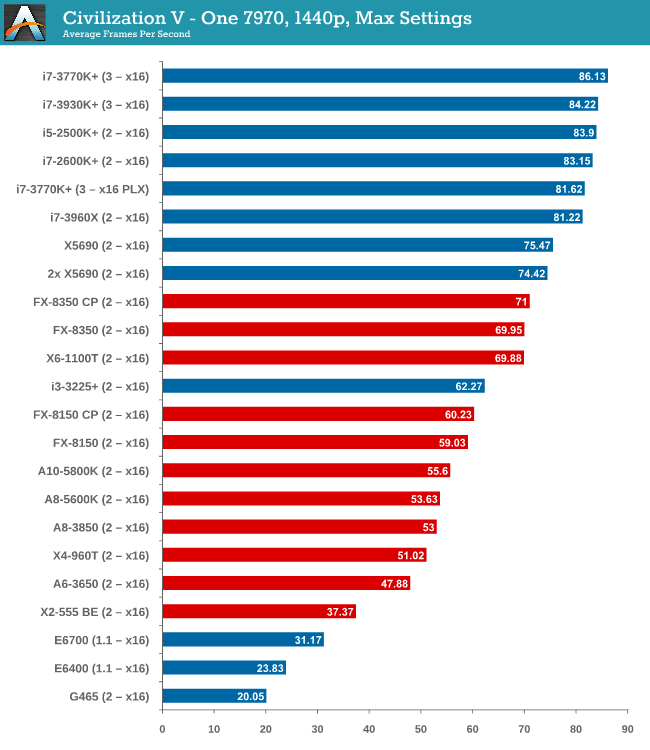 Civilization V is the first game where we see a gap when comparing processor families. A big part of what makes Civ5 perform at the best rates seems to be PCIe 3.0, followed by CPU performance – our PCIe 2.0 Intel processors are a little behind the PCIe 3.0 models. By virtue of not having a PCIe 3.0 AMD motherboard in for testing, the bad rap falls on AMD until PCIe 3.0 becomes part of their main game.
Two 7970s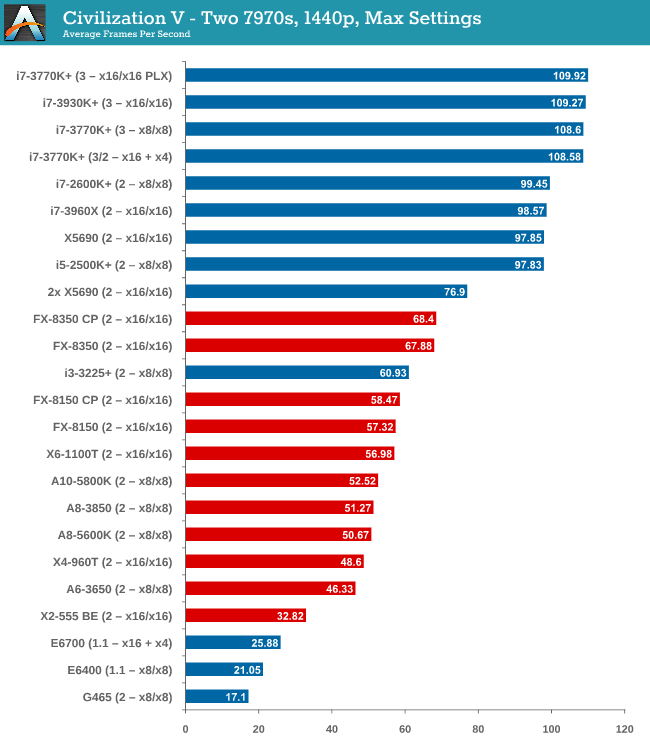 The power of PCIe 3.0 is more apparent with two 7970 GPUs, however it is worth noting that only processors such as the i5-2500K and above have actually improved their performance with the second GPU. Everything else stays relatively similar.
Three 7970s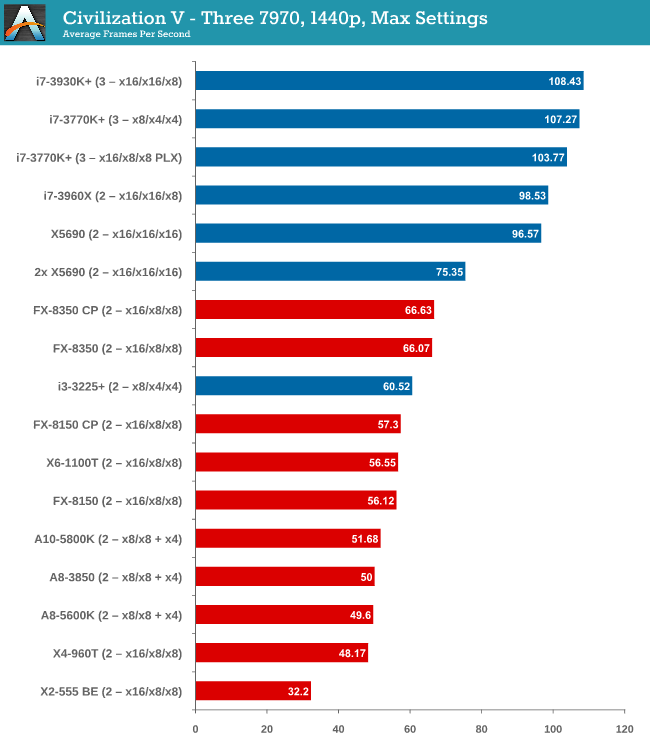 More cores and PCIe 3.0 are winners here, but no GPU configuration has scaled above two GPUs.
Four 7970s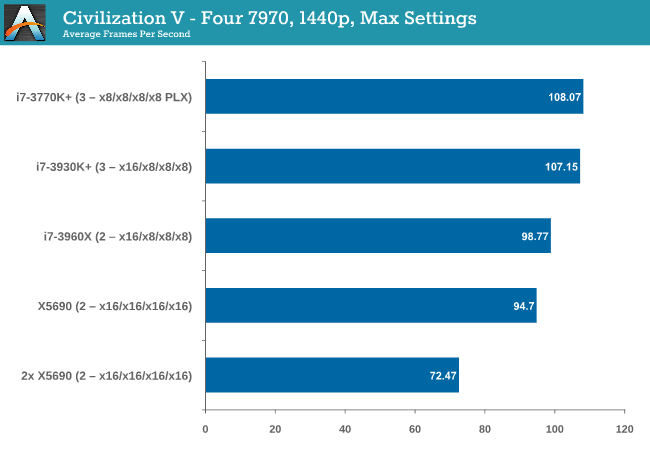 Again, no scaling.
One 580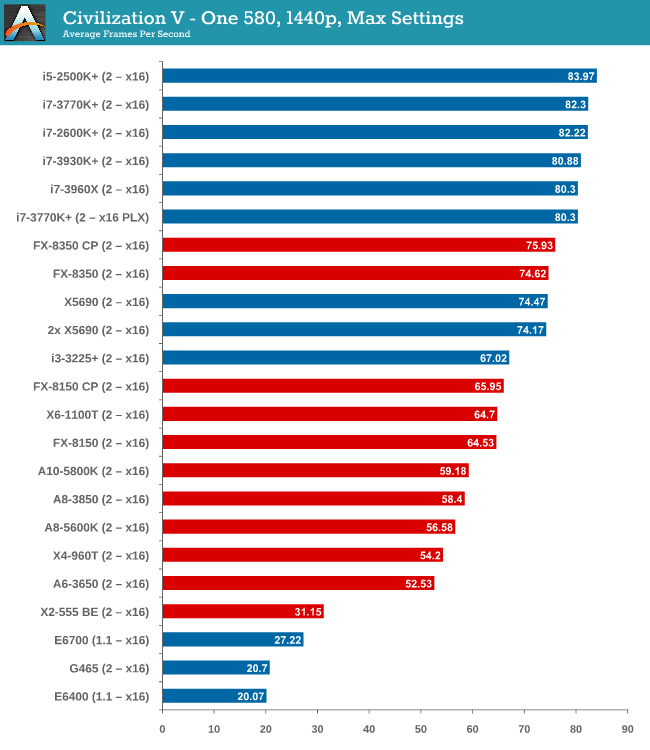 While the top end Intel processors again take the lead, an interesting point is that now we have all PCIe 2.0 values for comparison, the non-hyper threaded 2500K takes the top spot, 10% higher than the FX-8350.
Two 580s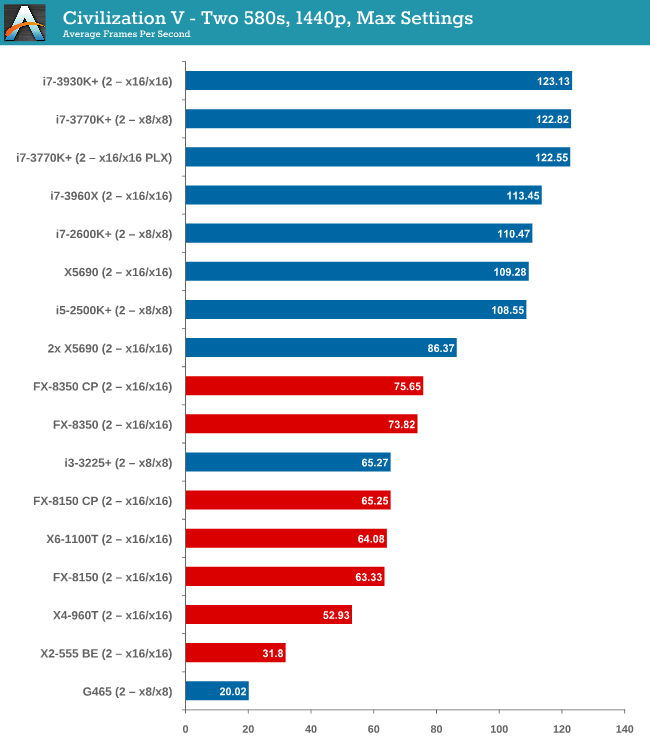 We have another Intel/AMD split, by virtue of the fact that none of the AMD processors scaled above the first GPU. On the Intel side, you need at least an i5-2500K to see scaling, similar to what we saw with the 7970s.
Civilization V conclusion
Intel processors are the clear winner here, though not one stands out over the other. Having PCIe 3.0 seems to be the positive point for Civilization V, but in most cases scaling is still out of the window unless you have a monster machine under your belt.