Crysis 3
Our final benchmark in our suite needs no introduction. With Crysis 3, Crytek has gone back to trying to kill computers, taking back the "most punishing game" title in our benchmark suite. Only in a handful of setups can we even run Crysis 3 at its highest (Very High) settings, and that's still without AA. Crysis 1 was an excellent template for the kind of performance required to driver games for the next few years, and Crysis 3 looks to be much the same for 2013.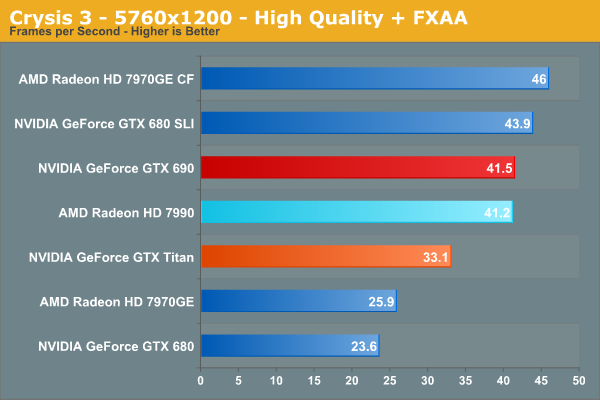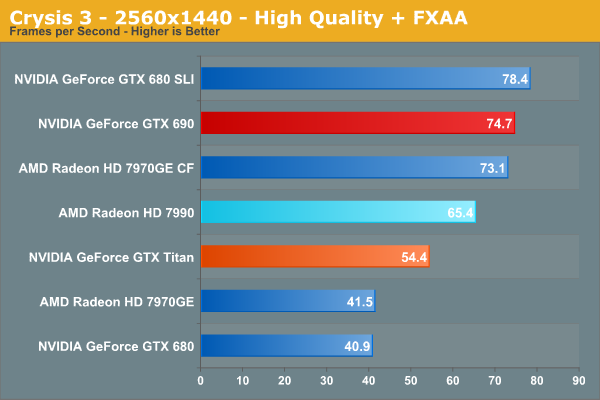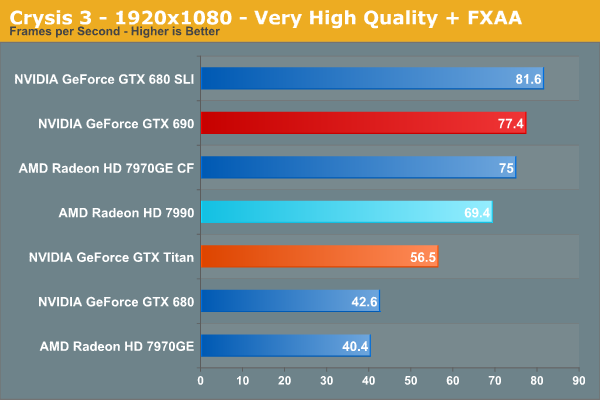 If the concept of karma exists for GPUs, then it would seem to be in full force here. While AMD has an easy time pulling ahead of NVIDIA's cards in Crysis 1, in Crysis 3 it's almost exactly the opposite. At both 1920 and 2560 the 7990 trails the GT 690 by around 10%, only to finally pull even at 5760 thanks to AMD's better multi-monitor handling.
Meanwhile it's interesting to note just how much rendering performance it takes to feed the beast that is Crysis 3. With everything turned up short of anti-aliasing, the mighty 7990 is the bare minimum needed to clear 60fps at 1920, and Very High quality is out of the question at 2560 and higher. It will probably be another year or two before we have a single cards that can smoothly play Crysis 3 at its highest settings; in the meantime it will take multiple high-end cards to make that happen.