TouchWiz Customizations & UI Performance
The Galaxy Note 8.0 ships with Android 4.1.2 by default, but layered with Samsung's usual array of visual and functional customizations on top of it.
At its Galaxy S 4 launch event last month in NYC, Samsung announced a litany of new platform features for its new flagship phone. Using the Galaxy Note 8.0 after that announcement feels a lot like I'm getting a "lite" treatment unfortunately. That's a major downside to launching overlapping products, unless there's a unified feature front you're bound to disappoint someone. I should add that it's not that I feel like I'm missing any of those features announced for the SGS4, but it feels wrong not to have everything on a platform that just came out.
All is not lost on the Note 8.0 however. Smart Stay, Samsung's feature that keeps the display on if it detects you looking at it, is alive and well on the tablet. Air View gestures exist, but they are triggered by the stylus and not by hovering your finger over the display.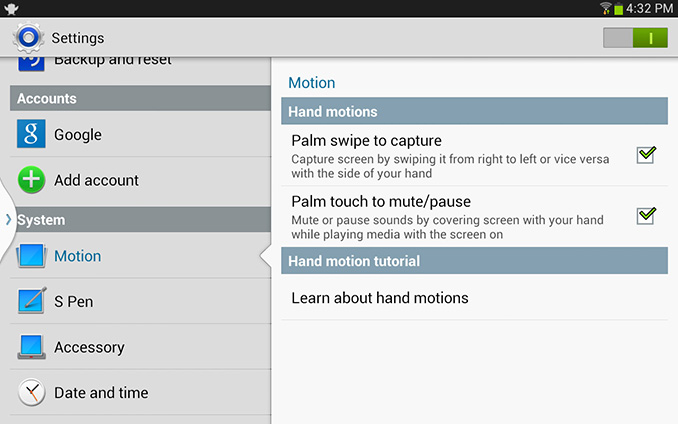 Samsung cooked up a few odd but potentially useful palm gestures to interact with the OS. These aren't new to the platform, but they bear repeating for users new to Samsung's Android customizations. Using your palm to touch the screen will pause video you're playing. Using the side of your hand to swipe across the screen will grab a screenshot. I should add that both of these gestures are meant to be carried out softly; you're not meant to abuse the Galaxy Note 8.0 to bend to your will.
Gestures and unique features aside, Samsung's Android customizations are also paired with a very distinct visual and audible style. Large icons and text, bold colors and bubbly friendliness are everywhere. I get what Samsung is trying to do here, it's all supposed to be very accessible and not intimidating. Both Apple and Samsung are using the current mobile revolution to repeat the evolution of the PC industry, but without the mistakes.
Unlike Samsung's earlier attempts to skin Android on its tablets, the experience on the Note 8.0 is usually very smooth. This is in part due to Android 4.1.2 and partly because Exynos 4 Quad is a lot faster than Tegra 2 was back in the days of the first Galaxy Tabs. Some actions aren't as responsive as I'd like (e.g. bringing up the task switcher has some initial hesitation), and you'll occasionally see dropped frames when switching back to the home screen but overall the experience is pretty good.