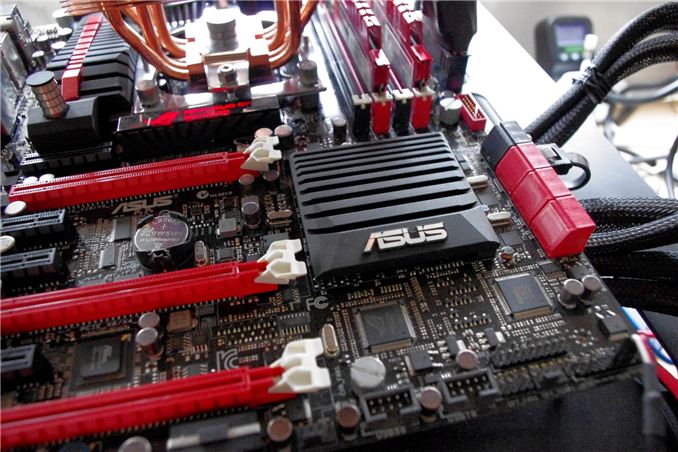 The motherboard market is tough – the enthusiast user would like a motherboard that does everything but is cheap, and the system integrator would like a stripped out motherboard that is even cheaper. An overclocker would like a minimalist setup that can push the limits of stability, and the gamer would like an all singing, all dancing everything. The ASUS Maximus V Formula is designed to cater mainly to the gamer, but also to the enthusiast and the overclocker, for an all-in-one product with a distinct ROG feel. With the combination air/water VRM cooling system, a mini-PCIe combo card with dual band WiFi and an mSATA port, one of the best on-board audio solutions and the regular array of easy-to-use BIOS/Software, ASUS may be onto a winner – and all they ask for is $270-300.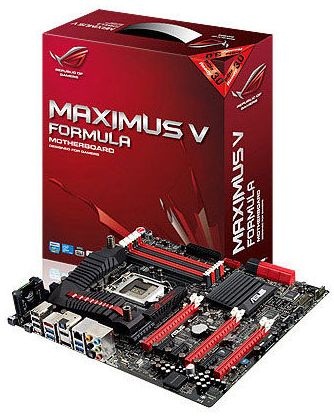 Overclocking for Z77 – Why Focus on Extreme Overclockers?
The motherboard market shrank in 2012, with reports suggesting that from the 80 million motherboards sold in 2011, this was down to 77 million worldwide in 2012. In order to get market share, each company had to take it from someone else, or find a new niche in an already swollen industry. To this extent, after the success of the ROG range, the top four motherboard manufacturers now all have weapons when it comes to hitting the enthusiast or power user with an overclocking platform. These weapons are (with prices correct as of 3/7):
$400 – Gigabyte Z77X-UP7 (our review)
$379 – ASUS Maximus V Extreme
$290 – ASUS Maximus V Formula
$225 – ASRock Z77 OC Formula (our review, Silver Award)
$200 – ASUS Maximus V Gene
$190 – MSI Z77 MPower (our review)
There are two main differentiators between the low (<$300) and the high (>$350) end. The first is the inclusion of PLX PEX 8747 chip, to allow 3-way or 4-way GPU setups. We covered how the PLX chip works in our 4-board review here, but this functionality can add $30-$80 onto the board (depending on the bulk purchase order of the manufacturer and the profit margins wanted). The second is usually attributed to the functionality and power delivery – the 32x IR3550s used on the Gigabyte Z77X-UP7 costs them a pretty penny, and the extensive feature list of the ASUS ROG boards usually filters through.
In the past there have been attempts at pure overclocking boards, such as the Gigabyte X58A-OC, which was entirely stripped of all but the necessary components for pushing overclocks under sub-zero conditions for competitions. The board itself was cheaper due to the functionality not present, but it did not provide a rock solid home system for many users. The ASUS ROG range, as we reviewed in 2012, has been releasing motherboards for both gaming and overclocking for several years, trying (and succeeding) with the mATX Gene, ATX Formula and Extreme. All three of these boards continuously push both the gaming and OC frontiers, with a slight gaming focus on the Formula and an OC focus on the Extreme, but all boards cross over into each other's territory very easily.
Each product has to be considered as either the 'Halo' product or one for general sale – a halo product can often get away with being for a specific group of users as long as it is advertised effectively and brought to the attention of the forum enthusiasts that may invest in the company's other products. It also has to be the halo, not second best! If a product is aimed at the general markets, then it has to cater on all fronts to several groups. Our recent run of reviews have been for motherboards aimed at overclockers, with one or two focusing on the ultra extreme overclockers that use sub-zero temperatures to break records. This is a very small market (<4000 active at last estimate), so the hope would be to filter down the hype of a product into the consumer range of products. This is unless the product is also aimed at the other markets – features for gamers, design for enthusiasts, and prices that please the self-builders or system integrators. If a motherboard can match more markets and do it well (the important phrase), there may be some hope for it to break even.
Our fourth 'overclock oriented' motherboard for review is one of the aforementioned products that aim for several categories. The ROG motherboard range from ASUS has always gone for the 'improve everything' strategy, trying to make the board better for everyone on all fronts. As a result, we get three products for them – the mATX Gene for more entry level products, the Formula for gamers and enthusiasts, and the Extreme that has a more overclocking edge to the setup. All of the boards cross into each other's fields very easily, with minor deviations depending on the market segment. That being said, as mentioned in our X79 review, ASUS reported that out of their X79 ROG range, the most expensive Extreme board was the best seller, with many different groups buying it for the high-end appeal. Today we are looking at the Maximus V Formula (MVF), a Z77 product with directions towards the enthusiast (with its integrated air/water power delivery heatsink cooler) and the gamer (improved on-board audio with headphone amplifier), but still with the ROG overclocking abilities.
ASUS Maximus V Formula Overview
In my last review of an ROG Formula board, I critiqued that it felt too much like it was middle of the pack with respect to the cheaper/smaller Gene or the beefier/expensive Extreme – it did not sit right and the brand could have been fine with just the other two products. Fast forward a few months, and ASUS release the Maximus line of Z77 ROG motherboards, and the Maximus V Formula (MVF) gets a different look entirely, pushing it out into a field of its own.
At this point I should point out that the MVF comes to the table as the most expensive Z77 motherboard without a PLX 8747 chip. The MVF still supports 3-way GPU setups with an Ivy Bridge at x8/x4/x4 (and an additional x4 from the chipset), although users requiring x8 bandwidth for a RAID card are limited to one GPU or looking at a X79/AMD/Z77 PLX instead, and the Z77 PLX boards start around $280. We reviewed a set of four PLX boards in August 2011 from Gigabyte, ASRock, EVGA and ECS, as well as the ASUS P8Z77 Premium and Gigabyte Z77X-UP7 in separate reviews, ranging from $280-$400.
The MVF we have had in for testing attacks the market on several fronts, most noticeable at first (visually) is the combination air + water power delivery heatsink, dubbed 'Fusion Thermo'. While we first technically saw this on the ASRock Z77 OC Formula, but the MVF has been on the market longer and should be heralded accordingly. The idea with this technology is that water cooling setups can take advantage of the combination heatsink to cool additional components, potentially increasing overclocks should the VRM temperatures become the limiting factor in low air-flow scenarios.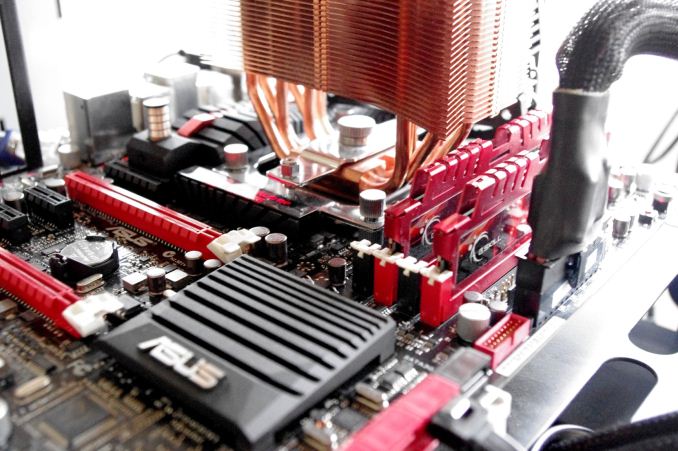 Another main aspect to the MVF is the audio, which ASUS are calling the SupremeFX IV (compared to the SupremeFX III on the Gene and the Realtek ALC898 on the Extreme). SupremeFX is ASUS' line of continually adjusting the environment the audio codec lives in – when Realtek or Creative release a codec, it is listed in terms of signal-to-noise ratio (SNR) and total harmonic distortion (THD) in a perfect environment. This would mean an anechoic chamber, no electrical noise from other components, and perfect input/output setups. The real world is not so forgiving, especially on a motherboard – so what may be rated as 110 dB(A) SNR comes through as 80 dB(A) SNR in real world. The SupremeFX line tries to improve the surroundings of the codec by giving it its own motherboard layer for routing, up-to-date DACs, electrical shielding, premium caps for output capability, and an onboard headphone amplifier for driving high impedance headphones. The codec is rated to 110 dBA SNR (THD+N at 1kHz is 95 dB) output and 104 dBA input, and our peak testing results give an excellent result. ASUS' addition of a headphone amp is also rated at 120 dB SNR (THD+N at 1 kHz is -117 dB). Ultimately the underlying codec is a Realtek ALC898, which ASUS seem keen not to mention directly, but the SupremeFX IV environment gives it the best chance to perform. The audio is also supported by DTS Ultra PC II and DTS Connect.
ASUS always wants to equip the user with what the think is the best, and as such we get an Intel 82579V network port, alongside a Dual Band Wifi Module, for network connectivity. The WiFi module fits into the rear IO of the motherboard, and also comes with a mini-PCIe slot for an mSATA drive. Video outputs for Virtu MVP users come through a HDMI and DisplayPort connectors, and extra USB 3.0 from ASMedia allows ASUS to deploy its USB 3.0 Boost software for increased bandwidth. Overclockers get an LN2 mode switch to increase voltage options in the BIOS, a Slow Mode switch to keep the CPU in an idle power state (for taking screen shots and reducing the possibility of a BSOD after a benchmark run), Q-LED to detect which parts of the system are being tested on POST, a debug LED for a specific POST error, power/reset buttons, GPU.DIMM post for equipment BIOS detection, and Probelt for multimeter observations.
We have extensively tested the ASUS ROG features in the past; however ASUS is a company that likes to update. With the MVF we get an improved GameFirst II network management interface, Fan Xpert II, Extreme Digi+ II (power delivery management) and all the associated overclock oriented profiles, features and adjustment options. T-Topology is also built in as per standard now on ASUS motherboards, giving potential gains with multi-DIMM configurations pushing high frequencies, along with ROG Connect features to allow overclocking via a different device. As always, the ROG Forums are on hand to help users push the limits or answer questions.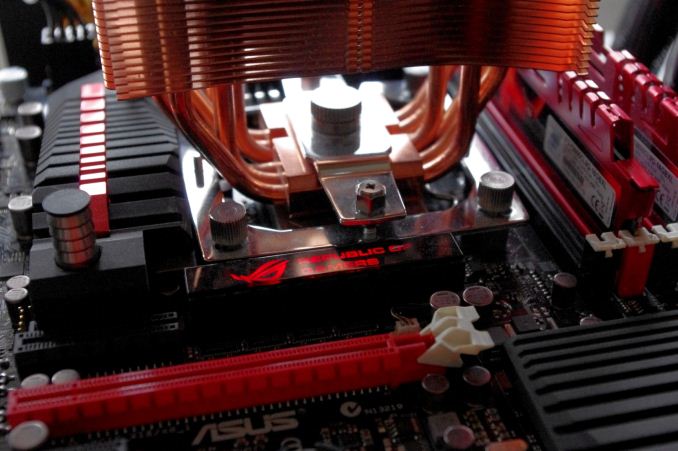 In our testing, the MVF comes up alongside the best in terms of performance and efficiency, out of all the motherboards we have tested. The MVF benefits from MultiCore Turbo/Enhancement (MCT) which gives the CPU the top turbo bin when XMP is enabled, like many Z77 products we have tested. In our memory agnostic 3DPM test the MVF comes top out of all the boards with MCT, which also helps in our compression/video editing benchmarks. Overclocking results some of the best we have seen on Z77, easily hitting a massive 5.0 GHz with our review sample without issues, and seemingly would go beyond this given a better cooling environment. ASUS is increasing the levels of manual overclock options in the BIOS, with CPU Level UP giving three different speeds to choose as well as a Gamer OC mode. BIOS options for overclocking, as always with ASUS, are top notch, and we were able to push our RAM harder and further with our CPU in the MVF than in any other Z77 motherboard.
Visual Inspection
Like every other ROG board we have tested, the MVF is a visually busy product, with a large portion of the PCB being used by components, some of which are ASUS exclusive – the PCIe combo card and EPU being the prime examples. As a result, sub-zero overclockers will have a hard time insulating the socket area from moisture and cold – the presence of the power filter caps and close proximity of the VRM coolers may be detrimental in that regard. The socket area itself is limited directly to Intel specifications (as shown by the white box around the socket), although I had no issues fitting a Thermalright TRUE Copper on board. Browsing the ROG forums leads me to suggest that users of larger air coolers (Noctua NH-D14, Prolimatech Megahalems and the Thermalright Silver Arrow) will have no issue fitting them to the motherboard, although certain series of memory may provide a z-height issue.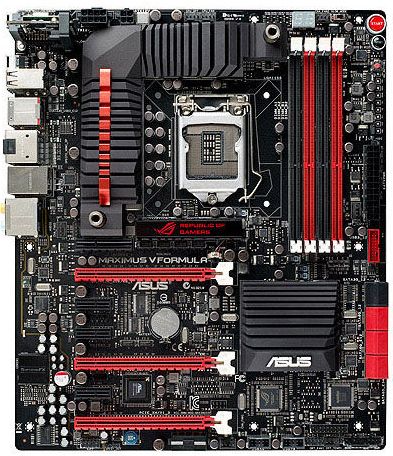 The combination air/water power delivery cooling system is one of the most prominent features on board, and like the ASRock Z77 OC Formula, incorporates a heatpipe to connect the heatsinks for air cooling, and a channel for the water cooling setup to pass through. The channel itself is 10mm outside diameter, so a 3/8" inside diameter barb setup plus clamps are needed for compatibility. The channel is constructed from copper, with electroplated nickel barbs, all surrounded by anodized alumin(i)um heatsink fins – important to know if you are mixing metals in your water cooling setup. Now I know most users stay with air cooling, and enthusiasts who deal with water cooling tend to practice without a PC before building their first setup (I should be ashamed to admit I have never built my own custom loop), so the MVF may not be an immediate choice for first time PC builders. However, the MVF is aimed both at those initial purchases, and at the enthusiasts and system builders/integrators that will customize their chassis and system every which way they can to produce and offer a premium product. Almost every boutique chassis builder offers a water cooled ROG system in their lineup with good reason.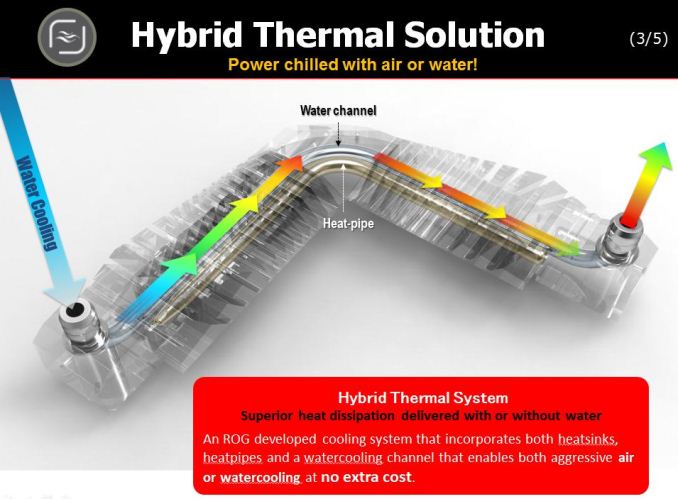 For the rest of us who want to air cool, the motherboard has 8 four-pin fan headers in all (backwards compatible with three-pin fans of course). Six can be found around the CPU socket: two CPU fan headers above the socket, two to the bottom left of the power delivery heatsink, one to the top right between the two-digit LED debug and power buttons, and another beside the 24-pin ATX power connector. The final two are all along the bottom of the board. It is worth pointing out that very few motherboards on the market deal entirely with 4-pin headers, which allows for a finer control of the fans. Control of the fans is provided by the excellent Fan XPert II software provided as part of the package, which is currently the best software fan control solution on the market today. We cover this later in the review.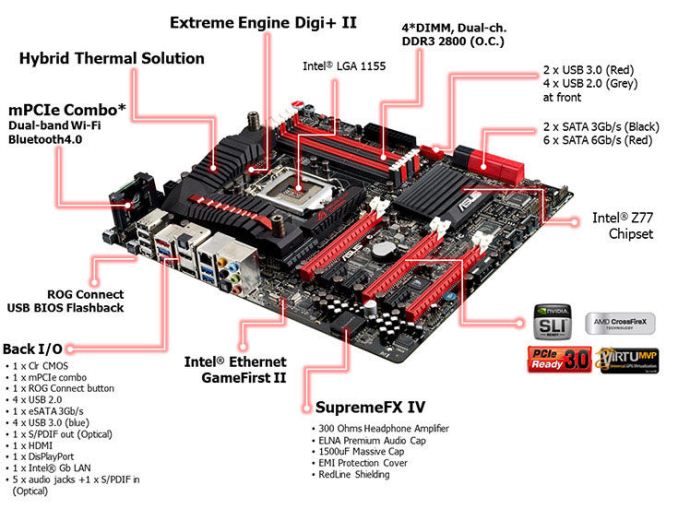 Moving clockwise around the board, we get our regular set of four memory slots, which thankfully exhibit a single sided latch design. (This makes it easier for reviewers to change memory when a GPU is installed.) Above the memory is a two-digit debug, as well as power/reset buttons. Having both of these options here rather than at the bottom of the board is good for overclockers testing four-way GPUs outside of a case, though in my testing setup I forgot 50% of the time the two digit debug was there as it was obscured by my memory. Between the two-digit debug and the power buttons is actually a small switch labeled 'SLOW MODE' – this allows overclockers to reduce the CPU multiplier down to 16x after the benchmark has finished (many world record scores have been lost because a system crashed between the benchmark finishing and time to get a screenshot/validation – this switch solves the issue!).
Down the right hand side we get a GO Button, for a one button overclock to preset conditions chosen in the BIOS. Below this are the ProBelt voltage measurement pads, allowing users to hook up multimeters to find exact voltage values of the equipment. This is becoming a regular feature on high end motherboards, although I prefer it when there are direct attachment pins available, such as on the ASRock Z77 OC Formula, rather than those here. Continuing down is the 24-pin ATX power connector, USB 3.0 header (chipset) and SATA ports – two SATA 3 Gbps in black (chipset), two SATA 6 Gbps in red (chipset) and four more SATA 6bps in red (ASMedia). The chipset heatsink nearby is passive and styled similarly to the Fusion Thermo VRM heatsink.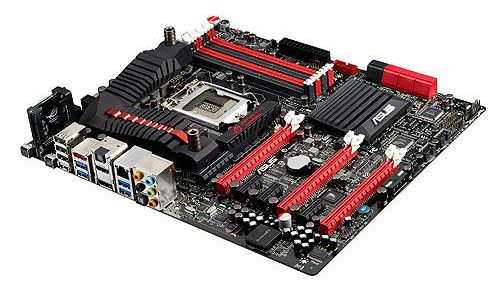 Along the south side of the motherboard (from left to right) is a front panel audio port, a 4-pin molex power connector (for VGA power), two fan headers, two USB 2.0 headers, a TPM header, a temperature sensor header and the front panel header. The addition of the VGA power connector sometimes occurs on non-PLX enabled boards, and personally I would prefer a SATA power connection or a 6-pin PCIe connector rather than a 4-pin molex connection; I would also prefer it not on the south side of the board. The temperature sensors are part of ASUS' package to aid overclockers, and as such there are three sets of pins on board that overclockers can attach sensors to.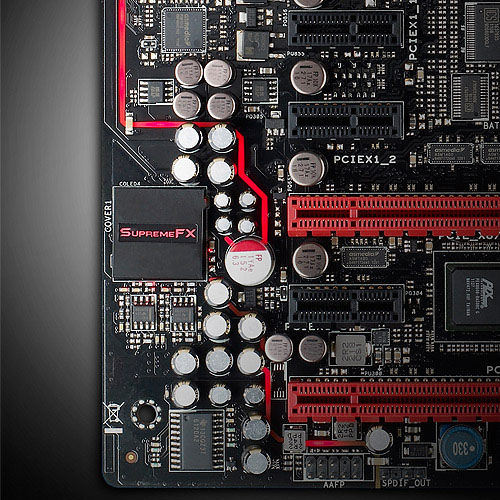 As mentioned in the overview, the SupremeFX IV audio solution on the MVF is one of the major selling points. As part of the audio evolution on ROG motherboards, the SupremeFX brings changes missing from regular audio solutions, such as:
- Physical PCB separation of audio and other components (shown by the red line) for less electrical interference
- Low resistance ELNA capacitors to reduce amplitude loss and RFI
- A high buffer (1500microF) capacitor for additional amplitude gain when required
- Aluminum cap to reduce electromagnetic interference
- High fidelity TI 6120A2 300 ohm headphone amplifier (front panel audio only)
- DTS Ultra PC II and DTS Connect
Ultimately the underlying codec is a Realtek ALC898, which ASUS seem keen not to mention directly, but the SupremeFX IV environment gives it the best chance to perform near to the rated specifications, unlike standard onboard audio that may incur a 30dbA loss due to the local environment.
On a side note, I conversed with a member of ASUS' audio team (our good friend and former Senior Editor Rajinder Gill) regarding the decision to use Realtek over either Creative or anyone else. He mentioned that while internally they have tested with other audio solutions from manufacturers well known in audio circles, it was very problematic when it came to issues and needing driver updates. One of these companies they were testing with quoted an 18 month cycle for updates and fixes, compared to a Realtek turnaround time of 4-8 weeks. This is mainly due to the difference in size of the R&D divisions of these companies – Realtek are huge in comparison to the rest (selling 100 million+ codecs per year), so when a component is going to be put in a variable scenario with a million different combinations, having those regular update patterns makes sure everyone is happy. No-one buys a motherboard with the audio not working for their particular setup, and is then told to wait 18 months for a fix, so ASUS was not willing to put this on anyone in the motherboard segment. Something like the ASUS Xonar Essence STX is more suited for a custom build, and even then when that product was released many users had initial issues – three years on and the major issues for the majority of users are fixed.
In terms of PCIe configuration, the MVF uses a smaller PLX switch to increase the PCIe lane count from the chipset. For GPU configurations, we have access to a PCIe 3.0 x16, x8/x8 or x8/x4/x4. Placing a device in the second or third red PCIe slots adjusts the lane allocation in the standard Z77 way. There are also four black PCIe 2.0 slots on board – three x1 and an x4 at the top, which may be limited in thickness due to the proximity of the power delivery coolers.
The Rear IO panel takes advantage of ASUS' PCIe combo card. As seen on other Z77 models, this card uses lanes routed up past the CPU to make use of a WiFi/BT card and give access to an mSATA slot: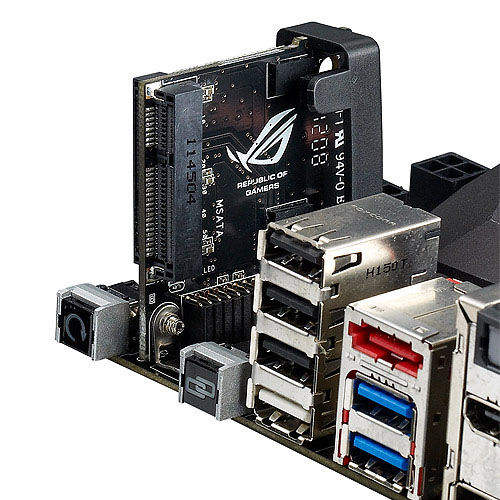 I am typically a big fan of integrated WiFi on board, and ASUS has the best solution so far that does not use up any PCIe slots. The WiFi module is a dual band 802.11 a/b/g/n Broadcom affair with dual stream (up to 300 Mbps) capabilities. Hopefully in the future this will become a WiDi enabled 3T3R device, perhaps even AC as years go on (and prices comes down/standards ratified).

The rest of the Rear IO comes in the form of a ClearCMOS button, ROG Connect button, four USB 2.0 ports (one ROG Connect enabled), two USB 3.0 from the chipset, two USB 3.0 from an ASMedia controller, an eSATA 3 Gbps port, HDMI, DisplayPort, an optical SPDIF output and input, an Intel 82579V NIC and audio jacks.
Board Features
ASUS Maximus V Formula
Price
Link
Size
E-ATX (305mm x 257mm)
CPU Interface
LGA-1155
Chipset
Intel Z77
Memory Slots
Four DDR3 DIMM slots supporting up to 32 GB
Up to Dual Channel, 1066-2800 MHz
Video Outputs
HDMI
DisplayPort
Onboard LAN
Intel 82579V
Integrated Broadcom Dual Band 802.11 b/g/n
Onboard Audio
SupremeFX IV
- advanced Realtek ALC898
- SNR: 110 dBA
- THD+N: 95 dB @ 1 kHz
-TI6120A2 300 ohm headphone amp
- EMI Shielding
- 1500uF filtering
- DTS Ultra PC II + Connect
Expansion Slots
3 x PCIe 3.0 x16 (x16, x8/x8, x8/x4/x4)
1 x PCIe 2.0 x4
3 x PCIe 2.0 x1
1 x mPCIe 2.0 x1 (on Combo Card)
Onboard SATA/RAID
2 x SATA 6 Gbps (Chipset), RAID 0, 1, 5, 10
2 x SATA 3 Gbps (Chipset), RAID 0, 1, 5, 10
1 x mSATA 3 Gbps (Chipset, on Combo Card)
1 x eSATA 3 Gbps (Chipset, rear IO Panel)
4 x SATA 6 Gbps (ASMedia), RAID 0, 1
USB
4 x USB 3.0 (Chipset) [2 back panel, 2 onboard]
8 x USB 2.0 (Chipset) [4 back panel, 4 onboard]
2 x USB 3.0 (ASMedia) [2 back panel]
Onboard
6 x SATA 6 Gbps
2 x SATA 3 Gbps
1 x USB 3.0 Header
2 x USB 2.0 Headers
8 x Fan Headers
1 x Front Panel Audio Header
1 x Front Panel Header
1 x Slow Mode Switch
1 x LN2 Mode Switch
3 x Thermal Sensor Connectors
8 x Voltage Measurement Points
Power/Reset Buttons
Go! Button
mPCIe Combo Header
Power Connectors
1 x 24-pin ATX Power Connector
1 x 8-pin CPU Power Connector
1 x 4-pin Molex VGA Power Connector
Fan Headers
2 x CPU (4-pin)
3 x CHA (4-pin)
3 x OPT (4-pin)
IO Panel
mPCIe Combo Card
Clear CMOS Button
ROG Connect Button
4 x USB 2.0
4 x USB 3.0
1 x Intel GbE
1 x eSATA 3 Gbps
Audio Jacks
Optical SPDIF Output/Input
Warranty Period
3 Years
Product Page
Link
The MVF is feature filled, with 8 fan headers 10 SATA ports total (including 1 mSATA/1 eSATA), 6 USB 3.0, Q-LED and overclocking options. Our direct comparison is to the ASRock Z77 OC Formula, which uses a Broadcom NIC rather than an Intel, has no WiFi, no mSATA, no eSATA, basic ALC898 audio only, has no TPM, supports only up to x8/x8, and has fewer x1 slots. The Z77 OC Formula compared to the MVF does have the upper hand on some hardware fronts – it has two more USB 3.0, two more USB 2.0, a PS/2 combination port, onboard buttons for quick overclocking, PCIe disable switches and two BIOS chips.