Snapdragon 600 - CPU Performance
With the low level look at Krait 300 out of the way, let's see how the One fares in our standard suite of Android based CPU tests.
We'll start with SunSpider 0.9.1, our trusty javascript performance test.
Despite the low level improvements, HTC's One here doesn't offer any advantage over the APQ8064 based flagships from last year. I suspect what we're seeing here are limits of software/browser optimizations on the One rather than a conclusion about the performance of its hardware.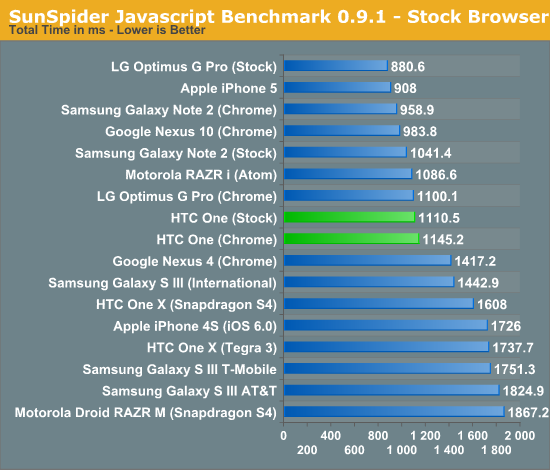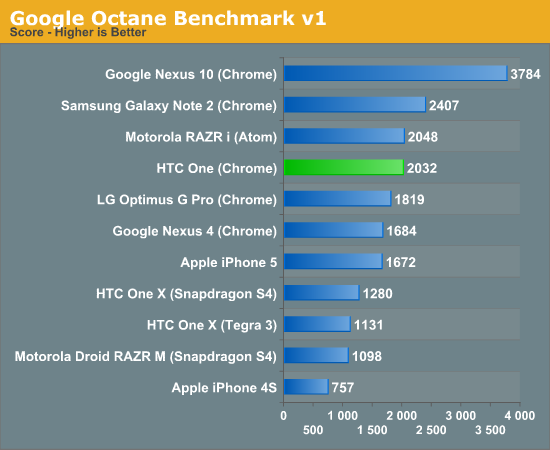 The One's standings improve as we look at Google's Octane test, effectively tying the performance of the Atom based Motorola RAZR i. The Exynos 4412 based Galaxy Note 2 continues to perform very well here, despite being built on older Cortex A9 hardware running at a slightly lower clock frequency.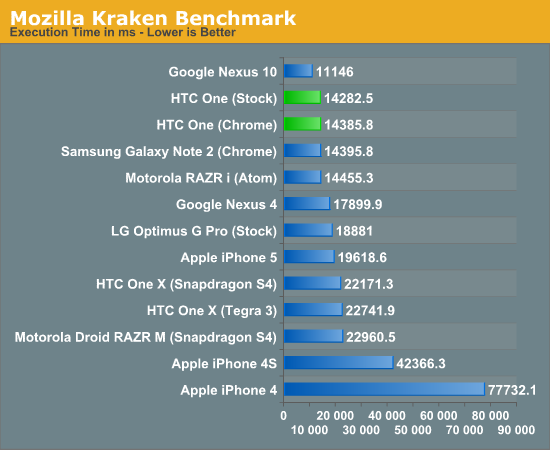 Kraken is likely the least optimized for javascript benchmark we have in our suite, which makes it (temporarily) interesting. There's also the fact that the benchmark is quite large and takes a while to run on all platforms, giving us some more useful results. Here the One is second only to the Cortex A15 based Nexus 10 tablet, which should be faster given its higher TDP and much beefier microarchitecture. Otherwise the One is the fastest Android device we've tested here.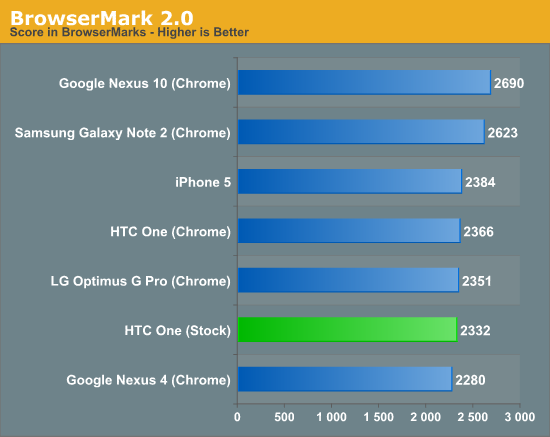 BrowserMark 2.0 goes back to having the GNote 2 on top in the phone space, nearly equalling the performance of the Nexus 10. The data is very strange but I don't have a good explanation for it, other than that we really need to move away from js based benchmarks as soon as good ones are available. The BrowserMark 2.0 performance of the One looks very similar to the iPhone 5.
Our two Vellamo benchmarks both show the One doing very well. In the HTML5 test, the One puts everything else to shame - including the old APQ8064 based Droid DNA and the Galaxy Note 2. The Qualcomm comparison is the more interesting as it echoes some of what we saw in the microbenchmarks - take into account the clock speed difference and you're looking at a 22% improvement in performance due to the new Krait 300 cores.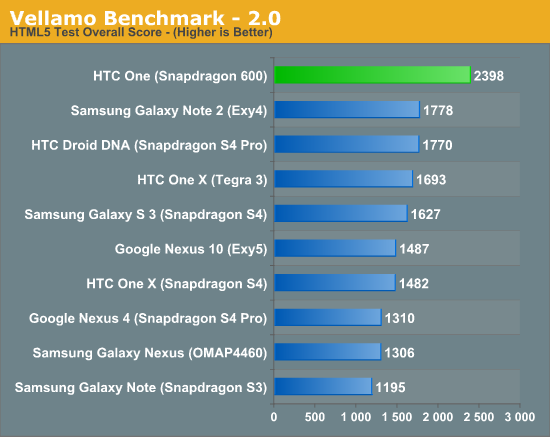 The Vellamo Metal score shows a smaller overall performance advantage (~11% if you take into account the clock speed difference), but still a measurable one nonetheless. Here we also see the Nexus 10 perform as expected: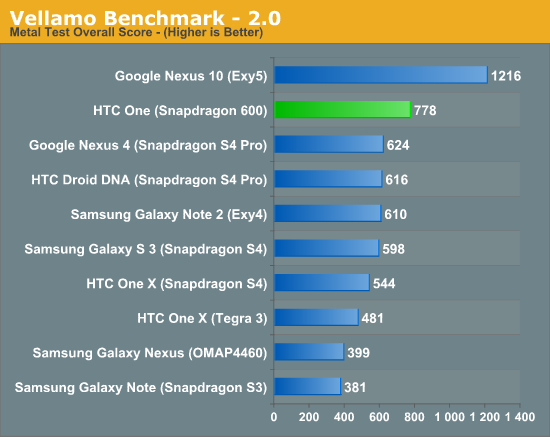 Subjectively, the new Snapdragon 600 platform is appreciably quicker than the previous generation S4 Pro. The margin of improvement will really depend on the application you're using, but in terms of responsiveness the HTC One is among the best out today. The real question is how Qualcomm's latest will compare once Cortex A15 based SoCs begin shipping in phones, not just from a performance standpoint but taking into account power as well.