Enterprise Storage Bench - Microsoft SQL UpdateDailyStats
Our next two tests are taken from our own internal infrastructure. We do a lot of statistics tracking at AnandTech - we record traffic data to all articles as well as aggregate traffic for the entire site (including forums) on a daily basis. We also keep track of a running total of traffic for the month. Our first benchmark is a trace of the MS SQL process that does all of the daily and monthly stats processing for the site. We run this process once a day as it puts a fairly high load on our DB server. Then again, we don't have a beefy SSD array in there yet :)
The UpdateDailyStats procedure is mostly reads (3:1 ratio of GB reads to writes) with 431K read operations and 179K write ops. Average queue depth is 4.2 and only 34% of all IOs are issued at a queue depth of 1. The transfer size breakdown is as follows:
AnandTech Enterprise Storage Bench MS SQL UpdateDaily Stats IO Breakdown
IO Size
% of Total
8KB
21%
64KB
35%
128KB
35%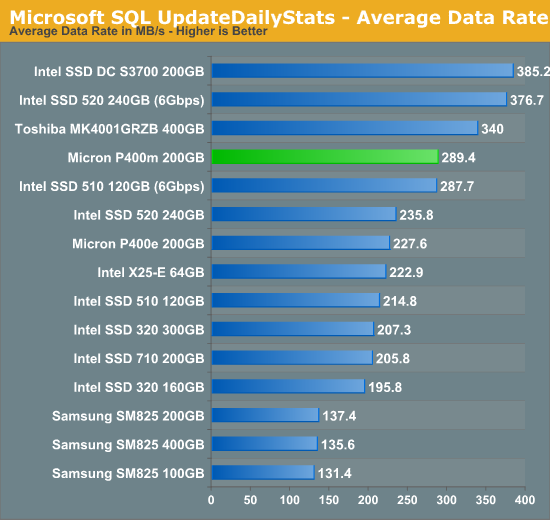 With a significant improvement to sequential write speed, combined with competitive sequential read speed, the P400m manages to tangibly outperform the P400e. Intel's S3700 remains the fastest 2.5" SATA drive we've tested here.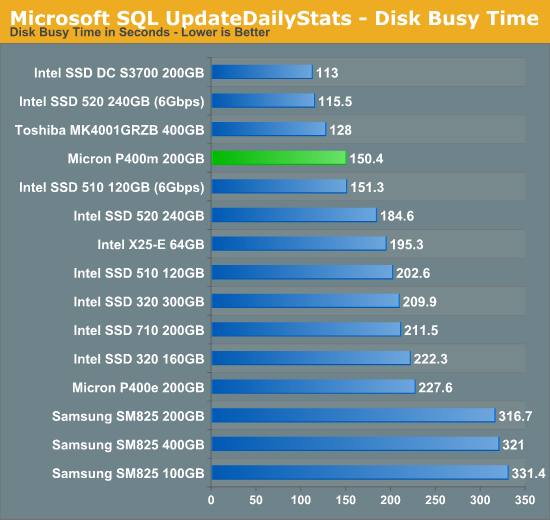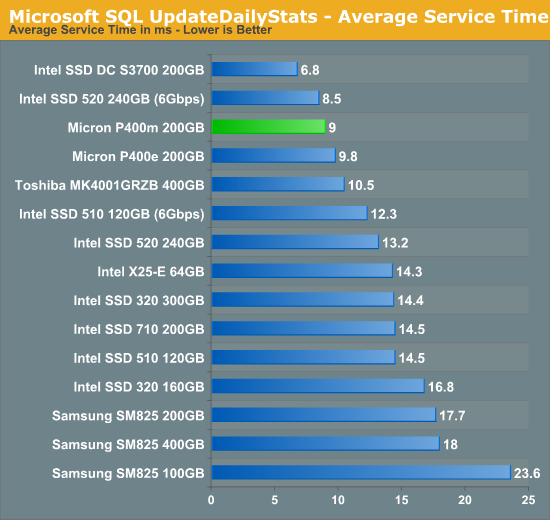 A look at average service time shows the P400m as having very competitive latency to even the best Intel has to offer. Keep in mind that not all workloads are as latency sensitive as our IO consistency test. For those that are more latency tolerant, the P400m and S3700 look far more similar than you'd think.