Kanie Hedgehog­238M
Heatsinks with embedded copper plates aren't anything special anymore. But heatsinks made of 100% copper are new on the US market. The Kanie Hedgehog, imported from Japan, is the first copper heatsink to hit the market here. The design looks very similar to the Alpha PFH6035, except, of course, that the Hedgehog made of copper.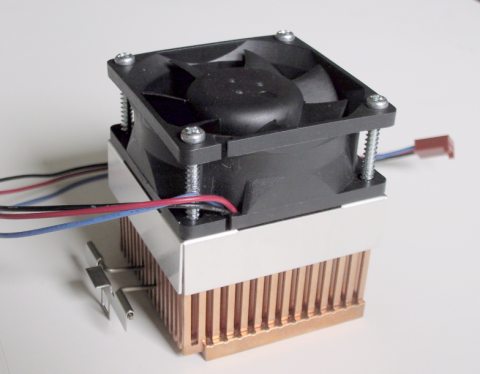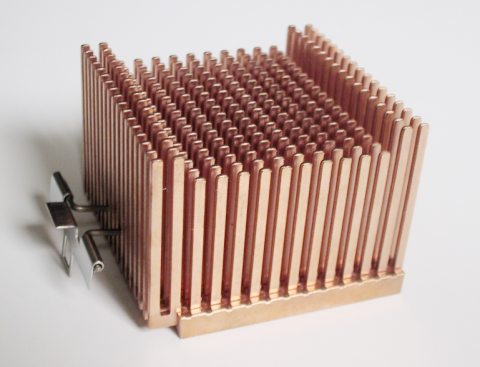 Performance
Equiped with the Delta 'black label' 38CFM fan, the Hedgehog performed better than any other cooler in this roundup. However, this fan is so incredibly loud that we'd only recommend it for servers that are located in rooms where no humans are present. Equiped with a YS Tech fan, it performed better than the Alpha or Global WIN coolers equiped with the same fan - but the difference was very small, only 1°C in our test. So, is copper as a heatsink material better than aluminum? Yes. Is the difference considerable? No. You'll have to decide for yourself whether the slightly better performance is worth the extra cost and weight of the heatsink.
The different retailers that sell the Hedgehog bundle it with various fans, so that you can chose a one that will suit your needs the best, depending on whether high performance or low noise is more important for you. We tested the Hedgehog with the Delta fan, because it is the strongest, and with the YS Tech fan, because it is probably the most popular fan.
Installation
The Hedgehog comes in disassembled form, but thanks to the installation instructions it's very easy to assemble. The clip is similar to the Alpha's; it takes a little force to install the heatsink. Since the Hedgehog is very heavy, it will put a lot of stress on the motherboard when the PC is moved around. This is something to consider if you're moving your PC a lot, e.g. for frequent visits to LAN parties.
Kanie "Hedgehog-238M"
Fan: Delta 60x25mm (also available with other fans)

Fan rpm (measured): 6898

Price: Around $50
Advantages
Outstanding performance, the best in this roundup
Made of 100% copper
Available with a wide choice of fans
Disadvantages
Expensive
Heavy (460 grams)
Can be very loud, depending on the fan