Krait: Idle Power
We'll start out our power investigation looking at behavior at idle. Although battery life when you're actually using your device is very important, having a fast SoC that can quickly complete tasks and race to sleep means that you need to be able to drive down to very low idle power levels to actually benefit from that performance. Here we're looking at power consumption at the Start Screen in Windows RT/8. You'll notice that there are two distinct periods during the benchmark, with the latter part of the graph showing lower power consumption thanks to the live tiles going to sleep. In this test, WiFi is enabled but there's no background syncing of anything. WiFi being on is why we continue to see power spikes even after the live tiles have gone to sleep: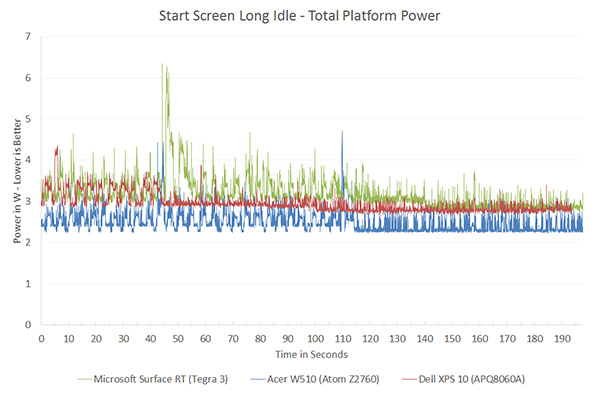 The W510 does a great job of drawing little power at idle. Its silly WiFi implementation results in peak idle power consumption that's very similar to the Dell XPS 10, but the lowest the platform hits is appreciably lower than anything else. Surface RT remains the more power hungry of the three, while the XPS 10 falls somewhere in between MS and Acer.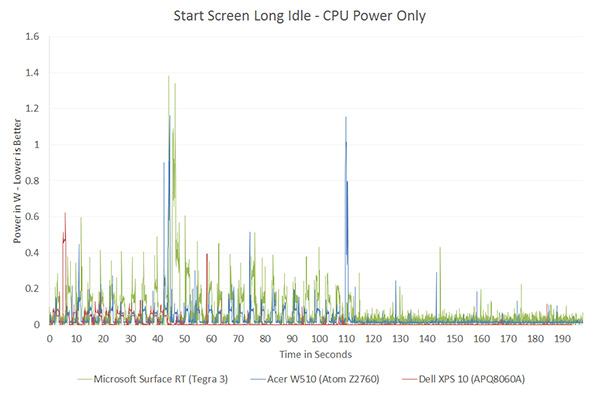 If we isolate CPU core power alone though, things are a bit different. Keep in mind that we don't have the L2 power island instrumented, so the XPS 10 looks a little better than it should here but minimum CPU power consumption is very good on Krait. Although the Atom Z2760 is built on a special SoC derivative of Intel's 32nm process, I do suspect that it's not quite as low power as TSMC's 28nm LP. Things may change by the time 22nm rolls around however. All meaningful compute transistors here should be power gated, and what we end up looking at is the best case leakage for all SoCs. The Krait/28nm LP combination is awesome. I'm not sure why Tegra 3 is so much more active here towards the very end of the curve by comparison.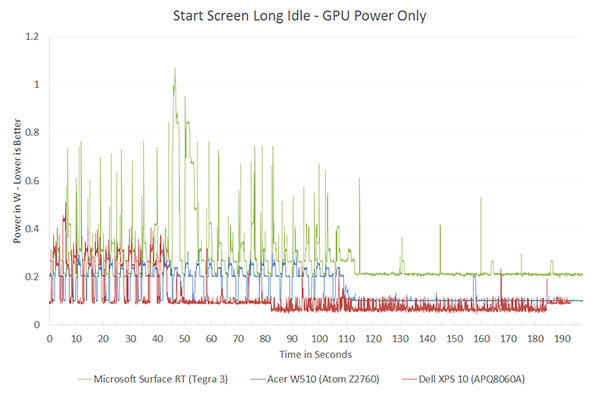 Adreno 225, or at least whatever Qualcomm drives off of the GPU power rail is extremely power efficient at idle. The PowerVR SGX 545 curve looks flatter at the end but Qualcomm is able to hit lower minimum power levels. It's not clear to me how much of this is architecture vs. process technology. On the GPU side there is some activity happening here as the display is still being refreshed even though the system is idle, so we're not looking at purely power gated consumption here.
To take the WiFi controller out of the equation, I tossed all tablets into Airplane mode and re-ran the same tests as above. You'll notice much less fluctuation in power consumption once the live tiles go to sleep.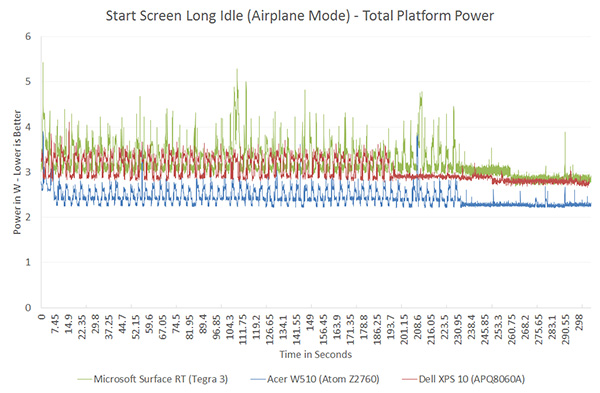 Take WiFi out of the equation and Acer's W510 looks really good. Intel worked very hard with Acer to ensure power consumption was as low as possible on this device. The XPS 10 does a bit better than Surface RT here, but not tremendously so. Acer/Intel hold the clear advantage.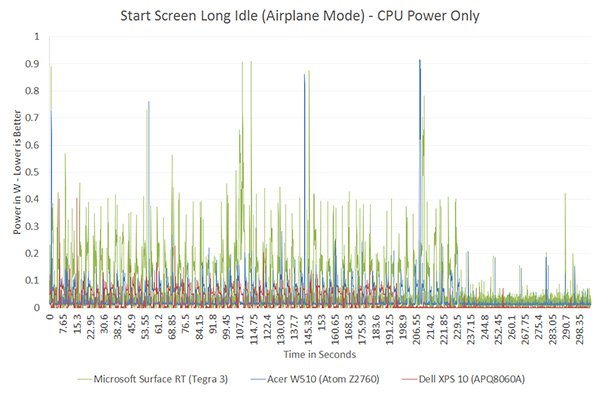 Looking at the CPU power island alone (excluding the L2 cache for Krait), we continue to see lower idle power consumption from APQ8060A vs. Atom Z2760. Once again I believe this is a TSMC 28nm LP advantage more than an architectural thing.