SunSpider 0.9.1
The results get more interesting when we look at power consumption during active workloads. We'll start off with SunSpider, a mid-length JavaScript benchmark that we frequently use in our reviews: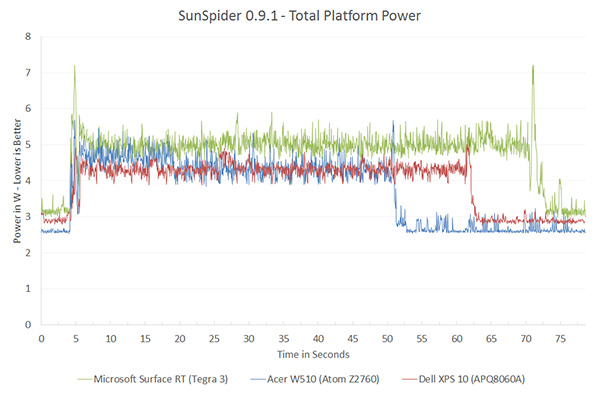 At the platform level, Qualcomm's APQ8060 powered Dell XPS 10 falls in between Surface RT and Acer's W510. Active power looks very similar to the Intel powered W510, but performance is appreciably slower so total energy consumed is higher.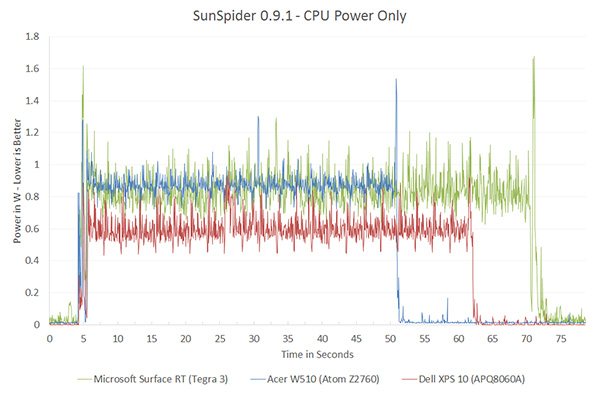 Looking at the CPU, the situation changes a bit. Intel's peak power consumption is similar to Tegra 3, while Krait manages to come in appreciably lower. I suspect that missing the L2 cache power island here is lowering Qualcomm's power consumption by 100 - 200mW but overall CPU-only power consumption would still be lower. Once again, at idle Krait seems to have a bit of an advantage as well.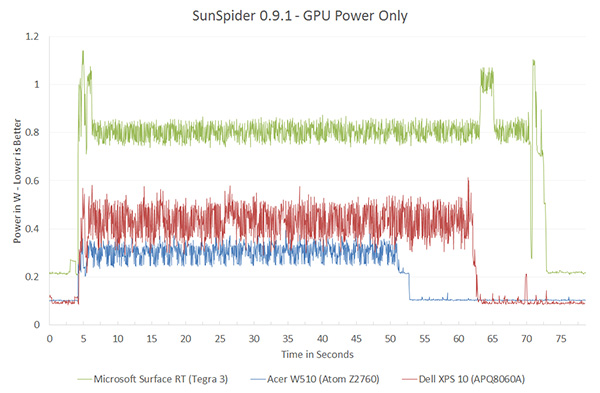 The situation changes once we look at GPU power consumption, with Intel/Imagination having the clear advantage here.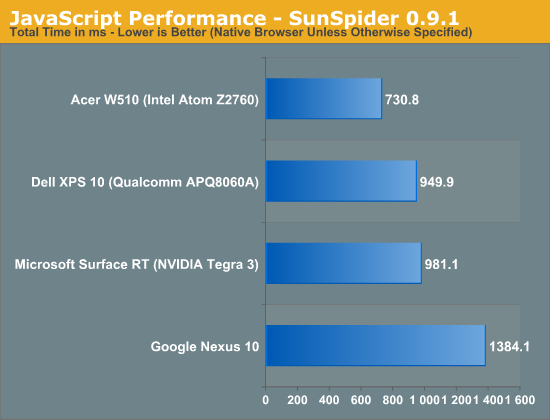 Kraken
Mozilla's Kraken benchmark is a new addition to our js performance suite, and it's a beast. The test runs for much longer than SunSpider, but largely tells a similar story: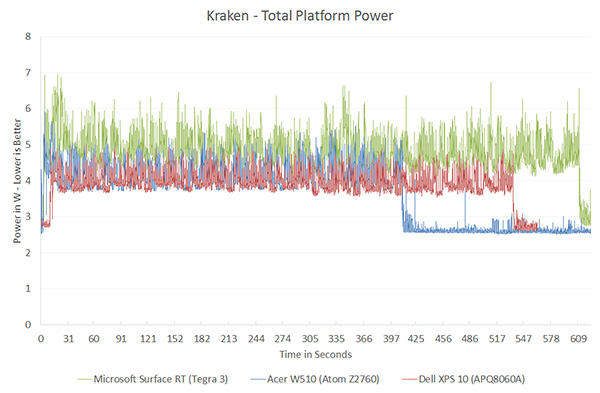 At the platform level, Acer's W510 has slightly higher peak power consumption compared to the Dell XPS 10 but it also completes the test quicker, giving it a better overall energy usage profile.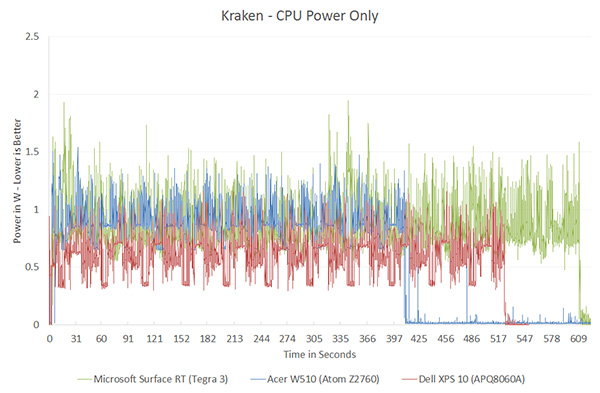 Looking at the CPU cores themselves, Qualcomm holds onto its lead here although once again, I suspect the margin of victory is exaggerated by the fact that we're not taking into account L2 power consumption for Qualcomm. Intel does deliver better performance, which allows the CPU to race to sleep quicker than on APQ8060A.
The comparison to Tegra 3 is not surprising, this is exactly what we've seen play out in our battery life tests as well.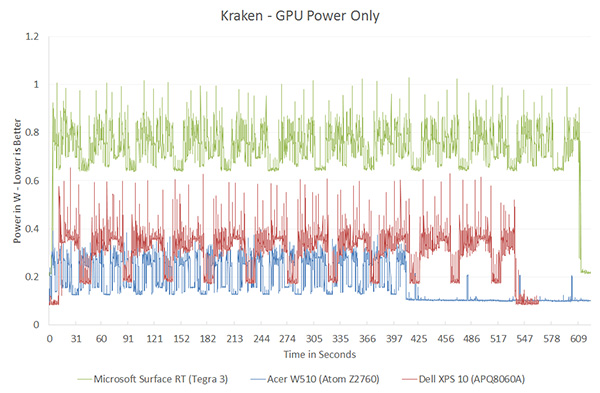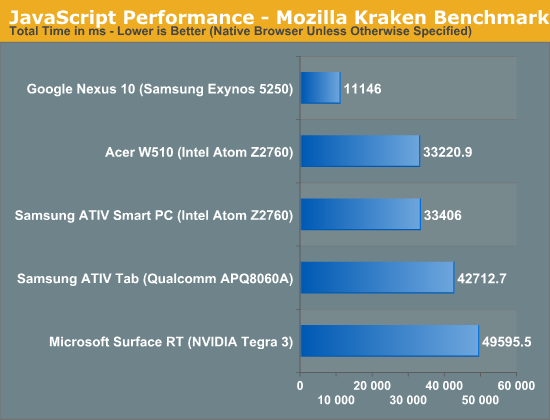 RIABench
RIABench's Focus Tests are on the other end of the spectrum, and take a matter of seconds to complete. What we get in turn is a more granular look at power consumption: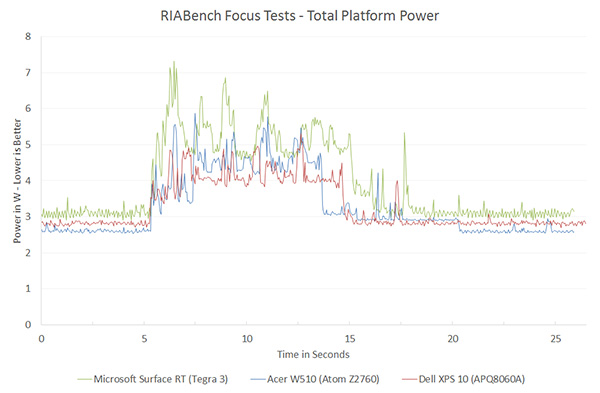 Here the W510 consumes more power at the platform level, but drops to a lower idle state than the XPS 10. Surface RT clearly uses more power than both.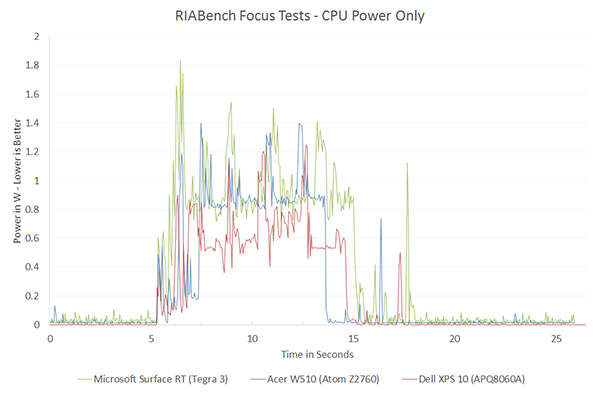 Krait's CPU level (excluding L2 cache) power consumption is once again lower than Atom's, but Atom completes the task quicker. In this case total energy usage is still in Qualcomm's favor. The fact that there's a discrepancy between CPU specific power results and the total platform results are partly due to the missing L2 cache power consumption data from the CPU power chart for Qualcomm, and partly due to differences in the tablets themselves.