SAP S&D
The SAP S&D 2-Tier benchmark has always been one of my favorites. This is probably the most real world benchmark of all server benchmarks done by the vendors. It is a full blown application living on top of a heavy relational database. And don't forget that SAP is one of the most successful software companies out there, the undisputed market leader of Enterprise Resource Planning.
SAP is thus an application that misses the L2 cache much more than most applications out there, with the exception of some exotic HPC apps. We made an in depth profile of SAP S&D, but here is the summary:
The application has very low instruction level parallelism (ILP) and as a result is not taxing the integer units much (IPC = 0.3-0.55, SPECint 2006: >1) .
SAP misses the L2 cache much more than most applications out there (4 to 10 times more than SPECint2006 apps)
The application has a relatively large but "prefetcheable" instruction footprint, which allows the prefetchers to reduce the instruction related cache misses
The application has a massive and random data footprint, putting great pressure on the load subsystem. As a result the out of order engine has to hide the latency the best it can, and large ROB and load buffers help a lot. The latency of the memory subsystem matters.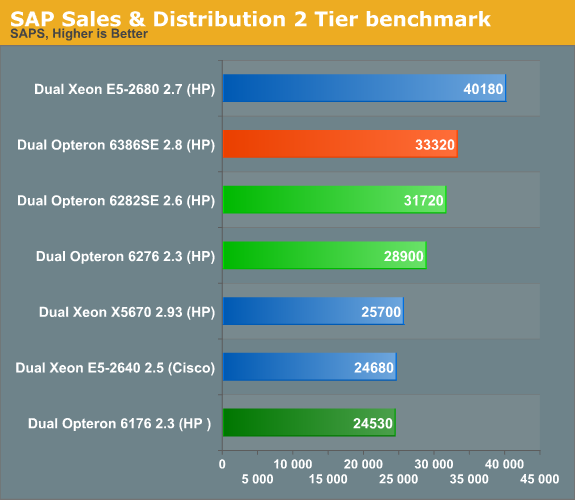 The new Opteron does not boost SAP performance. A 6% clock increase translates into a 5% performance increase. As we discussed previously, SAP is one of the few complex server applications where the "Interlagos" Opteron performs a lot better than its predecessor. The application does not seem to benefit from any of the small improvements that the Piledrive core offers. Or maybe HP's benchmark team did not spend much time on this particular benchmark. Since the HP score is the only Interlagos score available, we have no other option than to wonder which of the two options is the closest to the truth.
Not that it matters much: the best SAP servers are Xeon E5 based. In this market of expensive consulting and software, $500 dollar savings on hardware is peanuts. So people tend to go for the best performance, and the Xeon E5 are clearly better at delivering raw SAP performance.