Measuring Real-World Power Consumption
The Equal Workload (EWL) version of vApus FOS is very similar to our previous vApus Mark II "Real-world Power" test. To create a real-world "equal workload" scenario, we throttle the number of users in each VM to a point where you typically get somewhere between 20% and 80% CPU load on a modern dual CPU server. The amount of requests is the same for each system, hence "equal workload".
The CPU load is typically around 30-50%, with peaks up to 65% (for more info see here). At the end of the test, we get to a low 10%, which is ideal for the machine to boost to higher CPU clocks (Turbo) and race to idle. We use the "Balanced" power policy and enable C-states as the current ESXi settings make poor use of the C6 capabilities of the latest Opterons and Xeons.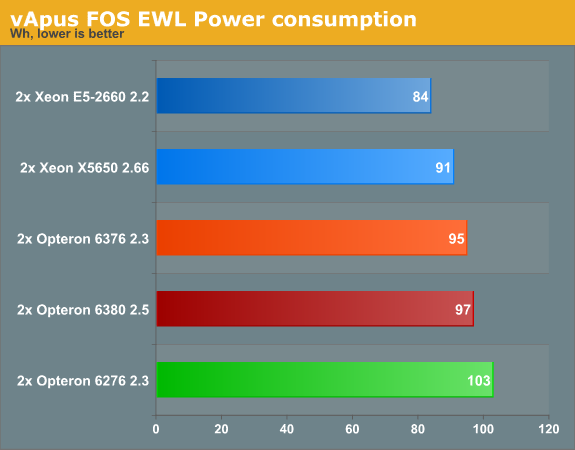 We cannot say "mission accomplished", but AMD has made significant progress. 12% to 20% better performance while decreasing the power consumption by 6% to 8% is pretty good. The 95W TDP Xeons are still the performance per Watt champs though. Still, it looks like the Opteron is a decent alternative for some. Power consumption is about 12-13% higher (6376 vs E5-2660), but the performance per dollar is slightly better.