Virtualization Performance: Linux VMs on ESXi
We introduced our new vApus FOS (For Open Source) server workloads in our review of the Facebook "Open Compute" servers. In a nutshell, it is a mix of four VMs with open source workloads: two PhpBB websites (Apache2, MySQL), one OLAP MySQL "Community server 5.1.37" database, and one VM with VMware's open source groupware Zimbra 7.1.0. Zimbra is quite a complex application as it contains the following components:
Jetty, the web application server
Postfix, an open source mail transfer agent
OpenLDAP software, user authentication
MySQL is the database
Lucene full-featured text and search engine
ClamAV, an anti-virus scanner
SpamAssassin, a mail filter
James/Sieve filtering (mail)
All VMs are based on a minimal CentOS 6 setup with VMware Tools installed. All our current virtualization testing is on top of the hypervisor which we know best: ESXi (5.0). We have changed two things in our vApusMark FOS setup: we upgradeded the guestOS from 5.6 to 6.0 and increased the number of vCPUs of the OLAP VM from 2 to 4. This small upgrade means that our latest results should not be compared to the results in our older articles. We test with four tiles (one tile = four VMs). Each tile needs nine vCPUs, so the test requires 36 vCPUs.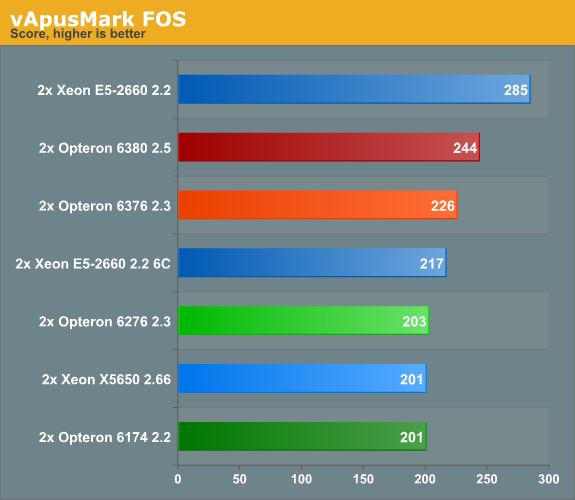 For being just a minor update, the new Piledriver core does pretty well. Clock for clock performance goes up by 11%. The total performance gain (IPC+clock) is 20%, which is significant. The Opteron 6376 performs only 4% better than its direct competitor the E5-2630 (as the latter will perform very similar to our E5-2660 with 6 cores), but that is not bad at all: you get slightly better performance for a lower (server) price.
The top of the line 6380 cannot keep up with the best Xeons. Offering 86% of the more expensive Xeon E5-2660 is hardly a disaster, however. Note "maximum amount of affordable memory" is on top of many virtualization hosts shopping lists followed by price/performance. For those buyers, considering that a server based upon the Opteron cost less, the Opteron is once again a potent virtualization host if the power usage is similar.
With the lack of c-states, the Opteron 6174 did pretty poorly. The Opteron 6276 consumed a lot less at idle than its predecessor, but consumed a lot more when pressured to perform at high load. So we were very keen to learn whether AMD has improved power consumption too. Did AMD finally get that part right?