The Test
Windows 98SE / 2000 Test System

Hardware

CPU(s)

Intel Pentium III 1GHz
Intel Pentium III 800
Intel Celeron 700
Intel Celeron 566

AMD Thunderbird 1.2GHz
AMD Thunderbird 1GHz
AMD Thunderbird 900
AMD Thunderbird 800
AMD Duron 800

Motherboard(s)
ASUS CUSL2
ASUS A7V
Memory

128MB PC133 Corsair SDRAM

Hard Drive

IBM Deskstar DPTA-372050 20.5GB 7200 RPM Ultra ATA 66

CDROM

Phillips 48X

Video Card(s)

NVIDIA GeForce 2 GTS 32MB DDR (default clock - 200/166 DDR)

Ethernet

Linksys LNE100TX 100Mbit PCI Ethernet Adapter

Software

Operating System

Windows 98 SE
Windows 2000 Professional

Video Drivers

NVIDIA Detonator3 v6.31 @ 1024 x 768 x 16 @ 75Hz
NVIDIA Detonator3 v6.31 @ 1280 x 1024 x 32 (SPECviewperf) @ 75Hz
VIA 4-in-1 4.24A was used for all VIA based boards

Benchmarking Applications

Gaming

GT Interactive Unreal Tournament 4.20 AnandTechCPU.dem
idSoftware Quake III Arena v1.16n demo001.dm3
Rage Software Expendable Timedemo

Productivity

BAPCo SYSMark 2000
Ziff Davis Content Creation Winstone 2000
Ziff Davis High-End Winstone 99
SPECviewperf 6.1.1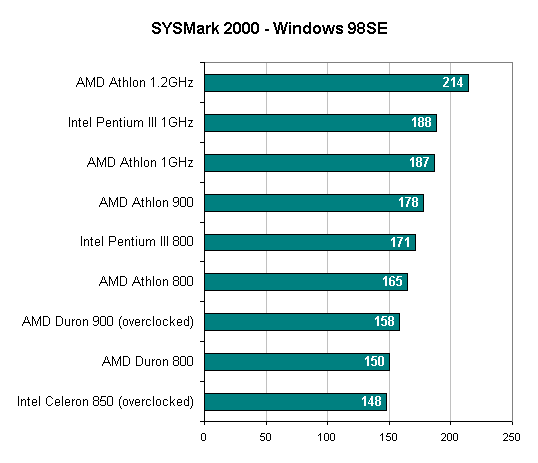 Without the 1.13GHz Pentium III to compete against, the 1.2GHz Athlon is left all alone to dominate the SYSMark 2000 benchmark.
To start things off, the Athlon boasts a 14% performance improvement at 1.2GHz over 1GHz under SYSMark 2000.
The Duron 800 is just 1% faster than an overclocked Celeron 850, however considering that the Celeron 850 (100MHz FSB) won't be available until sometime next year it's pretty certain that the most competition the Duron will have in terms of performance will be the Pentium III and its own brother, the Athlon.
Under SYSMark 2000 you can see that the Duron is around 10% slower than an equivalently clocked Athlon, and while not shown above, it is approximately 3% slower than an equivalently clocked K75 Athlon. This is just as we discovered in our original Duron review.