In Practice: The Software
Logitech has condensed their software into a single suite, the Logitech Gaming Software. As with any peripheral, this is the weakest link in the experience. I think this is cleaner than SetPoint or the software used for my G500 mouse, and it's easy to switch between the supported peripherals, but it still suffers from classic Logitech bloat. Being pestered for registration is aggravating, and while the keyboard side of the software seems to work smoothly, the mouse side is still buggy with the G600. I did speak to a rep on the phone and explained the issues I saw (button lighting not consistently working correctly in the software, DPI adjustments getting reversed), so hopefully those will be covered.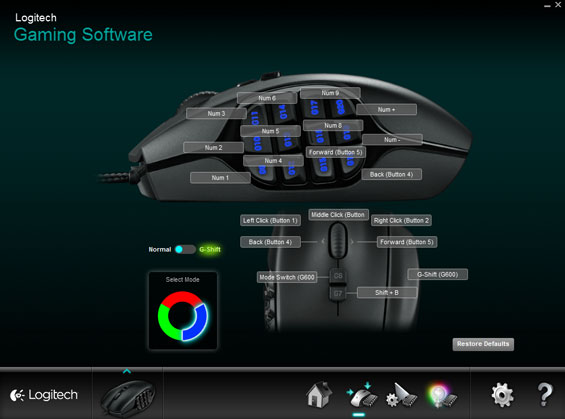 Thankfully both the G710+ and G600 can be programmed and have profiles stored in their on-board memory so you really only have to bother with the software once. Unfortunately, in the case of both pieces of hardware, that does mean losing features. You lose context switching (where the hardware switches modes and configurations depending on the software running), which is expected, but the G600 actually operates at irritatingly reduced functionality in on-board mode. My ancient-by-technology-standards G500 can have its buttons assigned to media playback keys and that configuration is stored on board; with the G600 that feature is conspicuously absent and I received conflicting reports as to why.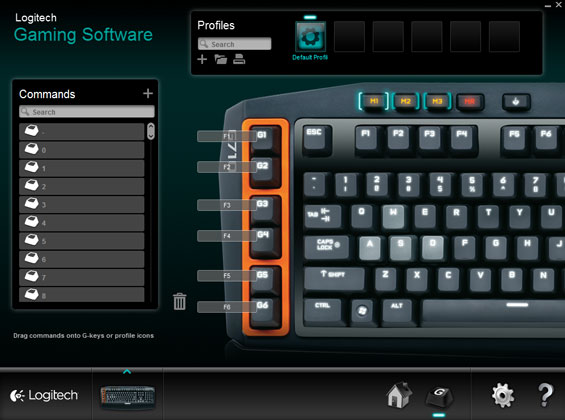 The Logitech Gaming Software suite ultimately isn't quite as frustrating or bloated as it used to be, but it still needs to be pared down and I feel like aesthetically it could be more functional and direct and less ostentatious. The dirty secret is that enthusiast/gamer class hardware is oftentimes worth looking at for productivity purposes; replacement keypads are routinely used by graphic artists for Photoshop shortcuts, and the increased precision and feedback of both quality gaming mice and keyboards is undoubtedly going to be useful to power users from any stripe.