Overclocking
With Sandy Bridge Intel killed budget overclocking by completely clock locking all CPUs without turbo boost enabled. While you used to be able to buy an entry level CPU and overclock it quite nicely, Intel moved all overclocking to its higher priced parts. As a gift to the overclocking community, Intel ramped up the presence of its fully unlocked K-series parts. Anything with a K at the end shipped with a fully unlocked clock multiplier, at a small price premium. Given that Intel hadn't shipped unlocked CPUs since the days of the original Pentium, this was a welcome move on its part. What would really be nice is the addition of some lower priced K SKUs, unfortunatley we won't get that unless there's significant competitive pressure from AMD.
Trinity doesn't have what it takes to really force Intel into doing such a thing, but that doesn't mean AMD won't try. The Trinity lineup includes AMD's own K-series SKUs that, like their Intel counterparts, ship fully unlocked. From $67 all the way up to $122, AMD is offering unlocked Trinity APUs. The value of these parts really depends on just how overclockable Trinity is to begin with. The Bulldozer/Piledriver architecture is designed to push frequency, however AMD is already shipping these things at very close to 4GHz to begin with. Take AMD's turbo frequencies into account and you're already at 4.2GHz with the A10-5800K. How much additional headroom is there?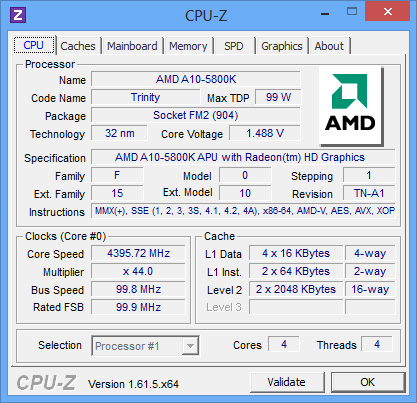 With a stock cooler and not a ton of additional voltage, it looks like there's another 5 - 15% depending on whether you're comparing base clocks or max turbo clocks. With an extra 0.125V (above the 1.45V standard core voltage setting) I was able to hit 4.4GHz on the A10-5800K. I could boot into Windows at 4.5GHz however the system wasn't stable. Although I could post at 4.6GHz, Windows was highly unstable at that frequency. With more exotic cooling I do believe I could probably make 4.5 work on the A10-5800K.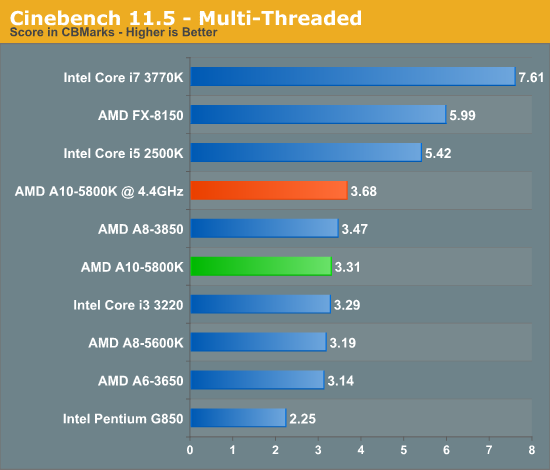 The extra frequency isn't enough to erase the single threaded performance gap between the A10 and Intel's Core i3 3220 however: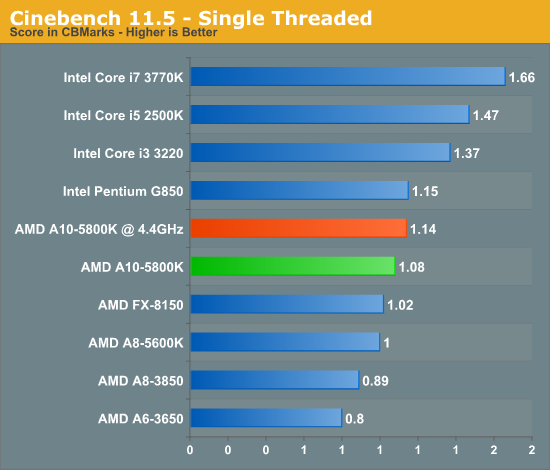 The only way AMD is going to close this gap is through a serious focus on improving single threaded performance in future architectures.