Video: Finally High Profile H.264
Section by Brian Klug
There are a few things different with video capture on the iPhone 5 thanks to improvements to both the ISP inside Apple's A6 SoC, and also software UI changes. First off, because the iPhone 5 display is now 16:9, there's no cropped view by default or aspect-correct view with letterboxing for video capture. Instead the iPhone 5 video capture window takes an iPad-like approach with transparent UI elements for preview and shooting video.
What's new is the ability to take still images at 1920x1080 while recording video by tapping a still image capture button that appears while recording. This is a feature we've seen onboard a ton of other smartphones and works the same way here. Note that you can't magically get a wider field of view or the whole CMOS area while shooting video, it's essentially dumping one frame from video capture as a JPEG instead of into an H.264 container.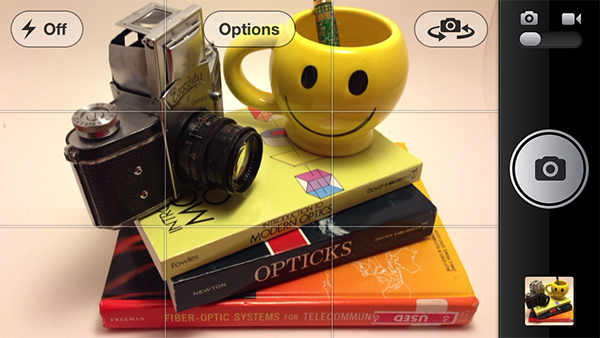 In addition the iPhone 5's tweaked Sony CMOS still uses a smaller center region for video capture. The difference in field of view is pretty big, but nothing that users haven't already dealt with in the past.
The iPhone 5 brings two main things to video capture. The first is improved electronic image stabilization tweaks and improvements to ISP. The difference is visible but not too dramatic unless you know what you're looking for. I would wager most users won't notice a huge step forward from the 4S but if you're using an iPhone 4 this will be a marked improvement.
The other improvement is video encoding. The iPhone 5 now shoots rear facing 1080p30 video at 17 Mbps H.264 high profile with CABAC. This is a huge step in encoding from the relatively absurd 22–24 Mbps baseline H.264 that the iPhone 4S would shoot at 1080p30. The result is vastly more quality per bit on the iPhone 5, for a big reduction in storage space per minute of video. I did some digging around and found that the A6 uses an Imagination Technologies PowerVR VXE380 for encoding and VXD390 for decoding, which is what I thought was in the previous SoC as well but perhaps wasn't clocked high enough for encode at high profile. This brings the iPhone 5's encoder on paper up to match what I see other smartphones running their 1080p video at as well (17 Mbps high profile).
On the front facing camera Apple is shooting 720p30 at 11 Mbps H.264 baseline, as opposed to the VGA at 3.5 Mbps that the 4S shot. Interestingly enough both front and rear shooting modes still are just mono audio, 64 kbps AAC. I would've liked to see stereo here since almost all the competition is shooting stereo, and it'd put those 3 microphones to use.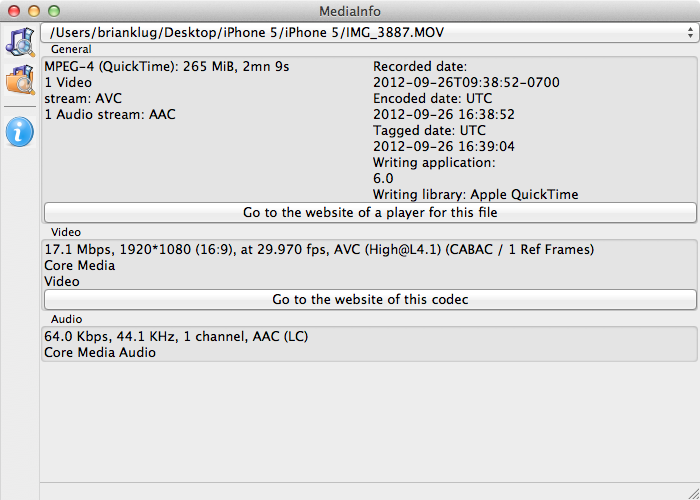 To get a feel for video quality, I stuck my iPhone 4S and iPhone 5 in my dual camera bracket with pistol grip and made a series of three videos. I then combined them and put them side by side for ease of comparison. I've uploaded the result to YouTube, but you can also grab the original videos (548 MB zip) if you'd like from the site directly without the transcode.
Overall the most dramatic improvement is the front facing camera, which is obviously night and day. Better image stabilization is noticeable while I'm walking around being intentionally shaky, but nothing hugely dramatic. The main rear facing video improvement seems to be an increase in sharpness (watch the power lines and wires in the native resolution version) and slightly wider field of view. That's to say nothing of the fact that this quality comes at a bitrate that's lower than the previous version but with better encode settings.