Dell U2713HM Input Lag and Power Use
As I stated on the Nixeus review, since I don't have a CRT that can do 1440p resolution I'm stuck testing these higher resolution displays at 1080p. Because of that the scaler gets involved, and that can lead to extra delays that you might not see if you run at 1440p. The pixel response should be the same, but the lag could vary from being the same to perhaps the low 1-2ms we see from some displays like the HP ZR2740w.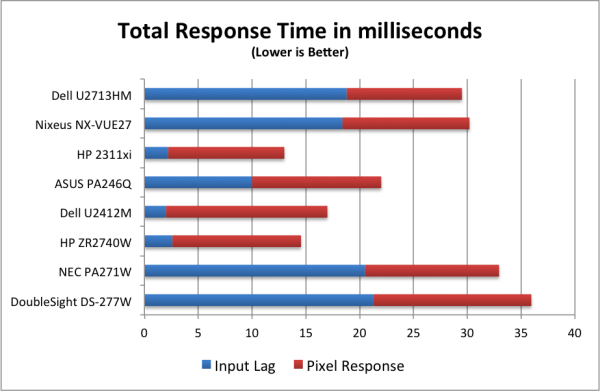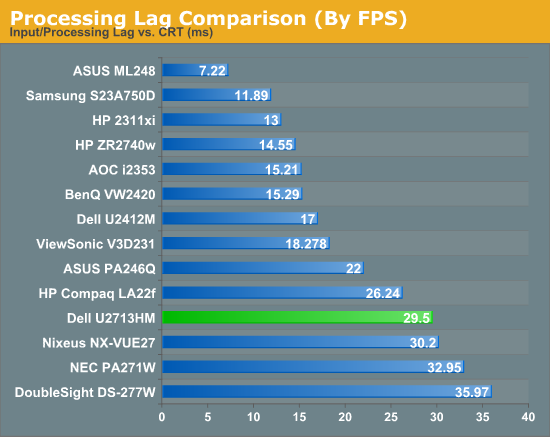 Here the Dell performs almost identically to the Nixeus that we recently reviewed, which means bad things for gamers. We have over a full frame of input lag, and then 11ms of pixel response time to bring our total lag up to 29.5ms, which is nearly two full frames on a 60 fps game. While the U2713HM is fine for everything else, for games that require fast reflexes and can't deal with two frames of lag you'll probably need to look elsewhere. I know some consider two frames to be acceptable and some consider anything over one frame to be unacceptable, so you will have to decide what you can live with.
On the power use side, I don't know what Dell did to this display but it is stingy when it comes to energy use. Even with the backlight at maximum and the screen pure white, we see only 45 watts of power being used. With the backlight at minimum this drops down to 18 watts of power. No 27" display in here has come close to this yet, and there are 23" and 24" class displays that almost use as much power as the 27" Dell does. I guess the eco consciousness at Dell goes beyond just packaging to the actual power use of the monitor as well.