Dell U2713HM Design, OSD, and Specs
The U2713HM is an LED-backlit display that offers the sRGB colorspace and a resolution of 2560x1440. It uses an IPS panel that is 8-bit, but unlike the U2711 doesn't support AFRC for simulated 10-bit color. Like all Dell monitors I have seen so far, it has a base that supports height, tilt, pivot, and swivel adjustments. Installation is a snap with Dell's standard mounting system where you just slip the monitor onto the stand and it clicks into place. The front is nice and clean, lacking any stickers or text aside from the Dell logo, and all the OSD controls are handled by a set of unlabeled buttons on the right-hand side.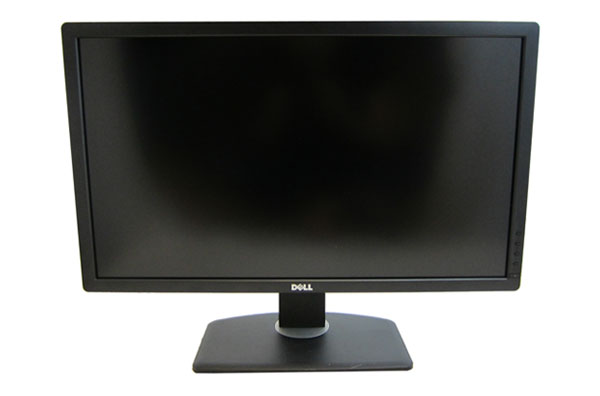 I have to complement Dell on the packaging for this monitor as well. Totally forgoing Styrofoam and only using a simple cardboard design, similar to recent Sony Blu-ray players, it both keeps the display safe and doesn't fall apart, making it easy to reuse the packaging later. If you aren't keeping the packaging, it also makes recycling the included materials much easier. I appreciate both the eco-friendliness and the ease of removing the monitor from the box. Dell thankfully puts a page detailing the monitor setup at the very top of the box, something other vendors would be wise to start doing.
Dell's U2713HM also offers 2x USB 3.0 ports on the side, and two more on panel with the video connections. The panel offers DisplayPort 1.2, VGA, DVI, and HDMI inputs, as well as a connection for Dell's soundbar speaker. The PSU is integrated into the display so there is a standard 3-prong IEC socket rounding out the connections. Nothing on the U2713HM is flashy or groundbreaking; it's just very utilitarian. It's not going to stand out in a way that makes you remember it at first glance, but after using so many other displays I also find there isn't anything poorly designed that stands out either. Overall the design of the Dell U2713HM is clean and well done.
I have always given Dell high marks for their OSD and I will continue to do so here. With four buttons to control it, none of which are labeled, you would think it might be tricky but it is not. With clear on-screen labels and descriptions of the controls, as well as avoiding the common mistake of having keys labeled with arrows control menus that move the other direction, Dell does a good job here of making it easy to navigate and control. The menu options are clear, with your standard preset modes, brightness and contrast, input selection, and more display settings. One missing item is an option for an overdrive or gaming mode to improve pixel response, though in practice we haven't seen major improvements from such modes on other displays. Another missing feature is the ability to automatically select an input, which makes using it with multiple devices a little harder. The OSD remains essentially unchanged from previous Dell displays, but they have no reason to go back and reinvent it either.
Viewing angles are good for an IPS as we expect them to be. There is a light coating of anti-glare, but nothing that I find to be objectionable or that caused issues with the image for me. Unless you're trying to look at the U2713HM from a 170 degree angle or so, you shouldn't have any issues viewing it and seeing color or contrast shifts in normal use.
Dell U2713HM
Video Inputs
DisplayPort 1.2, DL-DVI, HDMI, Dsub
Panel Type
IPS
Pixel Pitch
0.23mm
Colors
16.7 Million
Brightness
350 Nits
Contrast Ratio
1000:1
Response Time
8ms GTG
Viewable Size
27"
Resolution
2560x1440
Viewing Angle
178/178 Horizontal/Vertical
Backlight
LED
Power Consumption (operation)
42W Typical
Power Consumption (standby)
0.5W
Screen Treatment
Light Anti-Glare coating
Height-Adjustable
Yes, 4.5" of range
Tilt
Yes
Pivot
Yes
Swivel
Yes
VESA Wall Mounting
Yes, 100mm
Dimensions w/ Base (WxHxD)
25.17" x 7.89" x 16.70"
Weight
12.44 lbs. without stand
Additional Features
USB 3.0 hub (4 port), Dell Soundbar Power Connector
Limited Warranty
3 years
Accessories
DVI Cable, VGA Cable, USB Cable
Price
$799
The design and user interface of the Dell U2713HM seem to be up to the task, but how does it perform relative to other 27" models that have recently come through for testing?