One of the first things that jumps out when you look at the K7T Master is the DIMM slots – there are 4 of them.  The VIA 8373 North Bridge has a memory limit of 1.5GB SDRAM, so does that mean users can have more than 1.5GB, maybe 2GB or more, on the K7T Master?  The answer is no, unfortunately.  Microstar states in their manual that if users plan to use both DIMM3 and DIMM4, only single-sided DIMM's with the same specifications can be used.  If you want to use double-sided DIMM, then either DIMM3 or DIMM4 can be populated, but not both.  The total amount of memory users can put in is still 1.5GB, but Microstar provides a bit more flexibility for users with single-sided DIMM's laying around.
Similar to other KT133 motherboards, the 8373 memory controller in K7T Master lets you run your memory at either 133MHz or 100MHz.  Therefore, users with PC133 SDRAM can take advantage of the increased bandwidth over PC100 SDRAM, going from 800MB/s to 1.06GB/s.  This can be set easily in the BIOS. 
Stability is especially important for servers and workstation, since a single crash can be a disaster.  To help ensure a high level of stability, Microstar put a total of eight monstrous 3900uF capacitors on the K7T Master around the 462-pin Socket-A, making the motherboard very stable even under the most stressful circumstances.  However, by doing so, some of them ended up a bit close to the CPU, so fitting a over-sized heat sink may be a problem.  But for users with more standard heat sinks, this should not be an issue at all.
The 6/1/1/0 (PCI/AGP/CNR/ISA) expansion slot configuration on K7T Master should be more than enough for most users.  The CNR slot is a good news for OEM's, but the availability of CNR cards in the DIY market is still virtually non-existent.  The VIA 686A "Super" South Bridge supports up to 5 PCI slots and also features a integrated PCI-ISA bridge.  Microstar decided to cut out the ISA slot and put in one more PCI slot to make the motherboard "more" ready for server or workstation use.  As we've seen before from Microstar, a PCI arbiter chip allows all 6 slots to accept busmastering devices. The on-board SCSI and firewire actually make for a potential total of 8 PCI devices.
Moreover, the VIA 686A South Bridge also features support for up to 4 USB devices.  Beside the two traditional USB ports mounted at the back of the motherboard with the serial / parallel ports, there is also a header for USB 3 and 4 at the front of the board.  However, in our evaluation sample Microstar did not include any headers for those extra USB ports.
The VIA 686A South Bridge on the K7T Master provides two Ultra ATA 66 channels, so users can connect up to 4 IDE devices.  Microstar also offers an optional Ultra ATA 100 controller.  This controller was not provided with our evaluation sample, but our guess is that they would use the same MS-6915 Ultra ATA 100 controller bundled with our Microstar K7T Pro motherboard.  On the box of K7T Master, it also mentions the option of having IDE RAID, which is very important for server or workstation to provide reliable services.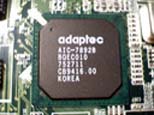 In order to make the K7T Master stand out from other KT133 motherboards and make it more suitable to the workstation / server market, Microstar also added a SCSI controller on-board, occupying almost the whole bottom left corner of the PCB.  The SCSI controller they use is the Adaptec AIC-7892B Ultra 160 controller. 
This controller can support high performance 160MB/sec single channel Ultra SCSI and also Ultra (SE) devices.  On the motherboard, you can find both the Ultra SCSI 50-pin connector and the SCSI 68-pin connector.  Microstar also provides an Ultra SCSI cable, using the 68-pin connector, which can connect to four or more SCSI devices.