Battlefield 3
Its popularity aside, Battlefield 3 may be the most interesting game in our benchmark suite for a single reason: it's the first AAA DX10+ game. It's been 5 years since the launch of the first DX10 GPUs, and 3 whole process node shrinks later we're finally to the point where games are using DX10's functionality as a baseline rather than an addition. Not surprisingly BF3 is one of the best looking games in our suite, but as with past Battlefield games that beauty comes with a high performance cost.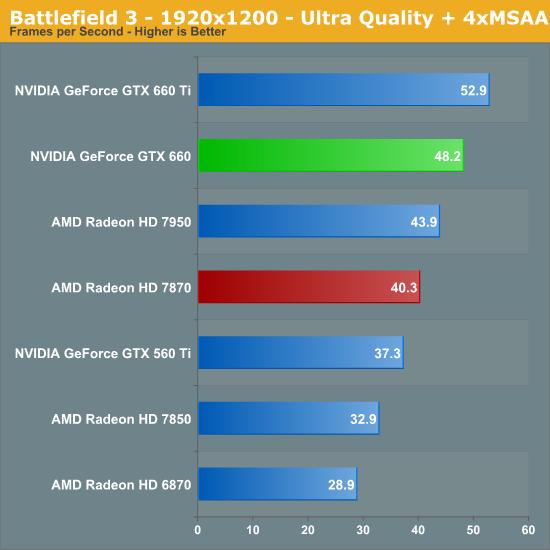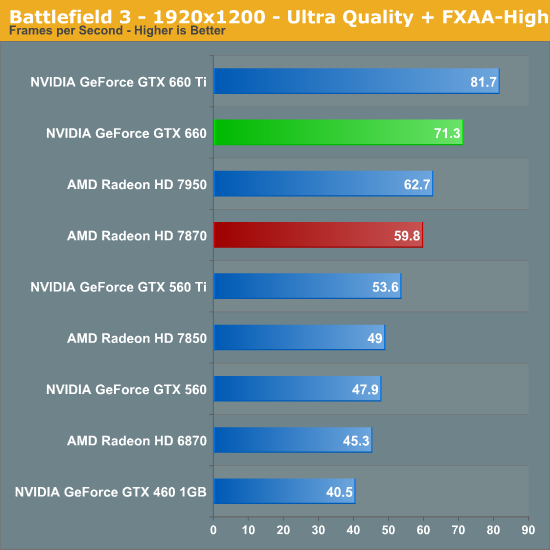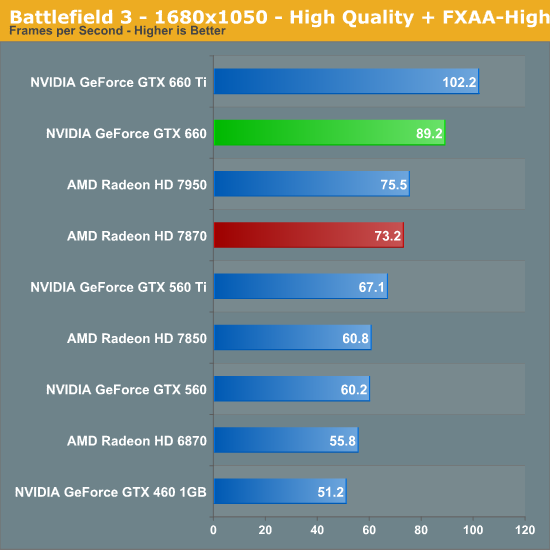 BF3 has always favored NVIDIA's architectures, so it comes as no surprise here that this is another good showing for the GTX 660. Realistically speaking MSAA is out of the question here since the minimum framerates would drop into the 20s, but performance is still high enough for 1920 on Ultra quality with FXAA. Here the GTX 660 trails the GTX 660 Ti by 12% while stopping just short of completely clobbering the 7800 series. At 71fps it can beat the 7870 by 19% and even beats the 7950 by 14%. Much like Portal 2 this is a game where the 7950 should by all rights be winning, so it's curious just what is going on under the hood that has NVIDIA's architectures doing so well here.
Even among NVIDIA cards however this is another strong showing for the GTX 660. Here it improves on the performance of the GTX 460 by 76%, a difference so large that it sees the GTX 660 crack 60fps at 1920 when the GTX 460 can't crack 60fps at 1680.