Civilization V
Our final game, Civilization 5, gives us an interesting look at things that other RTSes cannot match, with a much weaker focus on shading in the game world, and a much greater focus on creating the geometry needed to bring such a world to life. In doing so it uses a slew of DirectX 11 technologies, including tessellation for said geometry, driver command lists for reducing CPU overhead, and compute shaders for on-the-fly texture decompression.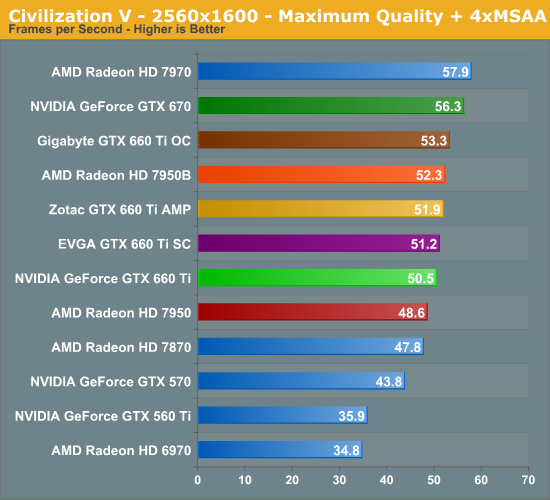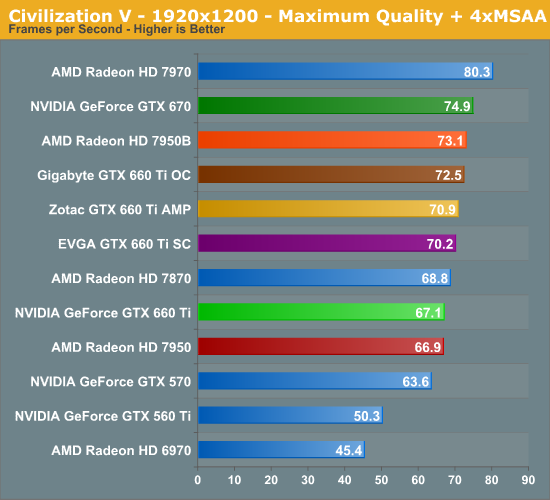 Amusingly enough our final game sees the GTX 660 Ti and 7950 tied at roughly 67fps. If you want a brief summary of where this is going, there you go. Though the fact that the GTX 660 Ti actually increases its lead at 2560 is unexpected.
Finally, our factory overclocked cards offer mixed results. The Gigabyte card is once again in the lead, indicating that Civilization V isn't particularly memory bandwidth bound as opposed to shader/texture bound. This leaves the Zotac card and finally the EVGA card bringing up the rear. At the same time the Gigabyte card only improves by 8%, which is less than some of the improvements we've seen in other games.