Samsung Series 7 LCD: About As Good As TN Gets
Apple, ASUS, HP, Lenovo, and Sony have made some waves over the past year by equipping certain laptop models with IPS displays. In the case of Apple, they're shipping the highest resolution display ever seen in a consumer notebook. ASUS hasn't gone quite as far as Apple, but they still have a couple of the highest DPI displays we've ever seen with 1080p panels in the 11.6" UX21A and the 13.3" UX31A. We'd love to see more manufacturers jump on the high quality IPS display bandwagon; Samsung isn't there with the Series 7, but they do get a couple things right: first, they use a high contrast display, and second they use a matte LCD. Here's how it stacks up to the competition.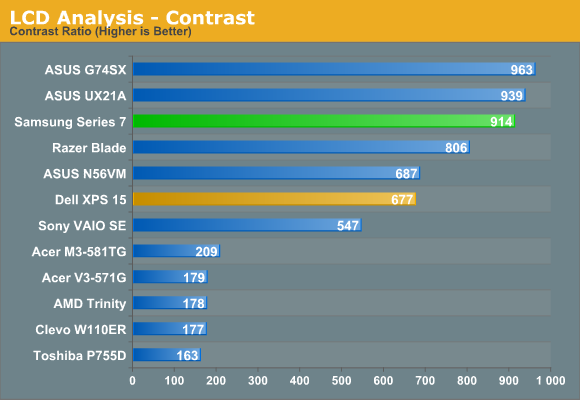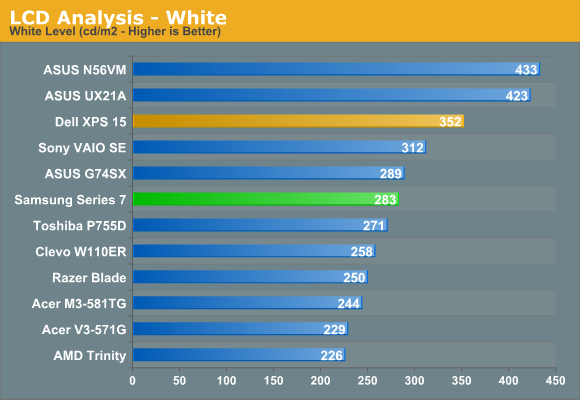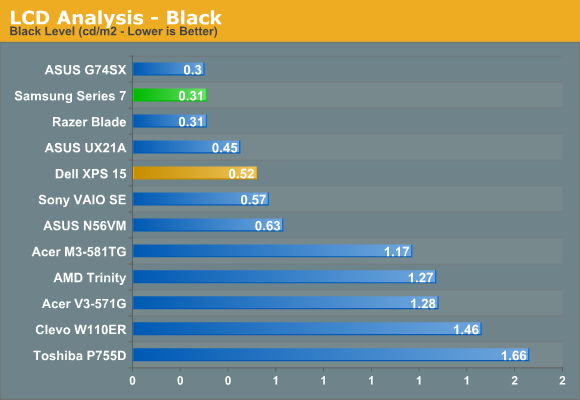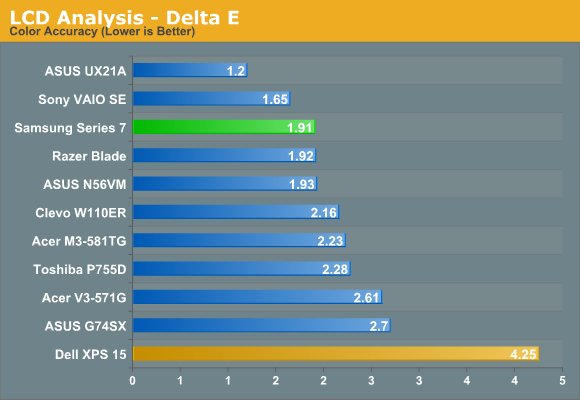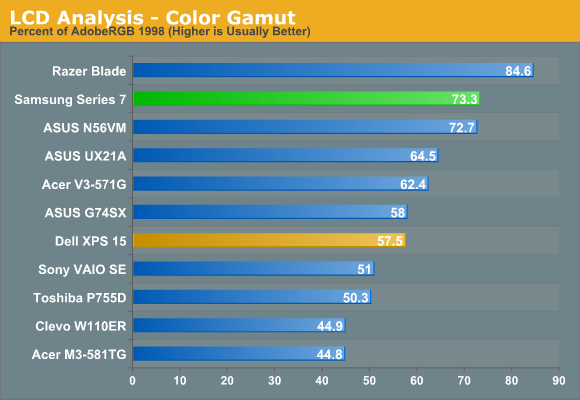 Contrast is very good at 914:1, and when you factor in the other laptops using glossy displays it's even better—matte LCDs usually give up about 10% of their contrast. The maximum white level is a bit lower than we'd like, registering 283 nits, but again the matte surface will help if you use the notebook in brightly lit environments. Perhaps equally important is that the colors are very good—only the IPS displays in the ASUS UX21A and the Sony VAIO SE deliver lower Delta E results, and if you work in the sRGB color space the Series 7 is just about perfect. I still prefer IPS displays like that in the VAIO SE personally, even if the color space isn't quite as good, but opinions on that differ.
Of course the biggest problem with TN panels (besides using 6-bits and dithering instead of true 8-bit color) is that vertical viewing angles aren't very good. The Series 7 appears to use a Chi Mei/Innolux N173HGE-L11, and its viewing angles are much better than low-end TN panels, but if you happen to be sitting in coach on a flight trying to get work done (like I was at one point during this review), it's still going to present some problems. Then again, I'm not sure how many people would actually try using a 17.3" notebook on a plane.