The Rest of the FirePro W Series Feature Set
So far we've spent quite a bit of time talking about the FirePro W series in reference to AMD's GCN architecture. Without question GCN is the single biggest change coming from AMD's past products, but GCN is but one component of the Southern Islands family of GPUs that are the underpinning of this generation of AMD GPU products. Much like we've already seen on the desktop side of things there are a number of additional features Southern Islands brings with it that have some specific relevance in the professional graphics market.
Perhaps the single biggest improvement is that Southern Islands finally introduces full Error Correcting Code (ECC) memory support. In prior generations of GPUs AMD did not have any ECC support, with the closest thing being Error Detection & Correction (EDC), which could detect errors introduces across the memory bus (a very real concern with high-speed GDDR5) but no other type of errors. This admittedly isn't a huge concern for the graphics workloads that past generations of FirePro specialized in, but moving forward for compute workloads it's a critical feature due to the impact of errors.
So starting with the FirePro W series AMD will have full ECC support in selected models. This will include both ECC for internal SRAM caches (which is actually a free operation), and ECC for the external VRAM (accomplished through the use of a virtual ECC scheme). This functionality is going to be limited to products based on the Tahiti GPU, which means the W9000 and W8000. As Tahiti is AMD's only GPU specifically configured for maximum compute performance, this comes as no great surprise. Consequently, the Pitcarin based W7000 and W5000 will have no such ECC support, mirroring their lower compute performance and emphasis on graphics.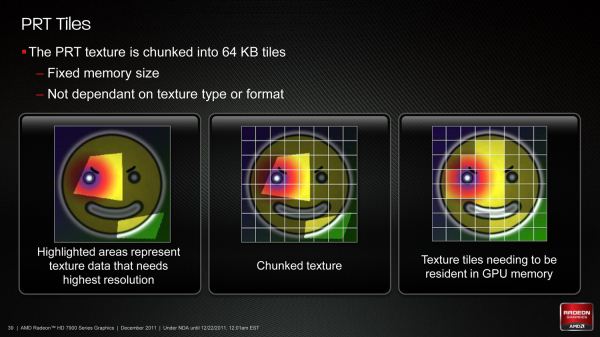 Moving on, it came as a bit of a surprise to see AMD tout their Partially Resident Texture technology as a FirePro feature. We're accustomed to thinking of PRT as a gaming technology – particularly due to the id Software Megatexture technology – but AMD tells us that it should be applicable to any kind of application using a large data set. More importantly however is the fact that since PRT can only be accessed under OpenGL right now, it's far more accessible to professional graphics applications (which almost exclusively use OpenGL) as opposed to games and their heavy reliance on Direct3D. In any case we aren't going to go into great detail about this technology since we've covered it before, but it should be interesting to see if AMD's predictions are right.
Meanwhile, PowerTune marks its return on the FirePro W series. PowerTune, as you may recall, is AMD's power throttling technology which is responsible for reining in on video card power consumption to keep it below a desired level. AMD has had PowerTune since the last-generation Cayman GPU, but it was only available on that GPU, meaning it wasn't available on AMD's top-tier FirePro cards such as the V9800. With The FirePro W series it's finally available across AMD's entire lineup, marking the first time it's available to products like the W7000 and W5000. Given the latter's sub-75W TDP, PowerTune is going to play an especially important role in making that possible.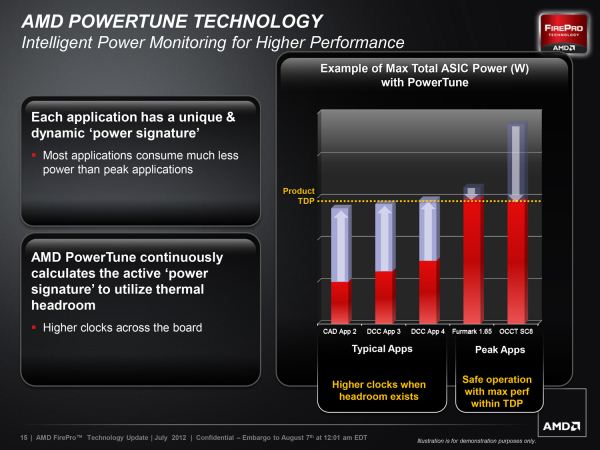 Also seeing its introduction in Southern Islands and by extension the FirePro W series is PCI-Express 3.0 support. PCIe 3.0 doubles the effective transfer rate for a PCIe x16 slot to 16GB/sec in each direction, up from 8GB/sec in PCIe 2.0. This won't make much of a difference for graphics workloads since they rarely consume 8GB/sec in the first place, but for compute workloads this is a critical feature. Any compute workloads that need to constantly send large amounts of data back and forth between the CPU and GPU should significantly benefit from this.
Finally, in another unexpected feature mention within AMD's marketing materials, AMD is taking the time to mention their Video Codec Engine (VCE) hardware H.264 encoder, which was also introduced in Southern Islands. Both AMD and NVIDIA have been taking the time to mention their hardware video encoders in their respective professional graphics cards, which is unexpected given the fact that these hardware encoders are primarily intended for consumer uses such as quick video transcoding and video conferencing; neither encoder is up to the task of broadcast/archival quality video. Nevertheless, while neither company seems to have a solid idea of what to do with the hardware in the professional market, they're throwing it out there in order to see what their customers can come up with.