OpenCL Gets A CLU
Finally, on top of their OpenGL announcements Khronos is also making several smaller announcements related to some of their other initiatives. As most of these announcements fall outside of our traditional coverage areas we won't go into great detail here, but there's one item that falls under the domain of OpenCL: CLU.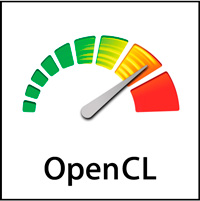 For their SIGGRAPH OpenCL side project Khronos is announcing CLU, the Computing Language Utility (ed: Flynn Lives). Since the release of the first OpenCL specification in 2008, Khronos has been looking to expand upon OpenCL both with regards to features (resulting in additional iterations of the standard) and in improving the development tools for OpenCL. CLU falls under this latter effort.
In a nutshell, CLU is essentially a combination of a lightweight API and a template library intended to greatly simplify OpenCL development prototyping. As OpenCL was designed to be a relatively low level language (based on ANSI C), it takes quite a bit of effort to write a program from scratch due to all the facets of OpenCL that must be dealt with. CLU in turn provides a lightweight API that sits on top of a number of templates, the whole of which is designed to abstract away some of that complexity, allowing developers to get started more easily.
Ultimately developers of complex and high-performnace programs will still want to dive into the deepest layers of OpenCL. But for teaching and early prototyping Khronos believes this will significantly improve the OpenCL experience beyond the current paradigm of getting thrown into the deep end of the pool. For teaching beginners in particular, Khronos is hoping to get the process of writing their first OpenCL program down to under an hour as opposed to the much longer period of time it currently takes most beginners.
Finally, like many of their efforts, Khronos is looking to leverage the wider open source community to further improve CLU. Like the OpenGL Utility Toolkit (GLUT), the usefulness of CLU is based on how much functionality is implemented into the utility, and unlike GLUT it's open source (under an Intel license), making it easy to fork and extend the utility.