To test the MiniStation Thunderbolt I turned to a combination of Intech's QuickBench and the BlackMagic Disk Speed Test application from the Mac App store. I tested on my 2011 MacBook Pro, which has a first generation Light Ridge Thunderbolt controller inside. For testing on OS X, I used native HFS+ formatting for the MiniStation.
BlackMagic Disk Speed Test - 2011 MBP
500 GB HDD
240 GB OCZ Vertex 3
Read (MB/s)
Write (MB/s)
Read (MB/s)
Write (MB/s)
USB 2.0
-
-
28.4
34.7
Thunderbolt
112.5
110.9
269.8
370.5
There's no USB 3.0 on my 2011 MacBook Pro, so for USB 3.0 I turned to my desktop which has a Renesas based USB 3.0 controller, and reformatted the drive to NTFS. I used CrystalDisk Mark to test.
With the HDD inside, you basically get the kind of speeds you'd expect were the drive connected natively over SATA. Keep in mind, with the 1 TB HDD, speeds will actually be slightly higher thanks to the higher storage density.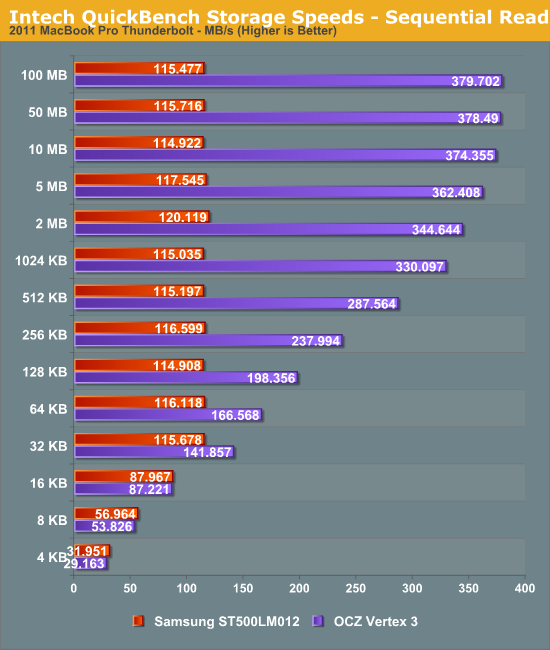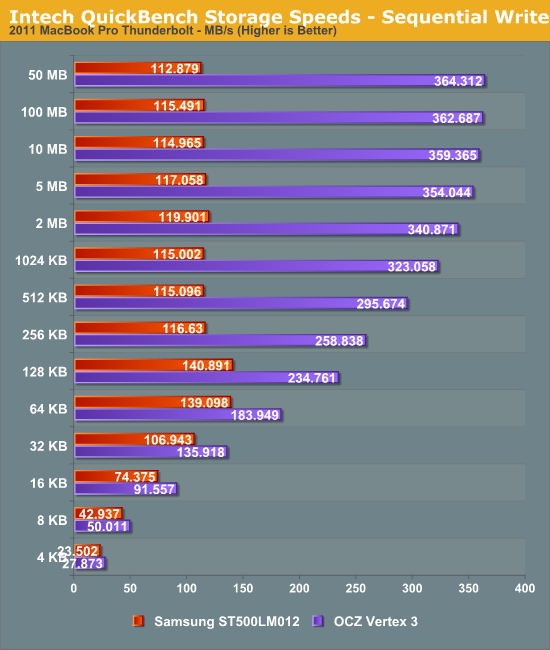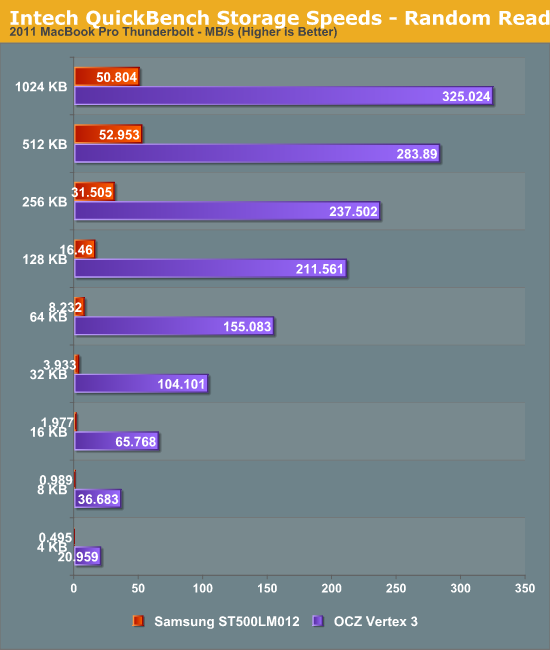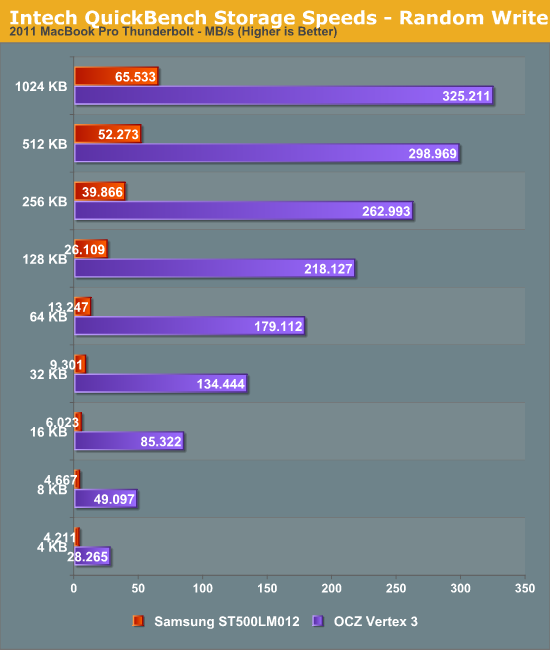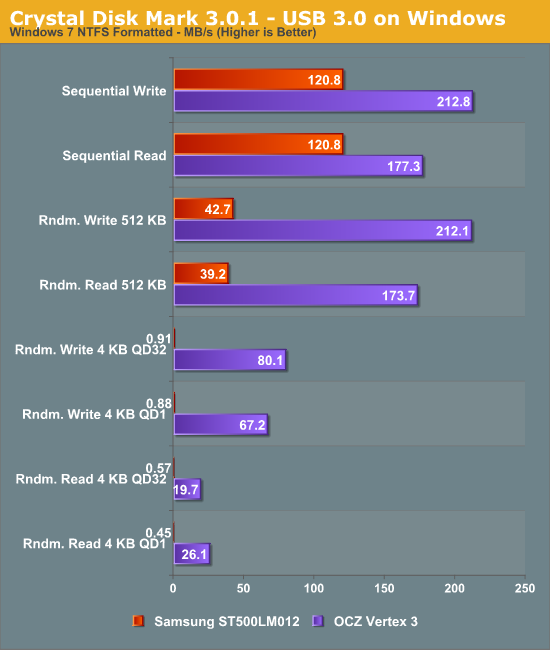 Looking at the QuickBench scores, the Vertex 3 performs just as well inside the MiniStation as it does connected to a 6Gbps SATA controller in our Bench test bed.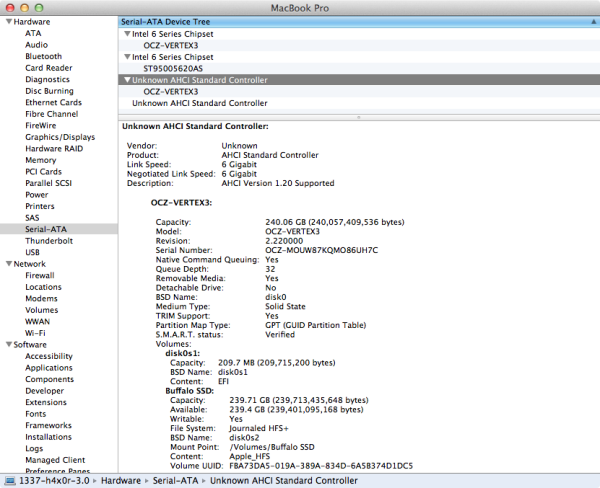 When connected over Thunderbolt on OS X, in System Profiler you can see the drive attached over an AHCI controller just like any internal drive, and with TRIM enabler patched kexts on OSX you can even TRIM the SSD. Buffalo has no plans to sell a bare external enclosure for people to stick their own SSD in, but at the current price point upgrading it yourself is a pretty viable option.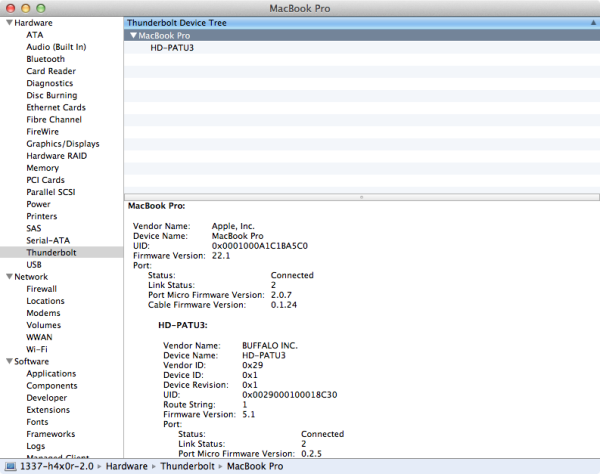 In addition to stressing the drive with the BlackMagic Disk Speed Test app set to 50 GB, I filled the stock HDD with random data by running good ol' dd with data from /dev/urandom, a favorite test of mine for all storage that comes my way. Just run "dd if=/dev/urandom of=test.bin" in the root of the drive, and let it fill up. The drive's aluminum underside does a great job conducting heat away, and gets somewhat warm (after all, it is doubling as a heatsink, and aluminum has great thermal conductivity) during use. Even with hours of constant Thunderbolt and HDD access, the drive didn't overheat or disconnect at all with the HDD inside. I've also stressed the drive with the SSD inside (an unsupported configuration) and didn't encounter any issues.
Anand noted in his original Thunderbolt piece that the cable connectors at the endpoints get warm, and measured 27.6C at the end of a cable. I ended up measuring a notably warmer temperature of over 35C during my stress testing of the drive, but my ambient temperature in AZ is also hotter than Anand's in NC. When you consider that there's an active component at the end of both sides of the cable (a Gennum GN2033), this isn't altogether surprising, but it is disconcerting to feel the cables get noticeably warm during use.