Republic Of Gamers as a Brand
The first stage in cementing yourself as a motherboard manufacturer is getting the brand name out into the wild with positive feedback. Next is to drive up volume. When you are in a strong position, you can experiment. ASUS has been in the market as long as most people remember, and their website states that over 420 million motherboards have sold since 1989, so they are in a prime position to experiment.
Since 2005, the Republic of Gamers brand has been one such experiment. Starting with motherboards, and growing into other areas such as graphic cards, notebooks, audio equipment, desktops, and soon to be external storage, ASUS tell me they have now topped out the one million mark in terms of ROG products sold. That is a lot of PCB.
If we take that one million value for a minute, and assume that they are all mid range ROG motherboards sold around the $350 mark. Technically, that is $350 million - or more likely, around $200 million if you consider how many hands it passed through and import taxes, and profit is probably <15% of that, or at maximum $30 million. I hear that ASUS are breaking even with the Republic of Gamers branding, meaning that $30 million for personnel, research and development, and everything else makes it a pretty good deal, especially if ASUS do get any feedback through the Halo effect.
The ROG Motherboard team is a dedicated team of around 10 people, including designers, overclockers and managers. Similarly, there is a Sabertooth team, a Workstation board team and the Channel (Pro, Deluxe, Premium) team. The teams together are managed by a primary R&D head, who coordinates all the major segments (chipset, power delivery) between the separate teams.
For overall improvements, the ROG team takes ideas from overclockers or trusted forwards from users, and then on a component-by-component basis. We see this with the audio, which has improved from SupremeFX to SupremeFX III over the lifespan of ROG. The researchers and designers take ideas to the manager of the team, who will then weigh up the cost of designing a feature versus the implementation and consumer need.
As a result, we have gaming products in the Gene and Formula, and the top product in the Extreme. The Extreme is seen internally as the realization of many of the enthusiast ideas that have been given the go ahead. The team is given a lot of flexibility in this regard, almost a carte blanche (blank check) in order to improve performance, compatibility, or just a new feature.
The big win from a user's point of view is the dedication of ASUS to pursue such an endeavor, as it probably was not always breaking even. To take on this at a loss for several years is a decision that is not taken lightly, and may not pay off in any way. Any user has access to the ROG forums to preview the products before they buy, and talk to users to understand the exact feeling of the products. Help is on hand from the community moderators and people in the employ of ASUS in order to improve the user experience. This is also alongside providing videos and previews of currently on-market products performing in world-class environments, or articles and guides showing how to make the most out of their purchase.

For any other manufacturer to come close to the ROG is going to take a long time and effort, as well as understanding the market as to whether it can hold two big players in this regard. ASUS' major competitors could have trouble building a brand, even if they already have forums like the ROG Forums to help users. The ROG Forums are more prevalent, more well known, and are not spoken in hushed tones.
As a movement towards improving and innovating the motherboard landscape, I give the ASUS ROG Brand an AnandTech Editors' Choice Gold Award. Users who participate in the Republic of Gamers are well catered for, and get the best ASUS has to offer in terms of help, information, previews, experience. Even if the ROG brand has cost ASUS money since its inception, ASUS seem happy to do so if it keeps customers happy and their products at the top of the chain. That can only be good for the rest of us.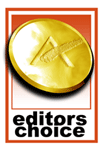 ASUS Republic Of Gamers Brand
Gold Award