The Elder Scrolls V: Skyrim
Bethesda's epic sword & magic game The Elder Scrolls V: Skyrim is our RPG of choice for benchmarking. It's altogether a good CPU benchmark thanks to its complex scripting and AI, but it also can end up pushing a large number of fairly complex models and effects at once, especially with the addition of the high resolution texture pack.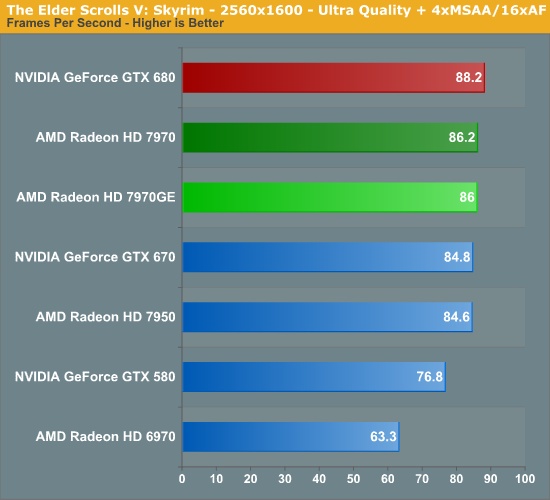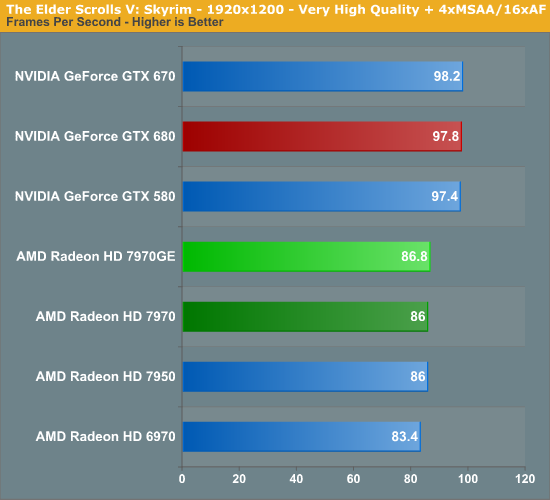 For the longest time AMD has had various problems with Skyrim, ranging from negative Crossfire scaling to mediocre performance. We haven't had a chance to test the former, but with Catalyst 12.7 they've definitely fixed the latter. At 2560 the performance of the 7970 has improved to the point where it's solidly CPU limited just like its NVIDIA competition, though for some reason NVIDIA continues to handle this situation slightly better than AMD.
In any case because the 7970 is now CPU limited at 2560 the 7970GE doesn't have any room to grow. This isn't a hardware fault, this is just a reflection of how RPGs tend to be CPU limited before they're GPU limited. We may have to look at running extra graphics effects (e.g. TrSSAA/AAA) to thin the herd in the future.