After a week in Taiwan, and a weekend in San Francisco, I'm finally back home and hard at work on the Retina Display MacBook Pro Review. One of the top items on my to-do list was to hammer on Apple's new SSD. The 2012 MacBook Air, 2012 MacBook Pro and next-generation MacBook Pro all feature updated solid state storage. Apple is careful to refer to the SSD in the next-generation MacBook Pro as "all-flash storage" instead of a solid state drive. The traditional MacBook Pro as well as the MacBook Air still refer to their storage as Solid State Drives. Despite the different, all three systems share the same selection of SSD controllers. We know at least one of those options is a Toshiba part, while another option is Samsung - similar to how things have worked in recent history.
Unlike previous Apple SSDs, the 2012 lineup sees a significant speed bump. Apple is now using 6Gbps SSD controllers from both Toshiba and Samsung, allowing it to claim support for up to 500MB/s sequential read speed. In my initial look at the Retina Display MacBook Pro's storage performance I hypothesized that the SM512E part number in my review system was a drive based on Samsung's PM830 controller (the OEM version of what's used in the Samsung SSD 830). I can now confirm that the PM830 is indeed what is used in Apple's SM512E SSD. Just as before, the SM prefix stands for Samsung. I can only assume a TS prefix will stand for Toshiba once again. Just like in previous designs, Apple runs its own custom firmware on its SSDs.
The SSD in the Retina Display MacBook Pro is technically removable, it exists on a separate PCB held in by a single screw as you can see from the iFixit-supplied image below: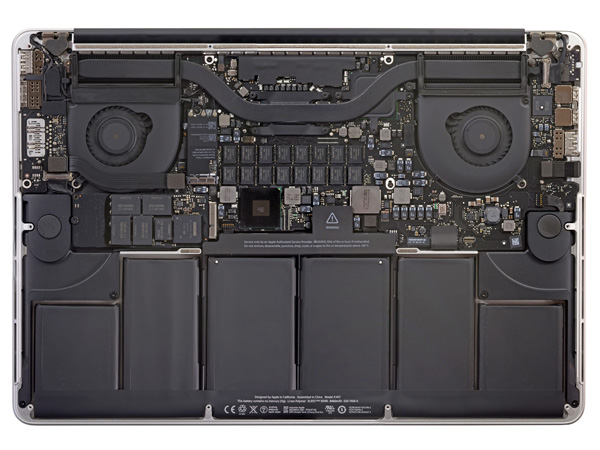 The SSD is on the left towards the middle of the motherboard
The dimensions of the SSD's PCB are physically different than the gumstick form factor used in the MacBook Pro, however the connector may be physically compatible with the 2012 MacBook Air SSD (similar pinout). Apple maintained a very high pin pitch on the 2011 MacBook Air SSD connector, and I had heard a number of complaints about that connector from those who have tried designing with it. It's no surprise that Apple changed the connector for this year. Keep in mind that although the interface is electrically SATA, it is not physically SATA or mSATA or any other standardized interface - this is entirely Apple's own creation. I suspect we'll see 3rd party vendors produce SSD upgrades in the future, but unlike previous Apple SSDs, performance won't be a reason to want to upgrade. Samsung's PM830 is quite honestly the best behaved SSD controller I have used under OS X, it is no surprise that Apple chose it.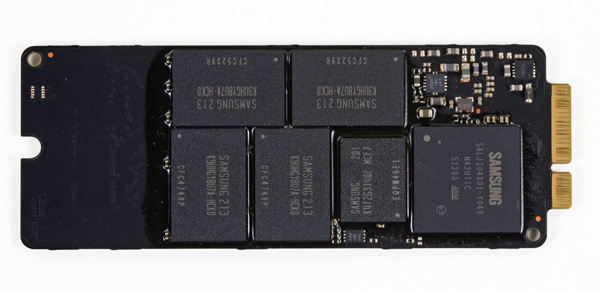 In the Retina MacBook Pro, Apple standardized on a dual-sided PCB for the SSD. The larger physical dimensions of the SSD allowed Apple to accommodate a total of eight flash packages (at least in the 512GB model). At 8GB per NAND die, you're looking at the highest density MLC NAND available on the market today at 64GB per package. By using eight, octal-die packages in the case of the 512GB drive, Apple is able to deliver the maximum performance the controller allows. Similar to the desktop PM830 drive there's a single 256MB DDR2 DRAM on-board acting as a cache and scratch area for the controller.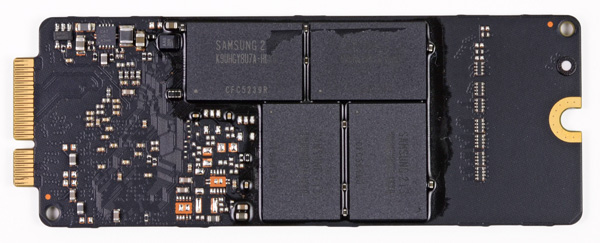 How well does the new Samsung based SSD compare to previous Apple offerings? It's like night and day. I ran our four-corners Iometer test suite, looking at low queue depth sequential read/write and random/read write. I compared the Retina Display MBP's results to the Toshiba and Samsung based SSDs in last year's MacBook Air: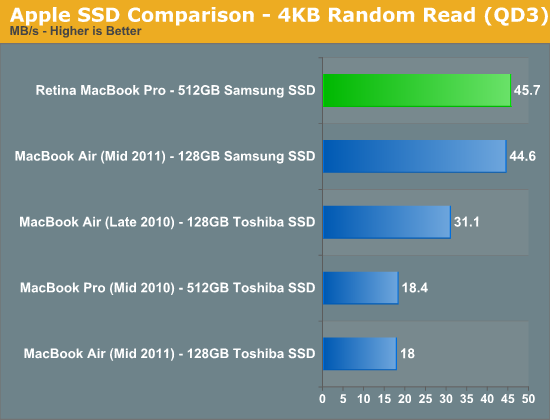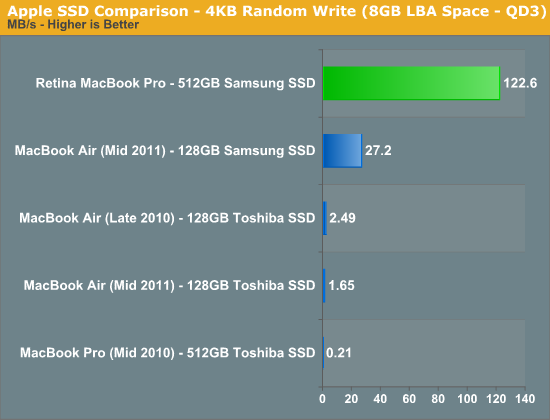 The move to 6Gbps SATA is often associated with a huge bump in sequential transfer rates, but in this case Apple enjoys a significant increase in random speeds as well. Note that some of this improvement is going to be due to the fully populated configuration of the PM830 in the Retina MacBook Pro's SSD, but that shouldn't downplay the significance of the move to Samsung's latest controller. The previous generation controller used last year just wasn't very good, and the Toshiba alternative was even worse. This year, Apple finally has a good solid state story to tell.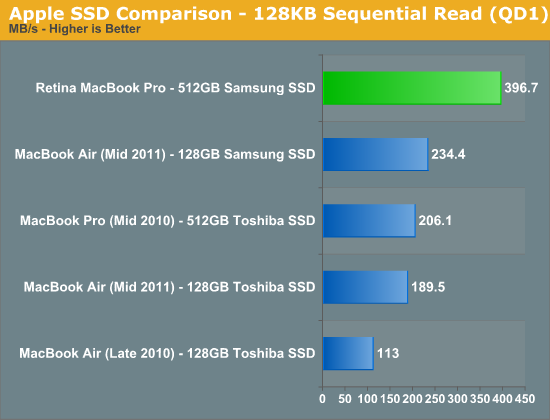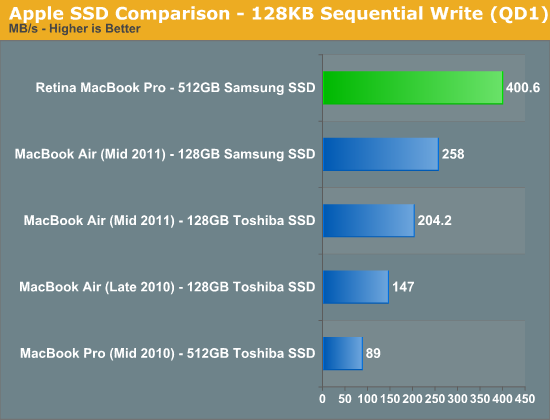 How much of this are you going to be able to actually tell in day to day use of the system? The sequential transfer rates are most tangible when you are writing to or reading large files like movies to your drive. Obviously you need a source that's fast enough to hit these speeds. Although USB 3.0 can come close you're unlikely to have a USB 3.0 SSD that's as fast as the internal drive. Moving large files between your internal SSD and Promise's Pegasus R4/R6 is where you'll really appreciate this performance.
The random access improvements are likely overkill for most normal uses. Things like program launches, compiling, web browsing, and any other normal application IO will depend on a mixture of random and sequential IO. The key is to have good enough random IO performance to avoid becoming a bottleneck. I can safely say that the numbers we see here are more than enough.
How does the Apple SM512E stack up to Samsung's reference PM830 and other modern SSDs? I should note that we're forced to test the SM512E in a different state than we do normal drives (I lack the appropriate adapter to get the SM512E working on my SSD testbed), so the results are likely a bit lower than they would be otherwise.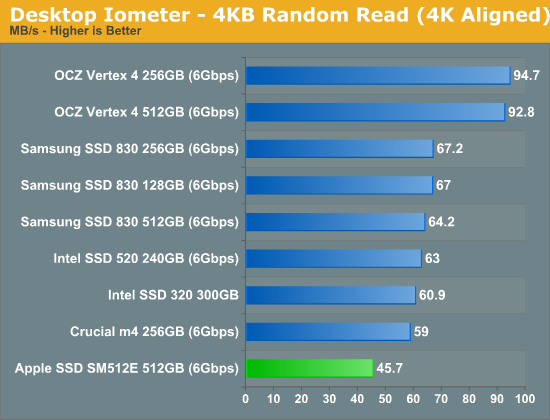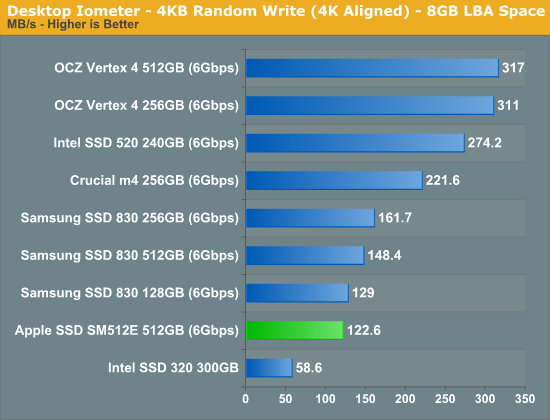 Random performance is a bit lower than the Samsung SSD 830, and definitely behind the fastest drives available on the market today. With that said however, some of these other drives have to worry about running enterprise as well as client workloads. Apple likely optimized its firmware exclusively for client workloads.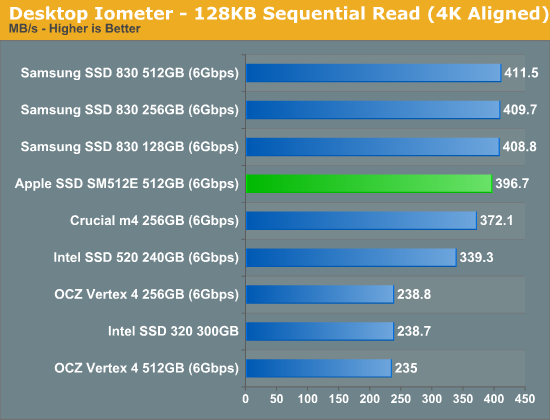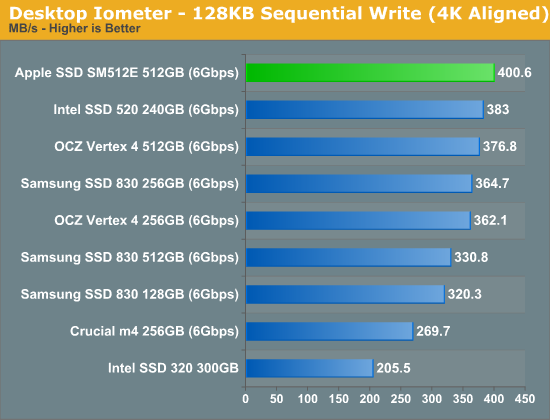 Lending further credibility to the theory that Apple tweaked Samsung's firmware for more client focused performance is the very solid showing in our sequential tests. With sufficient random IO performance, client workloads are easily bound by sequential IO - the reason being that client applications still operate under the assumption the user has a mechanical drive, which at best can deliver a couple MB/s of random IO performance.
Overall I'm very pleased with Apple's PM830 based SSD in the Retina Display MacBook Pro. I am curious to see how the Toshiba alternative performs, as well as how the various configurations used in the MacBook Air and MacBook Pro fare. For the first time since Apple's use of solid state storage in Macs, there's no longer a performance reason to swap in a third party SSD.