PCMark 7 Performance
For workloads that are particularly read intensive and small enough to make good use of the on-board NAND, the Momentus XT cannot be beat. The VelociRaptor does come very close however, and it does win in enough other benchmarks to make it clearly the better overall performer. Philosophically I understand why Western Digital opted against equipping the VR with any NAND (cached operations do sort of defeat the purpose of having a 10,000 RPM spindle speed), but that doesn't change the fact that it would've made for one pretty impressive hard drive.

Power Consumption
Despite its 2.5" form factor (the drive itself), the VelociRaptor's 15mm height prevented it from being used as a notebook drive. Even if you had a thick enough notebook, the VR's power consumption is more in-line with a 5400RPM 3.5" drive than a standard 2.5" mobile drive. That being said, as a 10,000RPM 3.5" drive the VelociRaptor is quite power efficient. Idle power is competitive with WD's Caviar Green (and lower in the case of load power).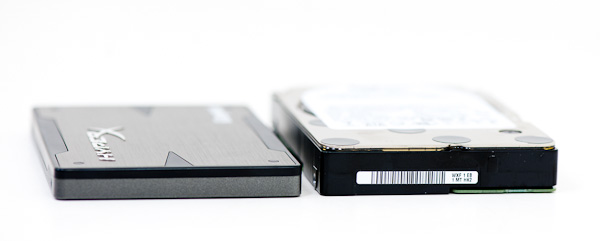 Power consumption is down compared to the previous generation as well. Once again, compared to an SSD however the drive isn't anywhere near efficient.