AnandTech Storage Bench 2011—Light Workload
Our new light workload actually has more write operations than read operations. The split is as follows: 372,630 reads and 459,709 writes. The relatively close read/write ratio does better mimic a typical light workload (although even lighter workloads would be far more read centric). The I/O breakdown is similar to the heavy workload at small IOs, however you'll notice that there are far fewer large IO transfers:
AnandTech Storage Bench 2011—Light Workload IO Breakdown
IO Size
% of Total
4KB
27%
16KB
8%
32KB
6%
64KB
5%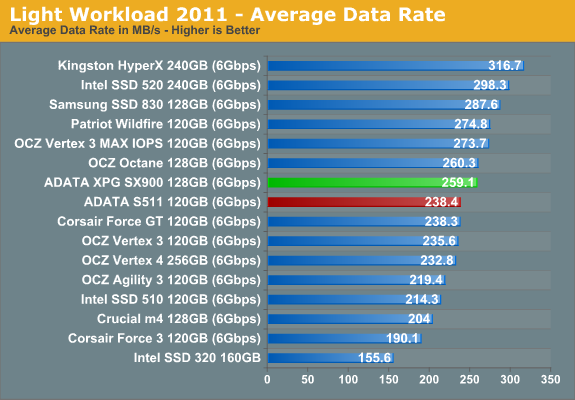 The difference in performance between the SX900 and S511 might seem bigger in our Light Suite, but in terms of percentages it's about the same (the SX900 is 7% faster in our Heavy Suite and 8.7% faster in our Light Suite). Overall performance for the SX900 continues to be similar to other 120/128GB SF-2281 based drives, with firmware and NAND differences causing minor differences in raw performance. In practice, most home users would be hard pressed to notice the difference between the fastest and slowest of these SSDs in day-to-day use.