Performance and Screen Quality
The GeChic On-Lap 1301 is a 13" screen being powered off of USB, and as a result it's not exactly going to be a big winner on any technical merits. On NewEgg, GeChic rates the 1301's brightness at 200 nits and the contrast ratio at 500:1, and just like the big boys they cheerfully exaggerate the screen's capabilities. Thankfully they're honest about color quality; because it's a TN panel it only produces 262,000 colors. Viewing angles are in the doghouse, too, but given the size and orientation the On-Lap is expected to be used in, that's not a major strike against it.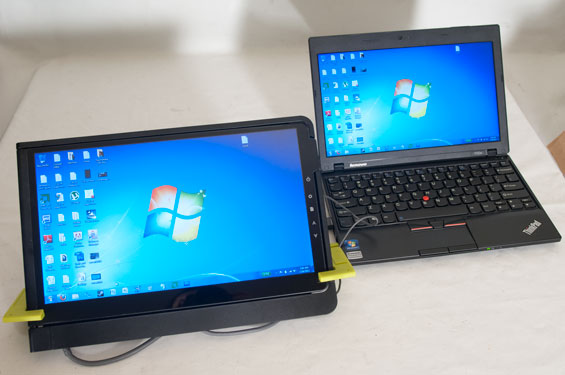 What does strike against the On-Lap 1301 is the use of a glossy finish instead of a matte. Understanding that gloss is fairly typical of consumer-oriented products, the On-Lap suffers mightily for its finish due partly because its "closed" position still leaves the screen exposed. Glossy screens show dirt far more easily than their matte counterparts. Worse still, that means the screen is left essentially unprotected. Given that pressing the control buttons on the back of the screen results in ripples in the display, it stands to reason the screen is neither well-reinforced nor well-protected, making its value as a travel accessory suddenly much more questionable. While the frame feels durable enough, I'd be concerned about the safety of the screen itself, especially when it's retailing for $200.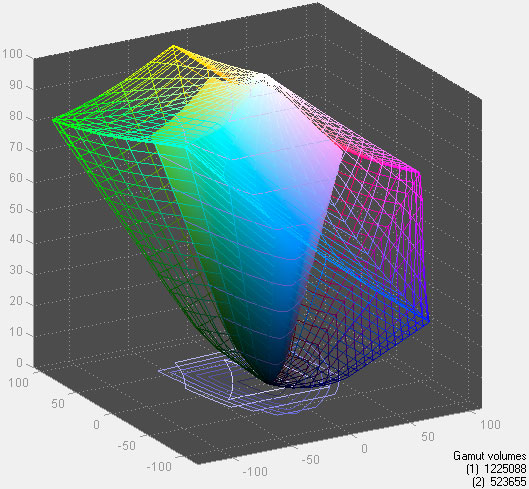 So how does it actually rate in terms of raw performance? The On-Lap 1301 sports a maximum brightness of 142 nits, but default brightness is just 94, both well shy of the rated 200 nits. With default black levels at 0.7 nits, that works out to a contrast ratio of 134:1, again well below what GeChic rates it at. Delta-E is no better at 2.53 on average, but color gamut at least is 42.7% of AdobeRGB 1998. Outside of the low brightness (a byproduct of being powered solely off USB), you could easily mistake the On-Lap for another laptop display. That's good news for matching it up with notebooks on the market, but also speaks to the generally dire state of notebook displays. Still, we can't complain too much since the On-Lap doesn't actually require an external power source and can thus be used on the battery.
And how does it handle on the battery? The display is after all typically one of the most, if not the single most power hungry part of a notebook, so we tested it on the Acer TravelMate 8481T we reviewed recently using our internet battery test. The 8481T, without powering the GeChic display, is able to run for 8:41—that's eight hours and 41 minutes, no mean feat. Plug in the display and running time drops to 5:55. That means if you use the GeChic On-Lap, you can expect your battery running time to drop by roughly a third assuming you're using it with a similarly-sized notebook with a similar display. Honestly that doesn't seem so bad given that you're driving an entire second screen.