Total War: Shogun 2
One of our goals with this iteration of our benchmark suite was to throw in some additional non-FPS games, so we're broadening our horizons a bit by adding in Total War: Shogun 2. Shogun 2 is the latest installment of the long-running Total War series of turn based strategy games, and alongside Civilization V is notable for just how many units it can put on a screen at once. As it also turns out, it's the single most punishing game in our benchmark suite.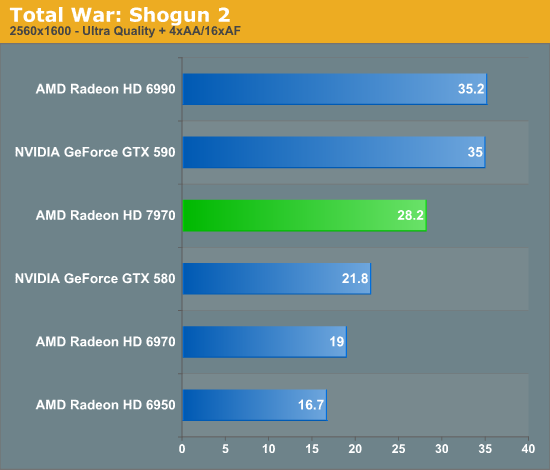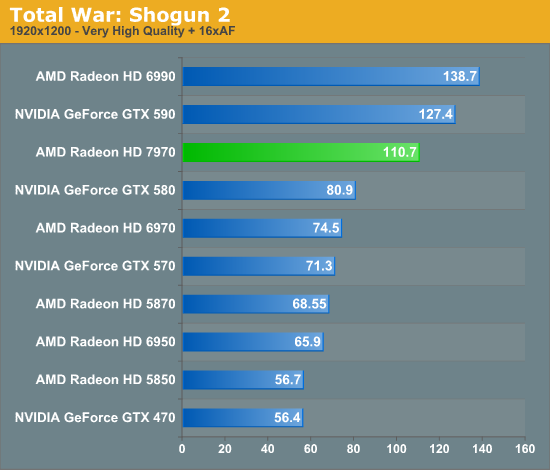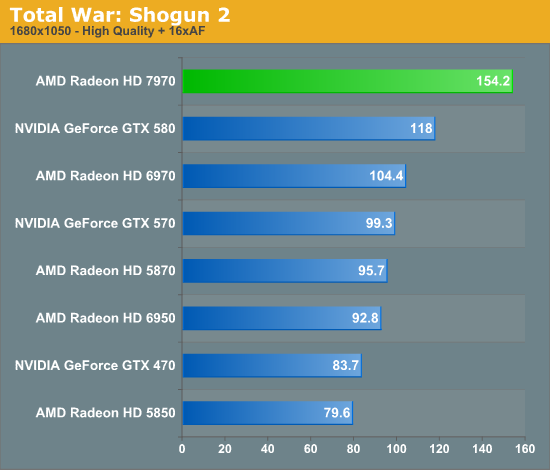 When deciding on what settings to use with Shogun, it required a bit more creativity on our part. 2560 is a true moonshot; everything is turned on, and it takes a minimum of 1.5GB of VRAM to run the game at this resolution. Accordingly performance is rather dismal, though as this is a TBS 30fps isn't quite as critical as it is in other games. In any case the 7970 comes the closest to hitting 30fps, coming in just shy at 28.2fps, which is 29% ahead of the GTX 580 and 48% ahead of the 6970.
Meanwhile for 1920 we turned Shogun's settings down to Very High, and yet we still had to disable MSAA to make it work with 1GB cards (did we mention that Shogun loves VRAM?). At these lower settings performance rockets up, and at the same time so does the 7970's lead over the GTX 580. Here it's 36% ahead of the GTX 580, which will be the greatest lead among all of our gaming benchmarks. As for the 7970 compared to the 6970, it's still 48% of the 6970 showing us just how similar these video cards are at times.
Finally at 1680 the overall performance goes up yet again, but the 7970's lead remains. It's ahead of the GTX 580 by 30%, and 48% ahead of the 6970.