Availability and Controller support
Just to make this clear, TLC isn't anything new. For example Hynix had a 32Gb 48nm TLC die in 2008. This is because TLC was originally used for devices like USB flash drives, where its poor endurance would be negligible. Most SSD OEMs have been toying with TLC SSDs for at least a year now but we haven't seen any commercial products. OCZ had originally planned to introduce its first TLC based SSD in the Q1 2012, however TLC pricing simply hasn't made sense yet. Unless OCZ can leverage a significant cost savings over 2-bit-per-cell MLC, the added headaches of bringing a lower performing TLC part to market don't make sense.
However there's still significant motivation to migrate towards TLC NAND. Further bringing down costs, particularly for consumer SSDs aimed at light, particularly read heavy workloads makes a lot of sense. Increasing pressure from Intel to deliver cheaper SSD enabled Ultrabooks, and Apple's desire to move all mainstream Macs to solid state storage are two major motivations. MLC NAND pricing will eventually get low enough to meet these (and more) needs, but TLC definitely accelerates the process.
TLC does require controller and firmware support. In the client SSD space only OCZ has been aggressive with announcing that its Indilinx Everest controller supports 3-bit-per-cell NAND.
Adding controller support for an extra bit per cell is more than just updating the datasheet and claiming it works. The ECC engine needs to be updated as the controller will face more frequent and more severe errors with TLC NAND (and its associated lower endurance rating).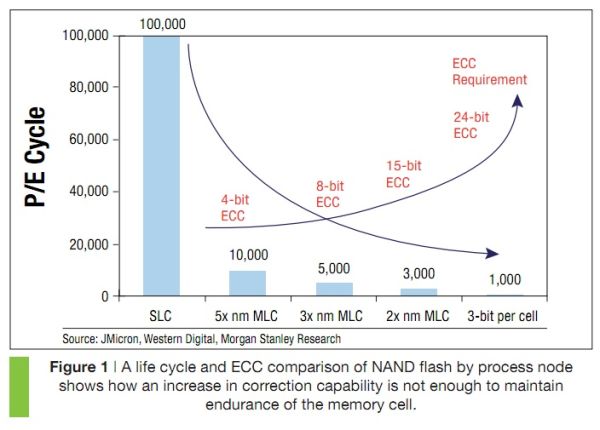 Maintaining low write amplification is even more important with TLC NAND. With significantly fewer available program/erase cycles, burning through them due to high write amplification isn't acceptible. While NAND endurance isn't really an issue for most client MLC drives, it may be an issue for TLC based drives.