IPC Analysis: What Is Going On?
We decided to focus our attention on our MS SQL Server benchmark and profile it on the most important hardware events (IPC, cache, and branch prediction). We used Intel's VTune Amplifier XE 2011 and AMD's Code Analyst 3.4.1037.88 to get a better understand of this benchmark. To put things into perspective, we compared the results with the extremely popular Cinebench benchmark and the 7-Zip compression benchmark.
Note that VTune has a rather steep learning curve and the numbers presented are more detailed but also harder to interprete than those of Code Analyst. In some cases we had doubts about our measurements on the brand spanking new Xeon E5. That is why we are refraining from publishing those numbers until we are absolutely sure they are accurate, so some of the Xeon E5 numbers are missing.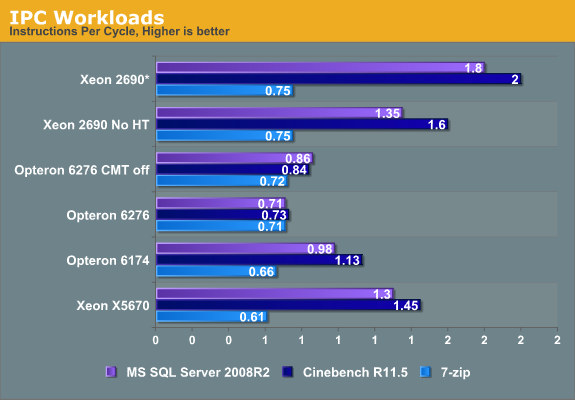 * We add the IPC of the two threads up
It is interesting to note the high Instruction Level Parallelism (ILP) that the Xeon E5 "Sandy Bridge" is able to extract out of these server benchmarks. Almost 1.4 instructions per clock cycle are retired and if you add SMT (Simultaneous Multi Threading), another 0.4 IPC flows through a single core. That is pretty remarkable for a benchmark that consists mostly of SQL statements that result in many branches and loads.
Our Opteron 6200 reveals a bit more about its internal working. Using the extra integer cluster inside the Opteron module causes the separate threads to slow down somewhat. In the case of Cinebench, this is not a real surprise since it contains a lot of SSE floating point commands; a single thread can have the out of order FP cluster all to itself while two threads have to share the SMT capable floating point engine.
But in case of our datamining benchmarks, something else is going on. Single-threaded performance regresses by 18% once you enable the second cluster. We get a 65% speed up (2x 0.71 vs 0.86), which is somewhat lower than the 80% predicted by the AMD slides discussing CMT. So some of the shared resources are slowing down the total performance of our module. We will find out more on the next page.