The RDJD K702

The RDJD K702 is the K703's smaller brother. It uses exactly the same heatsink, but is equipped with two 52x10mm fans - identical to the fan used on the K701.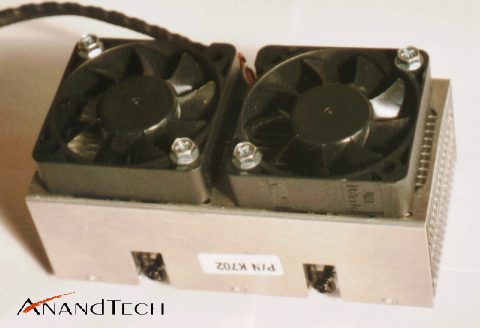 Despite the small fans, the K702 will not fit the ASUS K7M.

The fans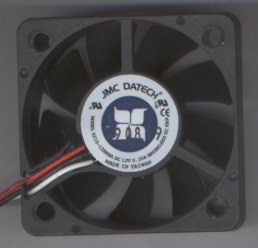 The K703 comes with two JMC DaTech 52mm fans. The K702 is not very noisy; it is among the most silent dual fan heatsinks in this comparison. Still, the heatsink design is not optimized for low noise - the slot between the two fans acts as a "whistle". If you put a piece of duct tape between the two fans, you can reduce the noise level a bit.
Both fans are connected to a single three-pin MOLEX connector, which means that only one fan can be rpm-monitored.

Installation

The K702 uses the same great clips we already know from the K701, so all comments about installation made in the K701 review also apply.
Conclusion

Already, the K703 with its 60mm fans wasn't exactly convincing performance-wise; the K702, with smaller fans, is even less efficient. Priced at $30, the K702 cost as much as a VOS32 (which provides way better cooling), so the K702 isn't the cooler to choose if you're looking for a good price/performance ratio.
RDJD K703 at a glance
Fans: One 52x10mm JMC

Fan rpm (measured): 5921

Weight: 270g
Advantages
Disadvantages
Too expensive for the cooling performance it provides
Does not fit Asus K7M
Only one fan can be rpm-monitored