Tyan Trinity 400 Rev. D
Motherboard Specifications

CPU Interface

FC-PGA Socket-370 & Slot-1

Chipset

VIA Apollo 133A
VIA 694X North Bridge
VIA 596B South Bridge

L2 Cache

N/A (on-chip)

Form Factor

ATX

Bus Speeds

66 / 75 / 83 / 95
100 / 112 / 117 / 124
133 / 138 / 140 / 150

Voltages Supported

Auto Detect - 1.30v - 3.5v

Memory Slots

3 168-pin DIMM Slots

Expansion Slots

0 AMR Slots
1 AGP Slot
6 PCI Slots (5 Full Length)
1 ISA Slot ( Full Length)

AC'97

Analog Devices 1881

BIOS

AWARD BIOS 4.51PG
The Tyan Trinity 400 has been with us since the release of the 133A chipset and we have seen it grow through four revisions.  The most recent revision, Revision 4 or Revision D (denoted by the D silk screened on the PCB), fixes some of the bugs in the previous version (Rev 3 or C) and removes the need for a jumper to select whether the Socket or Slot connector is in use.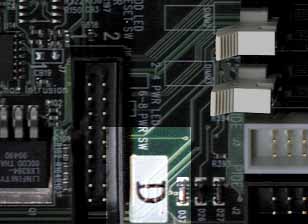 Revision D
The Trinity 400 features both a Socket-370 and a Slot-1 connector, offering the end user a great amount of flexibility with CPU choices.  Unfortunately, the way in which the board chooses the AGP clock ratio does not allow you to use a Socket-370 CPU with 133MHz FSB and have the board select a 1:2 AGP clock ratio. 
You can read our Trinity 400 review for a more in-depth analysis of the board, but keep in mind that if you want to use a FC-PGA Pentium III on the Trinity 400, you need to have a board that is revision 3 (or C) or above.  All previous revisions of the board only support Celeron CPUs in the Socket, but if you're going to be using a Socket-370 to Slot-1 adapter then this warning does not apply to you. 
The stability of the Trinity 400 was respectable, but not on par with what we're used to from Tyan.  The performance was just slightly behind that of the top performing Gigabyte GA-6VX-4X.