Board Features
ASUS P8P67
Market Segment
Performance
CPU Interface
LGA 1155
CPU Support
Sandy Bridge i3/i5/i7
Chipset
P67
Base Clock Frequency
38.0 MHz to 400.0 MHz in 0.1 MHz intervals
DDR3 Memory Speed
1333 MHz by default, 800-2133 MHz supported
Core Voltage
Auto, offset or fixed modes, 0.800 V to 1.800 V in 0.015 V intervals
CPU Clock Multiplier
Dependant on CPU
DRAM Voltage
Auto, 1.108 V to 2.464 V in 0.007V intervals
DRAM Command Rate
Auto, 1T-3T
Memory Slots
Four 240-pin DDR3 DIMM slots in dual-channel
Regular unbuffered DDR3 memory
Up to 32GB total supported
Expansion Slots
2 x PCI Express 2.0 x16 slots (x16/x0 or x16/x4)
2 x PCI Express 2.0 x1 slot
3 x PCI slots
Supports ATI Crossfire
Onboard SATA/RAID
2 x SATA 6.0 Gb/s ports (gray) supporting RAID 0/1/5/10
4 x SATA 3.0 Gb/s ports (blue) supporting RAID 0/1/5/10
2 x SATA 6.0 Gb/s ports (navy blue) from Marvell 88SE9172
Onboard
4 x SATA 3Gb/s connectors
4 x SATA 6Gb/s connectors
4 x Fan Headers (1x4-pin, 3x3-pin)
3 x USB 2.0 headers support additional 8 USB 2.0 Ports
1 x Front panel switch/LED header
1 x TPM module connector
1 x USB3.0/2.0 header
1 x IEEE 1394a header
1x SPDIF Out header
1x Serial port header
1 x Firewire/IEEE 1394 header
1 x Front panel audio header
1x Clearing CMOS jumer
Onboard LAN
1 x Realtek RTL8111E chip (10/100/1000 Mbit)
Onboard Audio
Realtek ALC889 Codec, 2/4/5.1/7.1-channel, Dolby Home Theater, S/PDIF Out
Power Connectors
24-pin EATX Power connector
8-pin EATX 12V Power connector
Fan Headers
1 x CPU Fan (4-pin)
3 x SYS Fan (3-pin)
IO Panel
1 x PS/2 keyboard/mouse port
1 x optical S/PDIF Out connector
1 x DisplayPort
6 x USB 2.0/1.1 ports
1 x IEEE 1394a port
2 x USB 3.0/2.0 ports
1 x RJ-45 port
6 x audio jacks (Center/Subwoofer Speaker Out/Rear Speaker Out/Side Speaker Out/Line In/Line Out/Microphone)
BIOS
1 x 32 Mbit flash
Use of licensed AWARD BIOS
Support for DualBIOS™
PnP 1.0a, DMI 2.0, SM BIOS 2.4, ACPI 1.0b
Warranty Period
3 Years
What's in the box?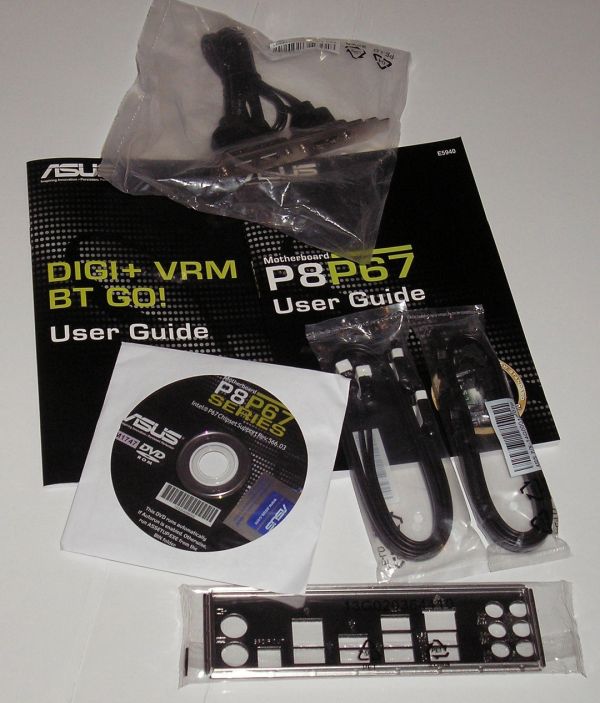 A users guide to the motherboard and DIGI+ VRM/BT GO!
Driver and utilities DVD
2x SATA 6Gb/s cables
2x SATA 3Gb/s cables
1x 2-port USB / 1 eSATA PCI bracket
1x 2-in-1 ASUS Q-Connector kit
I/O Shield
ASUS sticker
There are a few extras included with this motherboard. ASUS have kept it down to minimize costs and they did not include the USB 3.0 front panel with this motherboard although they do include it with their more expensive options. It is a shame; I would have liked to see one with this board, especially when you consider that the ASRock P67 Extreme4 comes with one and is in a similar price bracket.
Software
When it comes down to installing the software for the motherboard, you can choose to install the software one by one or you can install all of them at once. In this case, everything was installed to ensure a fair test. The installation was straight forward. If you select the 'InstAll' option, the computer will install all of the drivers and restart a total of three times during the process of installation.
ASUS AI Suite II

The AI Suite II has a vast amount of programs installed within it. The program initially loads in a thin bar which allows you access the various parts of it by clicking on whichever part of the software you wish to use.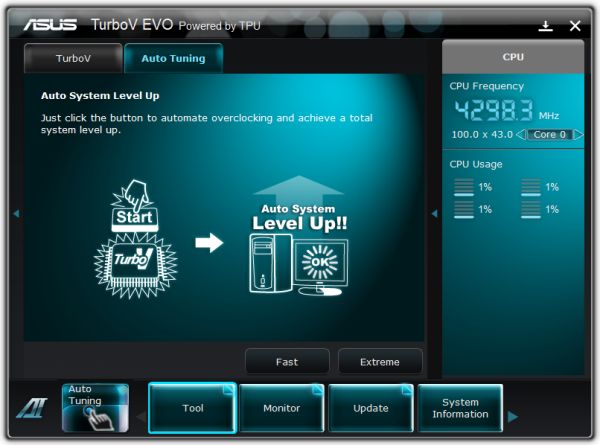 The Auto Tuning feature that you can see on the left is something which will automatically overclock your PC for you. There are two different pre-sets which are 'Fast' and 'Extreme'. I have been over these in detail with my experiences in the overclocking section of this review.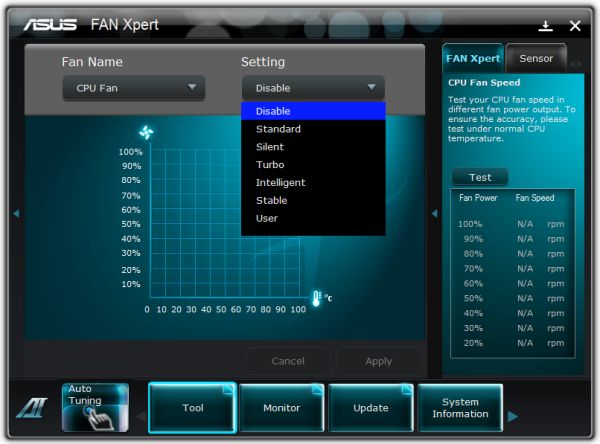 ASUS FAN Xpert allows you to create custom fan profiles. You can choose from various preset settings as well as a 'user' option which allows you to change the fans to your requirements. When you choose the user option, you can choose where and when the fans start to ramp up. In all fairness, there are enough options within the FAN Xpert to satisfy most people but every one of us may have a slightly different perception of what the ideal settings should be.
Finally, we have the Update and System Information tabs. They pretty much speak for themselves - you can update your EFI revision from within Windows using this feature. If you want to update your EFI using this method, do this at your own risk. The best way to ensure a flawless update is at default EFI settings. The 'System Information' tells you about your CPU, motherboard and RAM, sort of like an in-built CPU-Z.