Test Setup
Note - we will be moving to more recent drivers soon. We still use the 10.12 at the minute to keep parity between motherboard reviews, but this will be updated in the near future.
Comparison to Previous Results:
Where applicable, the results in this review are directly compared to the following chipsets and boards which we have reviewed previously:
Power Consumption
Power consumption was tested on the system as a whole with a wall meter connected to the power supply, while in a dual GPU configuration. This method allows us to compare the power management of the UEFI and the board to supply components with power under load, and includes typical PSU losses due to efficiency. These are the real world values that consumers may expect from a typical system (minus the monitor) using this motherboard.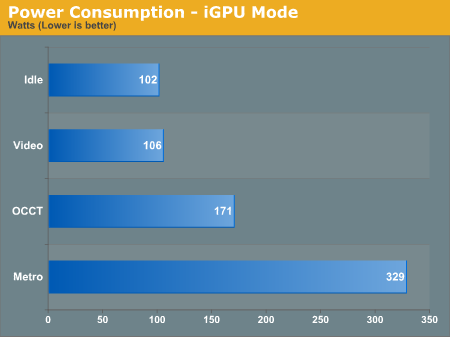 CPU Temperatures
With most users running boards on purely default BIOS settings, we are running at default settings for the CPU temperature tests. This is, in our outward view, an indication of how well (or how adventurous) the vendor has their BIOS configured on automatic settings. With a certain number of vendors not making CPU voltage, turbo voltage or LLC options configurable to the end user, which would directly effect power consumption and CPU temperatures at various usage levels, we find the test appropriate for the majority of cases. This does confict somewhat with some vendors' methology of providing a list of 'suggested' settings for reviewers to use. But unless those settings being implemented automatically for the end user, all these settings do for us it attempt to skew the results, and thus provide an unbalanced 'out of the box' result list to the readers who will rely on those default settings to make a judgement.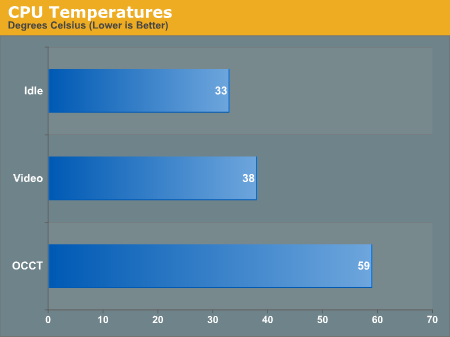 The temperatures which I recorded are higher than motherboards from other manufacturers in a similar price bracket.