The Mali-400
Now that we've settled the issue of what type of GPU it is, let's talk about the physical makeup of the Mali-400. The Mali-400 isn't a unified shader architecture, it has discrete execution hardware for vertex and fragment (pixel) processing. ARM calls the Mali-400 a multicore GPU with configurations available with 1 - 4 cores. When ARM refers to a core however it's talking about a fragment (pixel shader) processor, not an entire GPU core. This is somewhat similar to NVIDIA's approach with Tegra 2, although NVIDIA counts each vertex and fragment processor as an individual core.
In its simplest configuration the Mali-400 features a single combined geometry front end and vertex processor and a single fragment processor. The 400 is also available in 2 and 4 core versions, both of which still have only a single vertex processor. The two core version has two fragment processors and the four core version has four fragment processors. Note that ARM decided to scale fragment shading performance with core count while keeping vertex performance static. This is likely the best decision given current workloads, but a risky one. NVIDIA on the other hand standardized on a 1:1 ratio between fragment and vertex processors compared to ARM's 4:1 on a 4-core Mali-400. The 4-core Mali-400 MP4 is what Samsung uses in the Exynos 4210.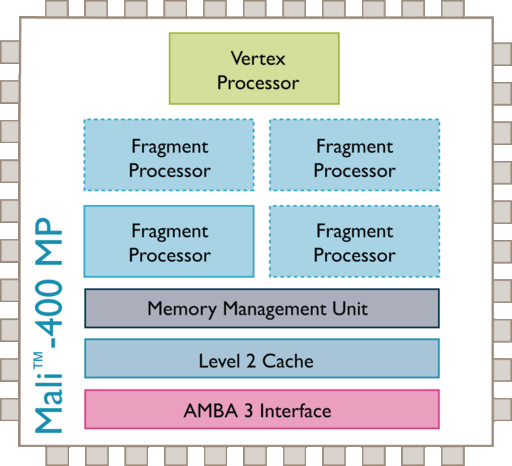 ARM, like Qualcomm, isn't particularly interested in having the details of its GPUs available publicly. Unfortunately this means that we know very little about the makeup of each of these vertex and fragment processors. I suspect that both companies will eventually learn to share (just as AMD and NVIDIA did) but as this industry is still in its infancy, it will take some time.
Earlier documentation on Mali revealed that the GPU is a VLIW architecture, meaning each processor is actually a collection of multiple parallel execution units capable of working on vector data. There's no public documentation indicating how wide each processor is unfortunately, but we can make some educated guesses.
We know from history that AMD felt a 5-wide VLIW architecture made sense for DX9 class games, later moving down to a 4-wide architecture for DX11 games. AMD didn't have the die constraints that ARM and other SoC GPU suppliers do so a 5-wide unit is likely out of the question, especially considering that Imagination settled on a VLIW4 architecture. Furthermore pixels have four color elements (RGBA), making a VLIW4 an ideal choice.
Based on this as well as some internal information we can assume that a single Mali fragment shader is a 4-wide VLIW processor. The vertex shader is a big unknown as well, but knowing that vertex processing happens on two coordinate elements (U & V) Mali's vertex shader is likely a 2-wide unit.
Thus far every architecture we've looked at has been able to process one FP16 MAD (multiply+add) per execution unit per clock. If we make another assumption about the Mali-400 and say it can do the same, we get the following table:
Mobile SoC GPU Comparison
PowerVR SGX 535
PowerVR SGX 540
PowerVR SGX 543
PowerVR SGX 543MP2
Mali-400 MP4
GeForce ULP
Kal-El GeForce
SIMD Name
USSE
USSE
USSE2
USSE2
Core
Core
Core
# of SIMDs
2
4
4
8
4 + 1
8
12
MADs per SIMD
2
2
4
4
4 / 2
1
?
Total MADs
4
8
16
32
18
8
?
GFLOPS @ 200MHz
1.6 GFLOPS
3.2 GFLOPS
6.4 GFLOPS
12.8 GFLOPS
7.2 GFLOPS
3.2 GFLOPS
?
GFLOPS @ 300MHz
2.4 GFLOPS
4.8 GFLOPS
9.6 GFLOPS
19.2 GFLOPS
10.8 GFLOPS
4.8 GFLOPS
?
Based on this estimated data alone, it would appear that a four-core Mali-400 has the shader compute power of a PowerVR SGX 543. In other words, half the compute horsepower of the iPad 2's GPU or over twice the compute of any smartphone GPU today. The Mali-400 is targeted at 275MHz operation, so its figures are likely even higher than the competition. Although MADs are quite common in shader execution, they aren't the end all be all - we need to look at application performance to really see how it stacks up.