The Xperia Play embeds a single rear-mounted 5.1 Mpixel image sensor alongside a LED flash. There's no dual-sensor rear array, as in the HTC EVO 3D or LG Optimus 3D, although Sony Ericsson included a VGA resolution (640x48 pixel, aka 0.3 Mpixel) front-mounted camera for video chat purposes. The Xperia Play captured passable rear-mount camera snapshots even in low ambient illumination environments, although it doesn't come close to offering the brightest LED supplemental illumination that I've encountered.
Still imaging acceptability was unfortunately coupled with video imaging downsides. For unknown reasons (though I suspect a combination of battery life concerns and CPU performance limitations), the Xperia Play's captured per-frame video resolution is only 800 x 480 pixels (aka widescreen standard definition). I'm profoundly baffled by this shortcoming; my Nexus One contains prior-generation iterations of both the CPU and GPU, yet manages 720p video capture (albeit, admittedly, via a CyanogenMod-delivered hack), as does the silicon-comparable iPhone 4 even in an unjailbroken state. Plus, I personally found the resultant video to be even softer than SD resolution capture would normally deliver, along with a sub-par soundtrack that may be in part a reflection of the non-optimal microphone location.
Anand tested both power consumption and display attributes prior to shipping the Xperia Play to me, so the data that follows comes straight from him. Here's the comparative battery life of the Xperia Play versus other handsets AnandTech has tested, when web browsing both over EV-DO: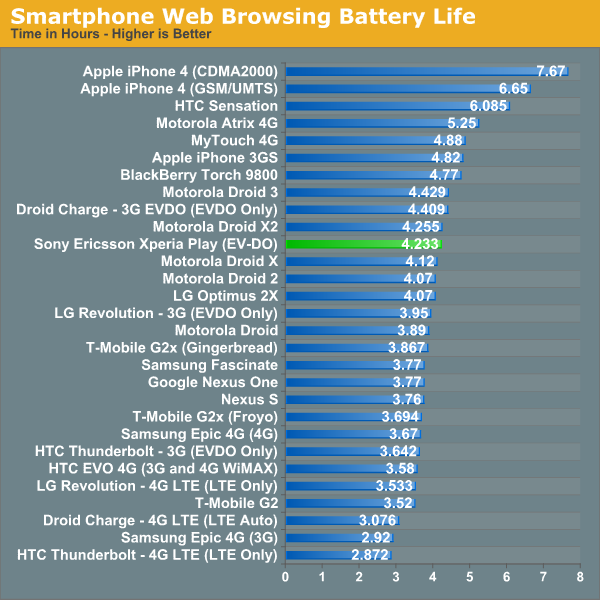 and over Wi-Fi: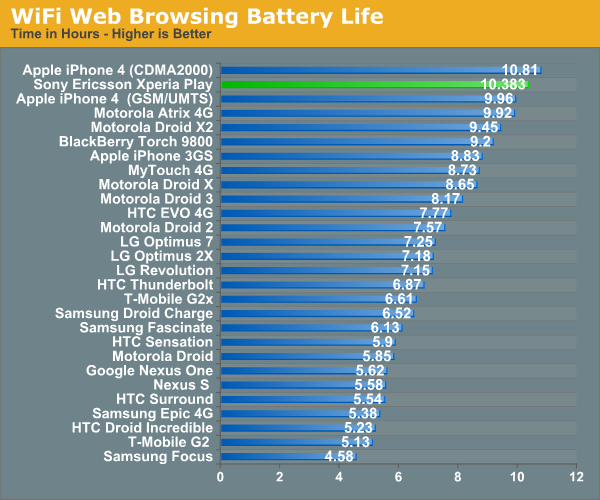 And here's the 'talk time' battery life comparison: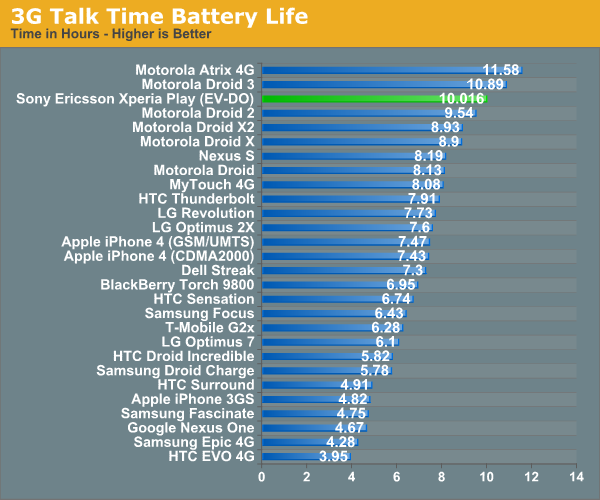 Anand then measured the Xperia Play's display brightness and contrasted it (pun intended) with other mobile phones: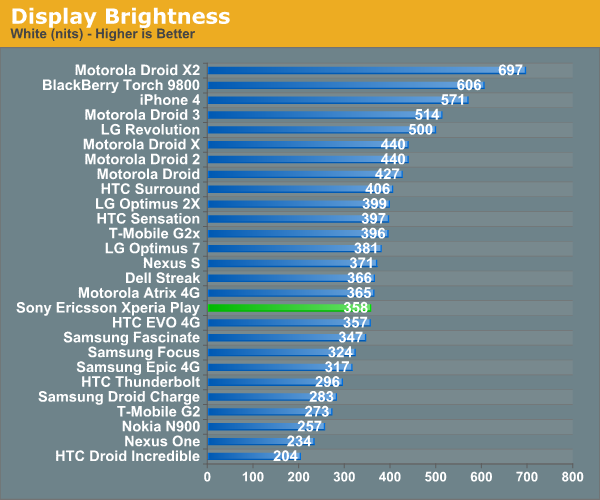 The default display intensity is a bit dim, perhaps reflecting a decision made by Sony Ericsson to stretch the between-charges usage, but the display acquits itself well versus other gear I've handled in the past once you bump up the setting a notch or few. Its viewing angle is also passable albeit not stellar, and it's much easier to see in daylight than is an OLED alternative. And if you do the math on its atypical 854 x 480 pixel resolution, you'll see that not only does it notably exceed that of the PlayStation Portable (480 x 242 pixels), it also works out to be an exact (to within a few decimal places) 16:9 ratio. This means no cropping, no black bars, and no squishing-or-stretching distortion when watching widescreen movies.
Apologies, by the way, for the lack of a display black level brightness measurement, therefore the associated absence of a contrast metric. Anand had mistakenly thought the Xperia Play had an AMOLED screen (it's a LED-backlit LCD), therefore only took a white level brightness measurement before sending the handset to me, and I don't currently own a colorimeter.