Battery Life
The 1.8GHz Core i7 doesn't run much faster by default than the 1.6GHz Core i5, but it can turbo up to a 25% higher clock speed than the Core i5. What's the impact on battery life?
If you're running a high CPU workload that never lets up in a continuous loop, the i7 is going to die quicker than the i5. Active power is greater at higher frequencies (assuming everything else remains the same) and with no chance to get to sleep the i7 will eat through the 35Wh battery faster than the i5.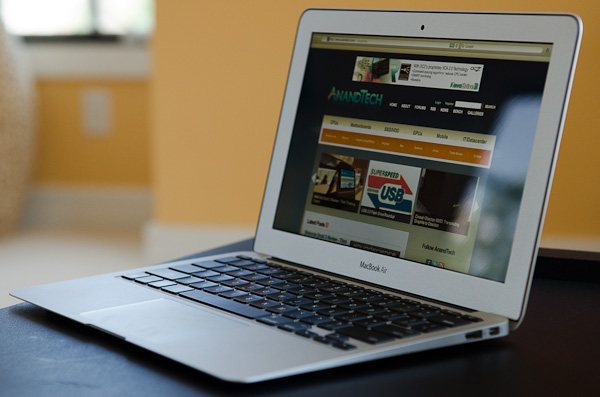 Where the i7 stands a chance however is in workloads where you aren't running the CPU at full tilt all of the time. The i7 needs tiny, tiny, tiny fractions of a second of idle time to throttle down and go to sleep. It's in these sleep states that it'll draw very little power and avoid being a major consumer of that 35Wh (or 50Wh in the 13) battery. From the CPU's perspective, it wants to finish its work as quickly as possible so it can get back into its really low power idle states.
For workloads with balanced periods of load and idle time, the i7 should be able to at least equal the battery life of the i5. Short bursts of instructions can execute up to 25% faster on the i7, allowing it to go back to sleep that much quicker. Any energy expended from running at higher clock could be saved by spending more time at idle.
The other advantage is the larger L3 cache. A larger cache means a higher likelihood of finding data in that cache, which saves trips to main memory. Anytime you go off-chip for data the power penalty is tremendous. You have to fire up a powerful memory interface, drive requests back and forth over a high speed bus and actually pull the data from DRAM. The entire process is far more power intensive than just grabbing data from the CPU's on-die L3 cache. I wouldn't expect huge power savings from the L3 cache, but it's likely a net positive.
Our battery life tests are designed to run the gamut. Showing you the absolute best case use-your-notebook-as-a-typewriter light web browsing test to the get-stuff-done multitasking workload. I'd say most power users will see battery life similar to the worst case scenario, while mainstream users will be between that and the flash web browsing test. The writers in the crowd can shoot for the battery life in our lightest scenario if you really just spend your time in TextEdit.
All of our tests were run with dynamic brightness control disabled (panel brightness near 50% - we tried to equalize brightness across all systems) and the Macs were set to never go to sleep.
As you can see by the numbers below, there's basically no impact on battery life from the i7 upgrade. Note that none of these workloads keep the CPU pegged at 100% throughout the test. As I mentioned earlier, if you're going to be doing a long 3D render or compiling a very large project (multiple hours) you can expect worse battery life from the i7. Typical notebook usage models however shouldn't see much of a difference at all.
Multitasking Battery Life
In this test we have three open Safari windows, each browsing a set of web pages with between 1—4 flash ads per page, at the same time. We're also playing an XviD video in a window all while downloading files from a server at 500KB/s.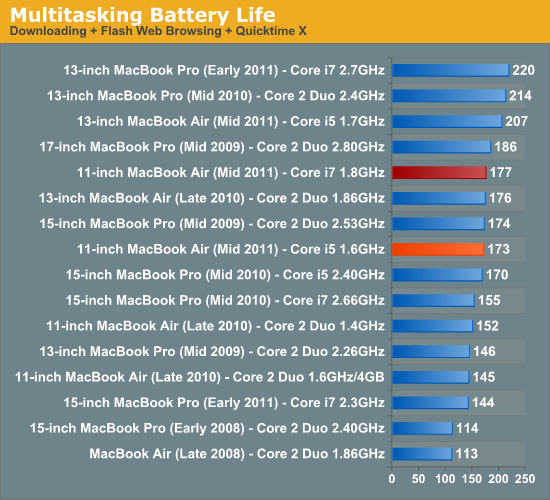 Flash Web Browsing
The test here has three Safari windows open, each browsing a set of web pages with between 1—4 animated flash ads per page, at the same time. Each page forwards onto the next after about 20 seconds.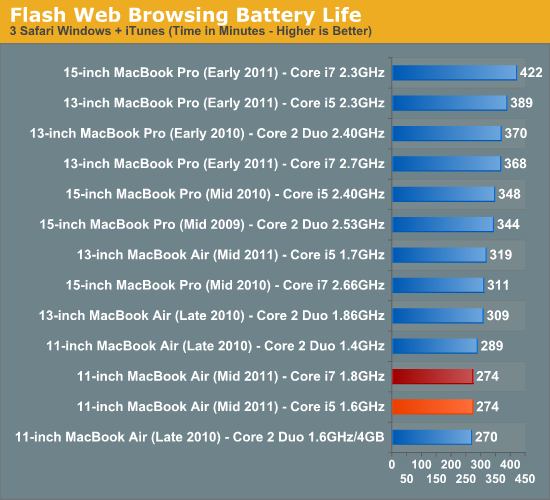 Light Web Browsing
Here we're simply listening to MP3s in iTunes on repeat while browsing through a series of webpages with no flash on them. Each page forwards on to the next in the series after 20 seconds.