File Sharing
FIle sharing in Lion Server is a logical extension of the file sharing capabilities already present in the client version of OS X. Flip the service on, and you can select any folder on the server's hard drive that you want to share with clients.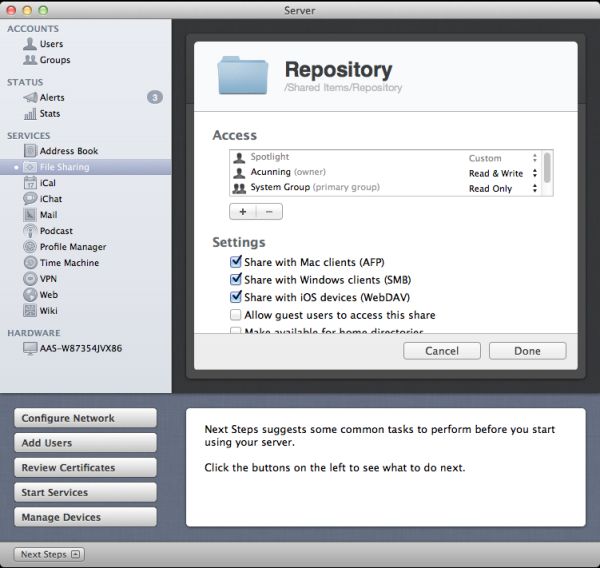 Click the edit button, and you can control access permissions to each individual folder, as well as what protocols the folders are offered over - AFP for OS X clients, SMB for Windows clients, and WebDAV for iOS clients (many apps, the iOS iWork apps among them, can only connect via WebDAV - this useful new feature is one of the few that could truly justify OS X Server in a home environment).
You may remember from our Lion review that Apple changed up its SMB implementation in Lion. As in the client version, the change shouldn't affect most server users either: Windows 7, Vista, and XP clients can still connect to SMB shares hosted by OS X Server without issue.
Podcast and Podcast Composer
The Podcast service (which needs the Wiki service to be fully functional, it would seem) works together with the Podcast Composer (another of the Server Admin Tools) to provide end-to-end podcast recording, editing, and hosting. Turn on the Podcast service (and the Wiki service if you haven't already) and then fire up the Podcast Composer.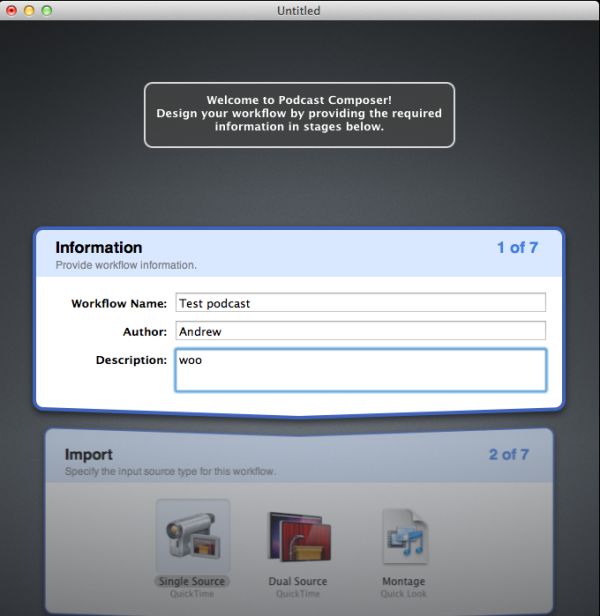 This program is pretty straightfoward - it builds a podcasting workflow, asking you what you'd like to use to record, what file formats you'd like to export to when done, what fades and wipes you'd like to use - everything a newbie podcaster needs, really (though this does seem to be tailored more to internal-use-only recordings and less to something you'd download from the iTunes store - just an observation). You'll want to specify your server's address under the Publish heading in the default workflow, where you can also specify whether you'd like to save any of the raw files along with the final product.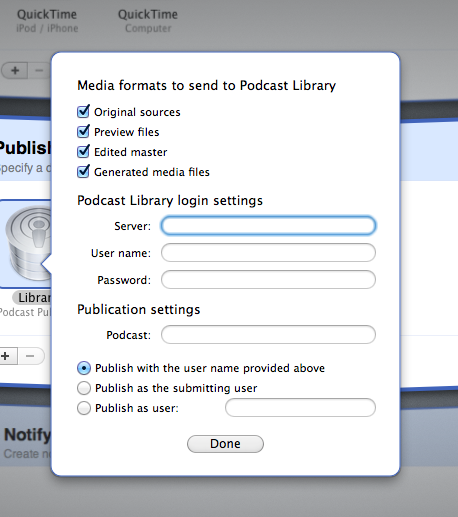 Once you've successfully published, they're up on your server for everyone with appropriate permissions to see.
Time Machine
The Server Time Machine services is another one with an on/off switch - just flip it on and choose what drive on the server you'd like to use for client backups.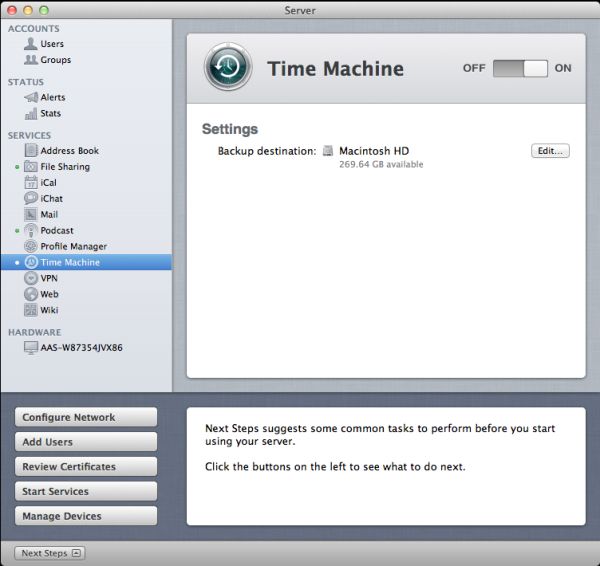 Once you do that, your server share becomes selectable from the Time Machine System Preference pane, and it works much the same as Time Machine backups to a local drive.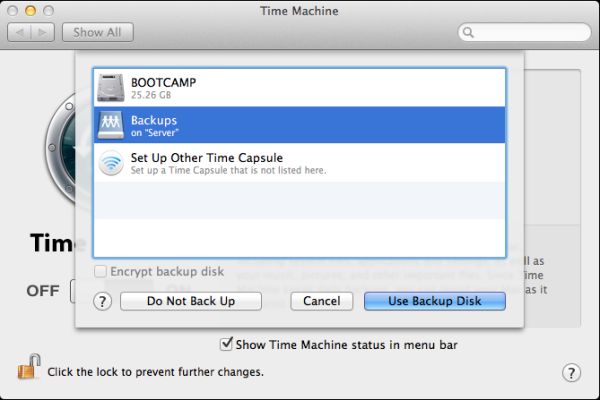 The thing about the Time Machine service on the Server end has always been one of scale - especially on Apple's current server hardware, which ship by default with 500GB (Mini) and 1 TB (Mac Pro) hard drives, there's just not enough storage available to back up dozens of computers unless you spend money on multiple servers or a huge attached storage pool.
In that sense, the Time Machine service actually makes more sense now that Apple server hardware and software are both within reach of the home user. While the Mini's 500GB of storage (assuming you're RAIDing your drives, as a good server admin would) might not be enough to backup the two dozen Macs that a small business would have, but it'd be great for the 1-3 Macs that a home user would have. It gives you a good network backup solution if you don't want to splurge for a
Time Capsule
or something.
Whatever the case, it's easy to setup - like most OS X Server services, it's up to you to decide if it makes sense for you or your organization.