One thing to mention in a review of Lion Server is the state of Apple's server hardware. As you may or may not remember, Apple discontinued its Xserve line of rack-mounted server hardware back in January, and slightly modified two of their desktop models to fill the void - Lion Server can be installed on any Lion-capable Mac, but these are the systems that are actually shipped with it installed.
The first, the Mac Mini Server, adds a quad-core processor and second internal hard drive to the standard Mini configuration - you can certainly use this drive as additional storage space, but in a server it is best used to provide data redundancy in a RAID array with the other drive. A price of $999 (the same price, remember, as the Leopard Server software by itself back in the day) makes it a hard proposition to turn down for small-to-medium businesses or academic institutions, and a small group of them can provide enough power and redundancy to comfortably serve most services to many devices (rack-mountable shelves that will house up to four Minis are cheap and readily available).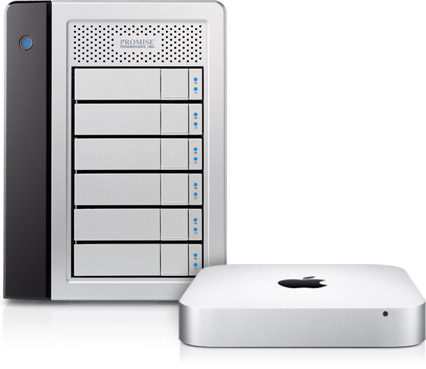 The Mini Server became easier to recommend after its recent refresh, where it gained the Sandy Bridge architecture and its quad-core processor in one fell swoop. Bump it up to 8GB of RAM (aftermarket, if you're smart - friends don't let friends pay $200 for a $60 memory kit) and you've got yourself a decent little server box.
The second is the Mac Pro Server, which can pack enough processing power and memory to host OS X Server and a couple of virtual OS X Servers if you wanted. It's a little harder to recommend, since the performance gap between the base Mac Pro Server configuration and Mac Mini Server configuration is smaller than it once was, and since the Mac Pro would take up so much space in a rack. The Mac Pro is still waiting on its 2011 refresh, which should bring both newer processors and (if the rumors are to be believed) a new, smaller case (since the current case design has remained largely the same since the Power Mac G5 came out eight years ago). This, perhaps combined with a price drop, could make the Mac Pro Server a better choice than one or two Minis.
The main drawback of Apple's current server hardware is lack of monitoring tools - the Server Monitor tool that continues to come with the Server Admin Tools download requires Lights Out Management (LOM) support in the hardware, and the XServes were the only Apple computers that did this. If you want to know things about your server's temperature, RAID status, and the rest, you'll have to rely on third-party tools.