Processor Graphics Performance
The Sandy Bridge Pentium lineup features the performance equivalent of Intel's HD Graphics 2000. AMD's A6-3650 on the other hand sports a 320 core GPU called the Radeon HD 6530D. How do the two stack up? What about compared to the A8-3850's Radeon HD 6550D? We're about to find out.
We'll start with the A6-3650 vs. the Pentium G850. I didn't include the slower Pentiums because there's simply no point to. The A6-3650's Radeon HD 6530D GPU is on average 2.33x the speed of the Pentium G850 across all of our tests and all resolutions. There's simply no competition and at these frame rates, even at 1024 x 768, I wouldn't consider the G850's graphics playable unless you go to older games or really make the game look terrible.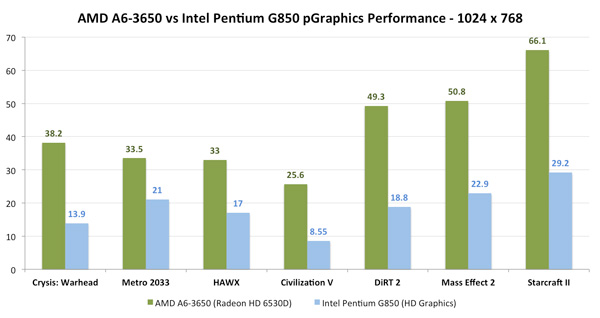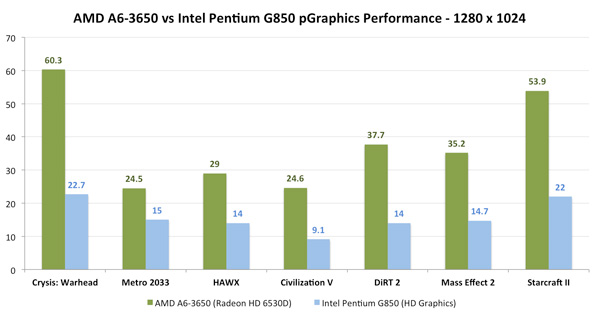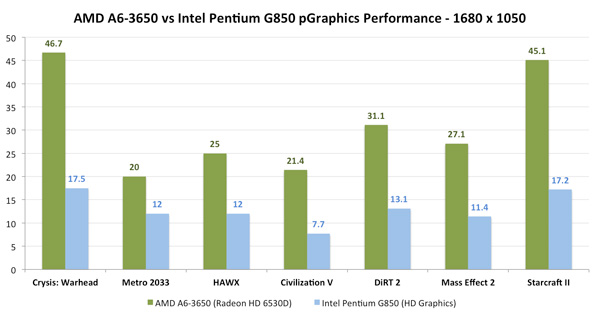 AMD A6 vs. AMD A8
What about the AMD A6 vs. A8? On average the A8's higher GPU clock and 80 extra GPU cores give it an 18 - 26% performance advantage over the A6's GPU depending on resolution. Both systems here use DDR3-1600 memory and despite memory bandwidth being constrained across the board, the A8's advantage increases with resolution.