The tablet market is expanding every bit as rapidly as netbooks did when they first arrived, and then some. MSI has announced their entry into the market today, and it's a very different breed of tablet compared to the largely Android-based units available. The new WindPad 110W has a heck of a lot going on under the hood, including some new kit from AMD.
Unlike the Android-based tablets that have been multiplying in the market, the WindPad 110W is running a full-on Windows 7 Home Premium installation, and a peek under the hood reveals a beastly amount of hardware for a tablet.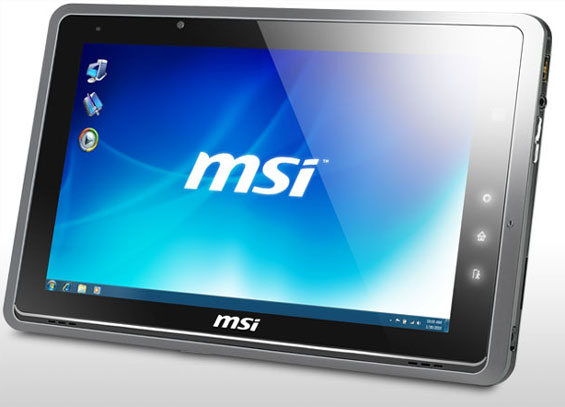 At the center of the 110W is the AMD Z-01 APU, a 1GHz dual-core processor with a TDP of just 5.9 watts. Essentially a lower-clocked, much lower-power version of the E-350 we're so fond of, the Z-01 brings with it Radeon HD 6250 graphics with 80 stream processors clocked at 276MHz. Strapped to the single-channel memory controller is 4GB of DDR3, which should be more than enough for what the WindPad is intended for.
The rest of the 110W is no slouch either, with a 32GB SSD integrated, 802.11b/g/n networking, and Bluetooth 3.0 support. The 10" screen is an IPS panel with a 1280x800 resolution. External connectivity is handled by a mini-HDMI port, an SD card reader, and a single USB 2.0 port. If there's one place where the WindPad falters compared to other tablets, though, it's the integrated cameras: both the front-facing and rear-facing cameras are only 1.3 megapixel, miles behind the rest of the pack.
MSI ships it with a two-cell, 4200mAh battery, a Trusted Platform Module, and personalized software for ease of use with touch control. That's important since Windows 7's touch-based controls still leave something to be desired. At 1.87 lbs. it's not too heavy but will definitely be noticeable.
Presales are starting now at Newegg and Amazon, for a reasonable MSRP of $599.